President Paul Kagame has said he is ready to start all over again the inquiry on the air rocket attack on the jet of Rwanda's former President Juvenal Habyarimana as suggested by France but this time he is ready for a showdown which won't cost Rwanda anything.
In 2012, an investigation by French Magistrate Marc Trévidic found beyond reasonable doubt that a plane which was carrying the President was shot down by a missile from Kanombe military barracks.
The findings were applauded by French officials who even dismissed a previous report by another French judge Jean-Louis Bruguière  who, in 2006 had blamed the plane airstrike to Rwanda Patriotic Front (RPF) Inkotanyi.
Kagame said that the news in the media has already started insinuating France's intentions of not giving up on the fracas against Rwanda even when Rwanda had cooperated in the beginning paving way for thorough investigations in a case which took slightly over two years.
"After investigating the case for two years, not finding anything, they want to start all over again. I have no problem with that. But starting again means a lot—first that this Rwanda and the Rwandan judicial system is not subordinate to France and France's system," Kagame said.
"We will start all over again for more than three times," Kagame said adding that Rwanda has been abused several times on this matter, first when it accepted to have a case it shouldn't have had and second when it allowed France the benefit of doubt, but the latter still took it for granted.
"If starting over again is a showdown, we will have a showdown and don't worry it will not cost us much. When it is your right, it is never going to cost too much to do the right thing," he said amidst applause of hundreds magistrates and officials at the launch of Judicial Year 2016/17 today.
Kagame said that France should be the one to dock to be tried for genocide not anybody in Rwanda and Rwandans.
"Don't worry this is a case that is going to be sorted out and Rwandans won't be victims. This is going to be sorted out without much cost on our side," Kagame said.
The president also said revisiting the case would lead to diplomatic standoffs between the two countries as it was earlier at the beginning of the case where France was represented by Belgium after the French embassy was closed.
"Starting all over again means, I will ask diplomats around here, remember in the old days when instead of going for visa in the French embassy you would go to another embassy because that country was representing France interests here, am asking one who did those services to do it again."
The president brought a context to this undermining of France, and said it is the behavior of some countries that think, they have power to decide for others.
For Prof. Sam Rugege, the Chief Justice, "Some people think that our laws are not to the standard of other countries and have been treating us unfairly, especially when it comes to politicians."
Yet he said, "The reality is, no politician can be exempted from the laws of the land. They are punished by the same laws like others. The problem we have is not that we have different laws, but because we still use colonial laws."
President Kagame said his government is not going to be deterred from the responsibility to deliver justice and dignity Rwandans deserve.
They way to go is for the judicial personnel to "always be beyond reproach for the judiciary to serve its purpose and maintain confidence of citizens."
With this, they will work on current challenges the country is facing, including the child abuse, human trafficking which, the president always condemns in quite many of his speeches since the last two years.
Despite some countries undermining the Rwanda's judicial system, the International Criminal Tribunal for Rwanda has an appreciation countries should emulate. The court referred several cases to Rwanda.
Same applies to several other countries, including US and Canada that have extradited or deported at least one genocide fugitive to be tried in Rwanda.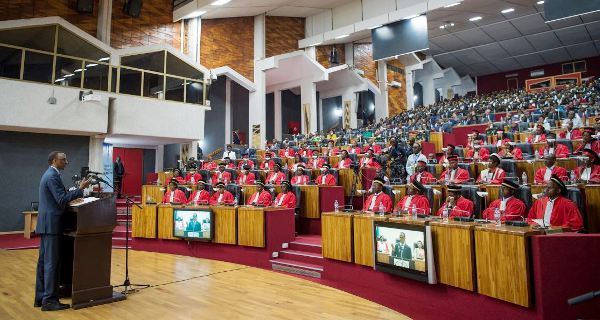 Clearing the court cases
Rwanda's judicial year 2015/16 report presented today shows that Rwanda has made tremendous progress in area of speeding up trials.
It now takes three months for a case to be heard in court compared to other regional countries.
While the duration varies from court levels the achievement is 70 percent according to the Prof. Rugege.
For example in 2011/12 it would take 66 monthsfor a case to be heard in the Supreme Court, but now it takes 20 months maximum.
The number of pending cases has dropped from 42,670 cases in 2012 to just 5508 cases this year.
Use of ICT has been another improvement in the Rwandan Judicial system with use of electronic filing systems.
Kagame said that Rwanda will continue to pursue its own justice Systems and the Integrated Electronic Case Management System (IECMS) should be implemented at all cost.