President Paul Kagame has been scheduled to speak at Harvard University's Centre for International Development (CID), during a session untitled "A conversation with His Excellency Paul Kagame."
The session due Friday March 10 will be hosted by Ricardo Hausmann, the CID Director. It will be attended by a wide audience of students, dons and experts from different fields.
CID is Havard's centre that works to advance the understanding of development challenges and offer viable solutions to problems of global poverty.
Havard officials say, CID is the University's leading research hub focusing on resolving the dilemmas of public policy associated with generating stable, shared, and sustainable prosperity in developing countries.
"Our ongoing mission is to apply knowledge to and revolutionize the world of development practice," reads part of a statement about CID.
On Havard website, Ricardo Hausmann, CID Director is quoted saying, "Over the last 200 years, new technology and forms of social organization have permitted many countries to attain an incredible improvement in living standards characterized by adequate food, shelter, clean water, education, good health, and enough income to live with dignity."
His concern in the same quote was that still, "Many countries are still mired in poverty."
From this, Hausmann draws a question, which is at the same time the reason being of CID.
"What can these societies do to attain levels of human comfort that we know are achievable? These are the questions that animate the work at the Center for International Development."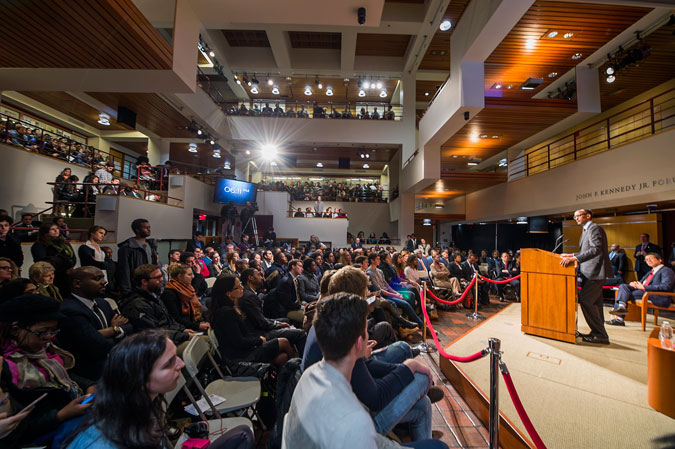 President Kagame is among best speakers that can provide good answer to such questions and Havard officials took note of his previous sessions at the school.
While at Harvard Institute of Politics on February 26, 2016 Kagame said, "There is no simple explanation for the uneven distribution of gains. The question of economic development remains in many respects a complex mystery. But the answer matters."
He also said, "Millions of lives hang in the balance. If effective approaches can be adapted to other contexts, everyone would benefit. It is in this wider context that Rwanda often comes up for debate, particularly with the chicken-and-egg argument about development versus democracy."
Building on Rwandan experience, the president said: "Development is not a question of more funding and better policy. What is much more important is for those to be connected to the norms, values, and mindsets that guide the choices made by individuals each and every day."
Seemingly, he said, simple choices, such as keeping newborn babies warm, or building financial security by saving, can have a huge impact. Shared norms, such as intolerance of corruption and discrimination, are the foundation of good citizenship.
This is in addition to a principle that public affairs have to be conducted with the expectation that the views of citizens will be heard and their complaints acted upon.
Havard writes that Kagame has received recognition for his leadership in peace building and reconciliation, development, good governance, promotion of human rights and women's empowerment, and advancement of education and ICT.
It also says, "He is widely sought after to address regional and international audiences on a range of issues including African development, leadership, and the potential of ICT as a dynamic industry as well as an enabler for Africa's socioeconomic transformation."
The president has been a key player in setting global development goals.
He served as chair of the UN Secretary General's Advisory Group on MDGs from 2010 to 2015 and is the current co-chair of the ITU's Broadband Commission alongside Carlos Slim.
Kagame's session scheduled in the evening will be moderated by Lant Pritchett, Professor of the Practice of International Development at Harvard Kennedy School.