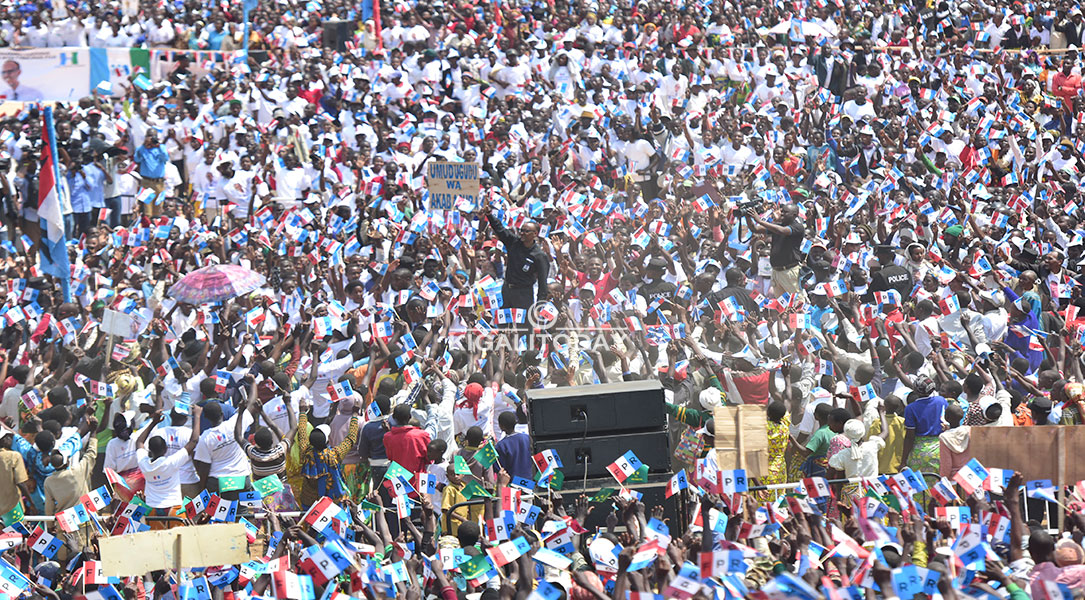 On day-two of the ongoing Presidential campaigns, candidate Paul Kagame is convinced that his party – the Rwanda Patriotic Front will win without doubt.
"I know, I do not want to pretend, the win is with RPF. You showed it during the referendum. That was already a win," Kagame told his supporters in Nyaruguru district.
Candidate Paul Kagame the flag bearer of the Rwanda Patriotic Front (RPF) Inkotanyi today began his campaigns in Nyaruguru district and proceeded to Gisagara district.
He told his supporters, to just focus on what unites them and keep challenging those that never believed that Rwanda could never reach this far.
Nyaruguru district in the southern province was part of former Gikongoro, an area with acidic soils on which crops would not grow.
It also has a controversial history of a holy land in Kibeho which was also a butcher land by the genocidal government that killed thousands Tutsi at the ground where holly Mary appeared to three girls.
However, over 100,000 RPF supporters and members of 8 political parties gathered in Nyagisozi hills. They gave testimonies on how their district has recovered.
"Since 1994, 1995, no one would give us a chance, no one would agree that the country would recover unless there was intervention from outsiders," Kagame said.
"No. it all came out of Rwandans' efforts."
Candidate Kagame also incumbent president said, he was not coming for just campaigning, but to brainstorm with Nyaruguru citizen what they achieved under his rule in the last two terms.
"Look around; we have a Rwanda that has again become a country for all its citizen," he said.
For Kagame, the priority of RPF was to unite Rwandans despite the colonial ideology of dividing them, and that differences are reasons for conflicts, hatred.
"Where we came from and where we have reached, if someone thinks it's an easy thing and can write about us whatever they want…I think they have their own world," Kagame said amidst applause and cheers.
What Rwanda achieved, Kagame said, did not come like an accident, nor, "like that apparition that happened here."
"It cost us [Rwandans] energy. There are things that traumatized us, killed us, killed our own. That's where we drew experience that helped us strive to develop."
Surprisingly, Kagame said, "We even pardoned those that killed us, but they don't know how we developed. I will build from a strong foundation."
Nyaruguru residents shared with RPF candidates the struggle they went through to develop, and said, finally, they are on the track.
A representative of cooperative of coffee farmers told Kagame that they started by collecting a coin of Rwf 100 for years, but now have more than Rwf 40 Million on their account.
Kagame said Nyaruguru district was forgotten with some people thinking that nothing good could come out of the district, yet wherever there are human resources which are the main capital of Rwanda, development is possible.
He also said, that on day to day, every Rwandan could have a testimony of progress, not regress.
"Sincerely speaking, everyone here, even the young ones would have a testimony that they made gains, not losses every other year. Well, some might have done better than others, but everyone reached some point," Kagame said while adding that he is coming to build from a strong foundation, in the next seven years.
"I know, I do not want to pretend, the win is with RPF. You showed it during the referendum. That was already a win."
Kagame told his supporters that if he is elected, "I will not disappoint you, I promise."