In Nyamasheke district, a handful of supporters of Democratic Green Party of Rwanda candidate Dr. Frank Habineza have assembled at Kanjombo sector to listen to his manifesto and future plans if his party wins the August 4th elections.
Habineza arrived at Kanjombo sector in an open-roof SUV waving to supporters mostly youths and children of nonvoting age.
Upon arrival, Habineza who was accompanied by his wife was welcomed by Nyamasheke's mayor.
Although the Democratic Green Party members are praising their candidate, at the campaign rally there are also RPF members who are busy campaigning for their candidate as well.
The campaign mood in Nyamasheke is tense as each member fights to show the potential of his candidate as they raise voices singing and shouting their preferable candidates.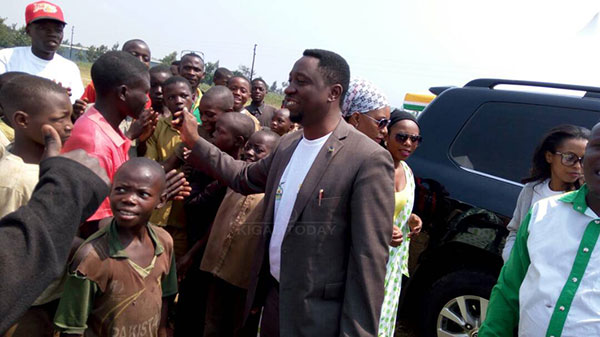 "Green Party Oyeeeee!!!! FPR Oyeeeee!!" that is the mixture of voices you hear right now in Nyamasheke.
Yesterday in Rusizi, Habineza promised Rwandans that once elected his priority will be to fight poverty, establish a law allowing citizens to farm whatever they want and also remove land taxes, increase the policemen and soldier's salaries and also shelter them in modernized houses.
And on top of that, more focus will be put in quality of education and also increase teacher's salary.