For the past eighty years, residents of Shyira sector in Nyabihu district had to endure climbing hills and long distances to reach the only health centre in the area built 9th June 1937.
With much difficulty in accessing health services, Shyira community found it much easier to trek all the way to Ruhengeri hospital in neighbouring Musanze district. The government had promised to expand Shyira health centre into a modern referral hospital but bureaucratic delays didnt favour this realization.
There was urgent need to upgrade remotely located Shyira health centre with a capacity of only 42 beds and not equipped enough.  There were no ambulances to transport the sick; residents used to climb mountains to reach the health facility carrying patients on the traditional Stretcher ('Ingobyi').
"It was tough," says 70-year-old Ezekiel Ngaruye told KTPress.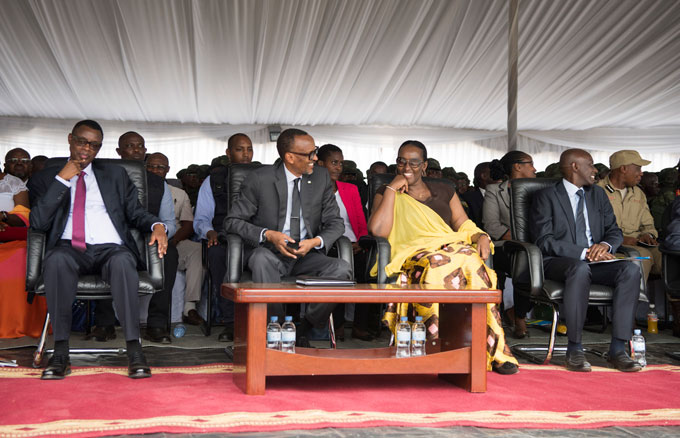 Shyira residents have for many years been waiting for government to fulfill its promise to them. In March last year President Paul Kagame directed the Ministry of Defense to construct a new hospital at a cost of $7m (Rwf5.9 billion).
And in just 11 months the Rwanda Defense Force (RDF) completed construction of the new hospital.
"Some years back when I last visited this area, none of you could even laugh. But looking at your faces, a lot has changed," the President said amidst applause from residents.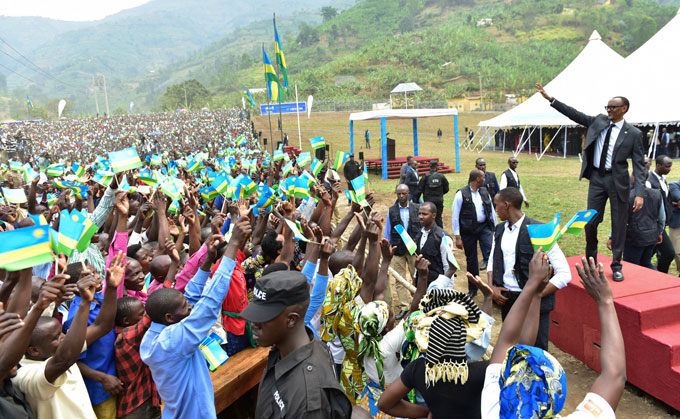 Shyira residents on Tuesday were all in jubilation as President Kagame accompanied by  the First Lady Jeannette Kagame and other public officials unveiled the new hospital facility and a nearby model village.
The new facility which is at a level of a referral hospital that will serve a community of 200,000 people from four districts: Muhanga, Gakenke, Ngororero and Nyabihu.
It has 150 beds, staff hostels and a canteen.
Inauguration of the new hospital coincided with 23rd anniversary of the country's liberation struggle. The President said Rwandans have walked a long journey of liberation but more needs to be done.
"Liberation has two stages: liberating ourselves from people and the consequences of their actions," Kagame said.
"We liberated ourselves from bad leadership. The next stage is freedom from poverty and depending on others for our livelihood."
For the president, Rwandans "are capable of transforming the nation. It is within our means to be as prosperous as any developed nation in the world."
Kagame said that during liberation struggle, some Rwandans had just been born, and should consider a crucial responsibility to lead the country in decades to come.
"Majority of you here today were not born 23 years ago. You are the leaders of this nation for many years ahead," the president said.
"Let us continue to preserve the security that has allowed us to achieve progress."
On arrival, President Kagame and the First Lady inaugurated a model village of Kazirankara, which will accommodate 68 poor families.
He told the beneficiaries, "The houses you were given were not handouts. It is a foundation for you to transform your life."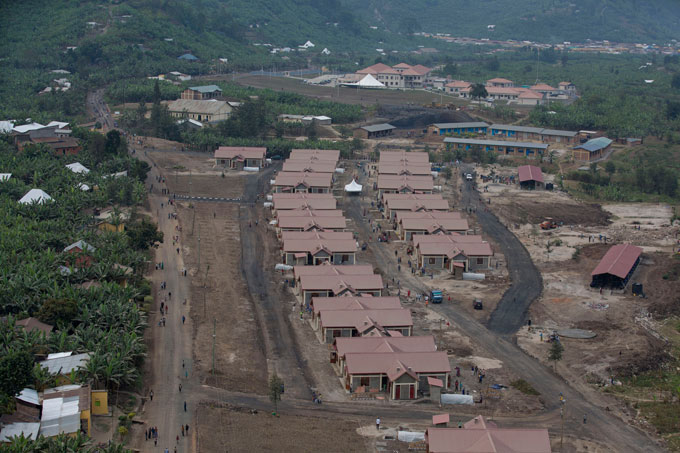 The model village has all modern facilities including schools, an ICT centre, Water, electricity among others.
"Similar activities have been established in all districts of the country, in collaboration with all stakeholders. Being here today is a purposeful choice to highlight the journey of this region," Defence Minister, Gen. James Kabarebe, said.
 Last year, RDF completed another model village in Rweru sector, Bugesera district to host 400 families relocated from the high risk Mazane Island – Lake Rweru.Dancile Mukeshimana 65, said, "I spent over four decades living in a high risk area exposed to all sorts of disaster. I can't thank the president enough," she said with tears of joy.
The mayor of  Nyabihu district, Theoneste Uwanzwenuwe, said the area that accommodates the hospital was once a centre of terrorist activities by Interahamwe militias but it has changed to be a centre of hope and security.