Almost 27 years ago, armed refugees launched a surprise attack and overrun Kagitumba border post in Eastern Rwanda. Other peaceful means had failed.
Rwanda had been attacked and the government army pulled in all its arsenal and pushed back the rebels inflicting heavy causalities on them including slaying their commander.
A few miles away from the border was Gabiro military barracks built in the centre of a flat terrain region with savannah grasslands. This was a miscalculation on the part of the Rwanda Patriotic Army (RPA) rebels.
Under their new commander, Paul Kagame, the RPA rebels changed battle strategy- they pulled back to Rwanda's extremely mountainous north – Byumba (Gicumbi District) and Ruhengeri (Musanze District).
Strategically, the rebels kept switching between the eastern and north frontlines. Government forces were overstretched- this marked the beginning of a protracted liberation war that the rebels won.
KT Press takes you back into these frontline districts as Rwandans today celebrate liberation day.
RPA rebels forcefully opened main gates into Rwanda
When the RPA rebels fired the first bullet at the government soldiers manning Kagitumba border post, there were only a few semi-permanent small buildings and metallic pipe across the road to signal this was where Rwanda begins.
Today the border has been revamped into a multi million dollar ultra-modern facility which has significantly reduced time and cost of moving goods and people between Uganda and Rwanda. People crossing have increased to 1,500-2,000 from between 8,00 to 1,000 travelers.
Nyagatare a front line district where Kagitumba boarder is located has become a food basket through large scale mechanized agriculture and irrigation.
This year alone the district will contribute the largest percentage of 781,000 tons of maize projected for this year of 2017.
As of last year, milk production from the district alone exceeded 85,000 liters daily, earning the district over Frw7billion ($11million) annually.
Other massive projects include 5-star hotel owned by private shareholders and a multi-million dollar granite tiles-factory that employs over 300 workers.
The East African Granite Industry (EAGI) has become an iconic facility that supplies outstanding tiles to the region and even beyond. In Rwanda, the tiles were used to pave the floor of the stunning Kigali Convention Centre and Radisson Blu.
Through a partnership between government and a Tunisia company – STEG International services, all eastern province districts have been connected to electricity.
Nyagatare district is definitely an iconic area in the struggle to liberate Rwanda- it is among six secondary cities (Rubavu, Musanze, Huye, Rusizi, and Muhanga) selected for promotion of urban development outside Kigali – the capital city.
Government dedicates specific budget to infrastructure development in these cities.
In Musanze battle plan B worked for RPA rebels
When RPA rebels were thrashed by government troops in the first days of the attacks, they shifted to the north, a region with completely different terrain, vegetation and weather.
Musanze District in the Northern Province is an entry point into Virunga National Park. Today it's the most visited district as the world comes to meet with well conserved endangered mountain gorillas even when a ticket was recently hiked to $1500 from $ 750 for residents and about $ 6 for Rwandans.
Kwita Izina – gorilla naming, an annual conservation event has reinforced tourists' love for the primates. Global icons likes of Microsoft's Bill Gates attend this event.
This area is Rwanda's largest producer of the iconic Irish potatoes and other agriculture products.
Annual Irish potato production in Rwanda was over two million tons by 2011. Figures by Rwanda Agriculture Board (RAB) show that during agriculture season 2017 A, Irish potatoes were grown on 63,274 hectares countrywide, with expected production of over 1.2 million tons based on average produce of 20 tons per hectare.
Musanze is offering the best environment for training in all disciplines – even the Rwanda Defense Force (RDF) has built its schools for the senior officers in this city.
No wonder, Musanze is leading the country's luxurious tourism with ecological lodges around its five volcanoes.
Giti commune: RPA rebels intervened before Genocide could reach there 
The Genocide against Tutsi in Rwanda was the worst tragedy of 20th century which killed over 1 million Tutsi within 3 months and was carried countrywide.
Surprisingly, it did not happen in Giti commune of current Ruvune Sector in Gicumbi District. Why? The RPA rebels pacified this area before the genocide would fully be implemented.
Edouard Sebushunga, the bourgoumestre of Giti commune refused to give-in his territory to Interahamwe militia. He mobilized the Gendarmes to fire back at Interahamwe militias in a resistance that lasted a few days before RPA rebels liberated the area.
Restocking the Big 5 in Akagera National Park 
It started as a small rumour that Rwanda was going to buy lions and return them to Akagera National Park in Eastern Rwanda. But the park currently has about 20 units, descendants of 7 lions that were reintroduced in Akagera from South Africa in 2015.
By 1990, Akagera had over 300 lions and by 2000, lions were no more; they were victim of poaching and other human activities.
In 2010, government intervened by installing a 1.8 high electric fence on stretching up to 110km at a cost of Rwf2.7bn ($4M) to prevent poaching and animals from encroaching on human settlement. The same people who liberated the country – Rwanda reserve force – were contracted to build the fence.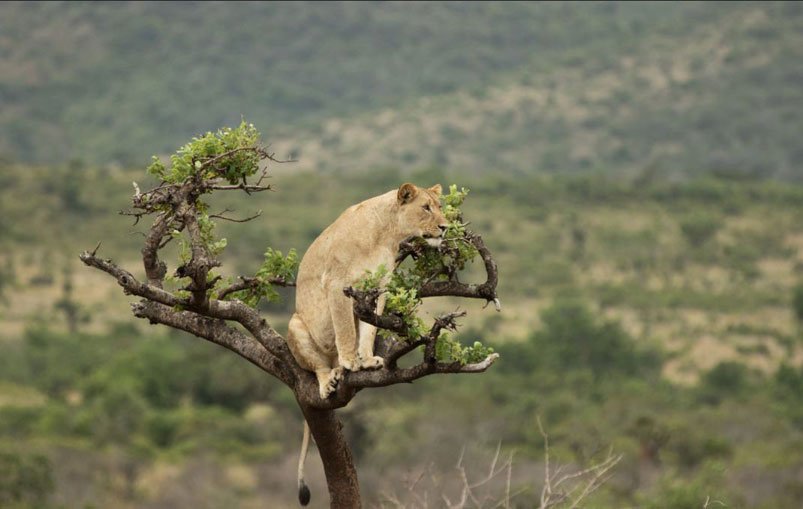 Today, life goes on with wildlife in the park and humans across the 110km electric fence coupled with tough legislation that aims to protect wildlife.
For example, according to Rwanda Development Board (RDB), Killing any animal is punishable by a jail sentence of 6 months to two years or a fine between Rwf300, 000 ($500) to Rwf2, 000, 000 ($2,900).
Selling or injuring a gorilla – the country's big cash cow and prime attractions or any other endangered species earns one a 5 -10 year jail term or a fine of Rwf500,000 ($725) to Rwf5,000,000 ($5,971).
In May this year, African Parks, a conservation agency that manages Akagera National Park through funding from the Howard G. Buffett Foundation reintroduced 20 Eastern black rhinos to Akagera.
The number of rhinos had disappeared from the park due to massive poaching and later on during the 1994 Genocide against Tutsi.
With all these adjustments, the frontline district is now contributing to tourism revenue projected to grow at a rate of 25% until 2018, from $305 million generated in 2014 alone.
RPA rebel commander planned battle from Mulindi  bunker
While advancing, the RPA rebels could not resist the beauty of tea plantations on the undulating chilly hills in former Byumba (Gicumbi district). It's in this area that the rebels dugout a bunker to host their supreme commander.
With heavy investment and government continuously courting foreign investors into tea production, Gicumbi and Rulindo districts have become the largest producers of high-quality tea that has won several regional and global accolades.
For instance, in May this year, Rwanda's tea topped in quality tea competition during an exhibition event held in Kenya's capital Nairobi.
In 2015, Rwanda Mountain Tea Ltd processing tea from Northern part of the country was recognized for producing the best tea leaves during the 6th Annual North American Tea Conference in San Antonio, Texas.
Government leadership frequently brainstorms from Gabiro and Musanze 
After 1994 genocide against Tutsi, Government put in place structures to promote social cohesion among Rwandans with the aim of re-building a Rwandan society with positive values of culture, patriotism, truth, tolerance, respect, mutual support and democratic governance.
The two places; Gabiro military barracks in Gatsibo District and Nkumba in the Northern Province; Burera district, are home to Itorero programme. Thousands of youth, Rwandans of all hues have become familiar with the two places – making them the iconic destinations to be remembered.