The First Lady of Rwanda Mrs. Jeannette Kagame has addressed the challenge of trauma and extremism at the Global Hope Coalition event on sidelines of the 72nd United Nations General Assembly in New York.
The Global Hope Coalition is a newly established international initiative dedicated to providing a global platform to strengthen civil society campaign to fight violent extremism and intolerance, preserve cultural heritage and promote intercultural dialogue.
The event convenes world leaders, heroes and activists, academicians, NGOs, philanthropists, multinational corporations among others during the U.N. General Assembly opening week in New York City.
Speaking at the event, Mrs Kagame said, "Our world is in desperate need of giving the right attention to extremism, as demonstrated by the violence, near and far from our homes."
The First Lady shared Rwanda's experience regarding extremism saying, "Allow me to share my story, the story of my people, the story of a country that was once terrorized, traumatized, 23 years ago."
"Over 1 million lives were lost; thousands of women raped, deliberately infected with HIV; thousands of  widows, orphans and 2 million coerced into fleeing."
For Mrs. Kagame, survivors of these atrocities can only appreciate one kind of cure; attention by all members of society.
"I am saying this because I owe it to the many survivors, who will only open up about what they went through, to those they consider close," she said.
The First Lady was saying this from experience since she has led several initiatives that support vulnerable categories of people in the Rwandan community.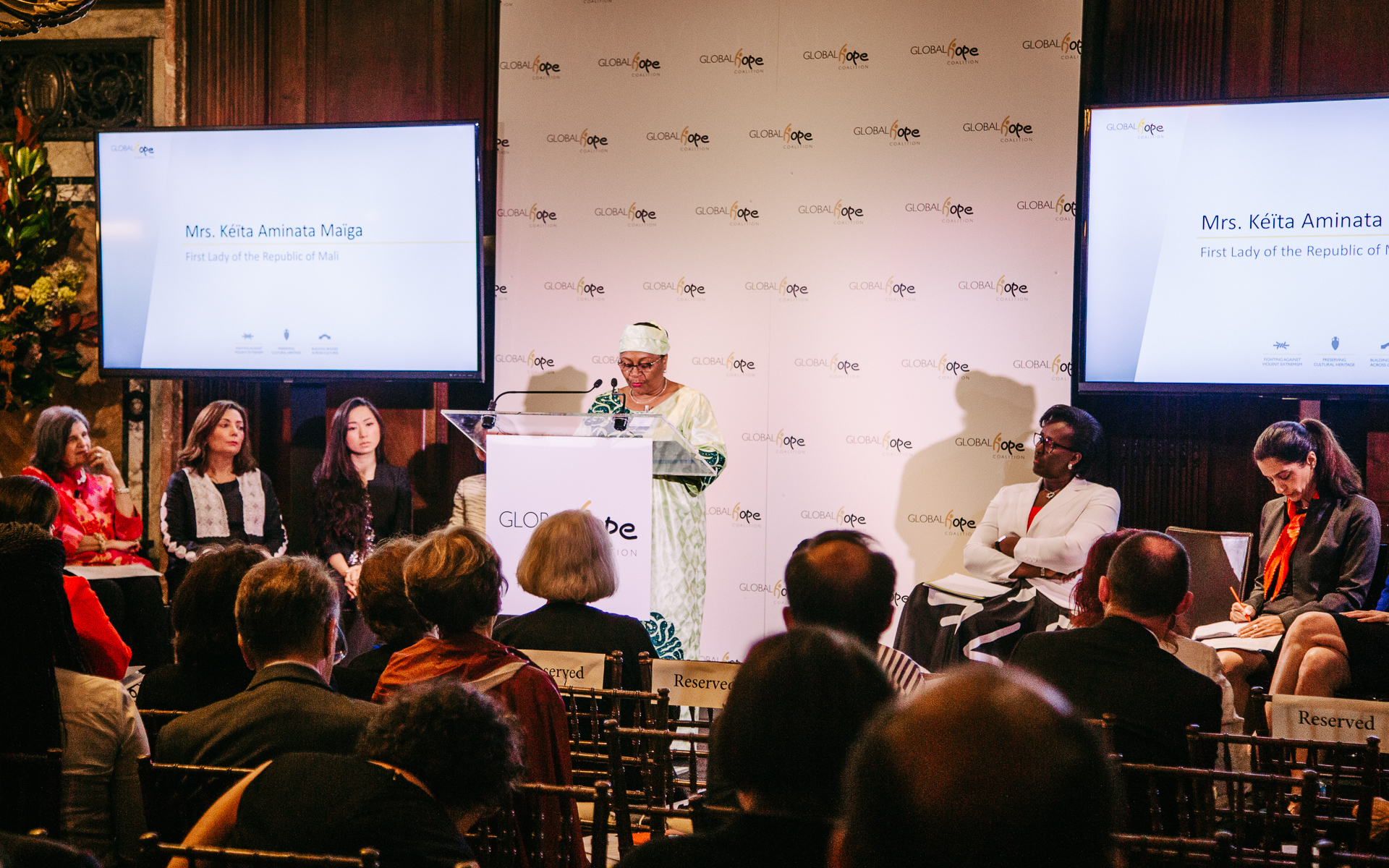 For example, as chairperson of Unity Club, she spearheads activities that aim at finding shelter for the elderly genocide survivors.
Unity Club, the organization of spouses of members of cabinet and other Rwandan leaders has funded construction of several hostels which are more like home across the country.
The elderly Genocide survivors whose families, in most cases, were completely decimated find solace in the homes because they are taken care of.
"After the Genocide, we had to devise strategies, to help us all regain dignity and strength, and make 'Never Again' a reality," Mrs Kagame said.
"This post-1994 era also saw a strong and defiant survival instinct contribute to the healing of our nation."
Among other events that are part of the summit is included a gala dinner with French President Emmanuel Macron as key speaker.
This gala dinner was hosted by Mrs. Laura W. Bush, in honor of First Ladies around the world.
At this reception, they paid tribute to the leadership of Laura Bush, several other presidents including Malian Keita and individuals who have been selected as the 2017 Heroes of the Global Campaign against Extremism and Intolerance.
They include Dr. Denis Mukwege, Congolese gynecologist who founded and works in Panzi Hospital in Bukavu, where he specializes in the treatment of women who have been gang-raped by rebel forces.
Recognizing the heroes in front of First Lady Jeannette Kagame is significant. She has been rewarding heroism activities among the Rwandan community.
Every year, the First Lady recognizes "Abarinzi b'igihango" – loosely translated as Protectors of friendship pact.
Those awarded are recognized for their outstanding acts during the genocide, leading them to risk their lives to protect those of others, paying with their own lives their decisions to protect the vulnerable ones, and working tirelessly to keep alive the memory of those lost to the Genocide.
The Global Hope Coalition Summit was hosted by Irina Bokova, Director-General of the UNESCO and the Leadership Board of the organization.