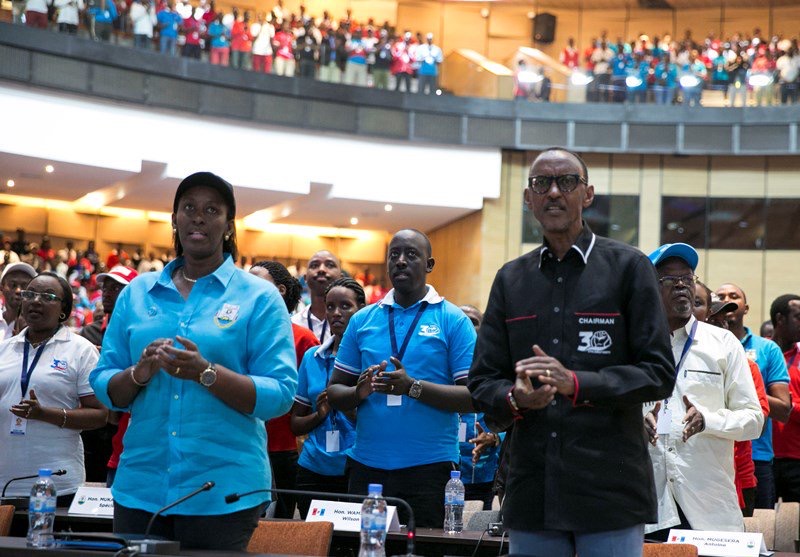 Rwanda's President Paul Kagame and chairman of the ruling party – Rwanda Patriotic Front (RPF) Inkotanyi has promised the party congress to 'give the best' in his five year tenure of chairmanship.
Kagame has been at the helm of RPF leadership since 1998 when he was first elected as chairman of the party.
Ever since, the party congress re-elected him to serve every three year term and on Saturday December 16th, he was re-elected to serve another five year term after the party extended the executive committee tenure.
"We leave here revitalized and rededicated to give the best of ourselves. I hope we will continue to be together to enjoy the 30th anniversary celebrations," Kagame said amidst an applause.
In his acceptance speech, Kagame thanked members for electing him and promised to continue delivering to the best of the party expectations.
He said high on his agenda will be empowering the youth to drive the party to the next generations.
"We are empowering our youth by charging them with more responsibilities. Their contribution should define the history of our country for more decades to come. Those you have elected come from different age brackets, especially the young ones."
For the entire three days, added the RPF Chairman, "We have had time to reflect on the last 30 years, and plan for the next 30 years and more. Let's pledge to work hard towards ensuring that those who will be visiting our country after every 10-year period will find a more developed country."
The day marked the end of three days celebrations of RPF 30th anniversary.
The President told congress that over the last three days, "We have had very enriching experience and discussions. I wish to thank those who led the discussions, the organizers and all of you."
Indeed, some members were shocked in the last three days because Kagame pointed at their weaknesses.
For example, the president criticised the culture of  bragging which has become a trend with cadres thinking that all countries come to learn from Rwanda, a country which still has a lot to learn from others instead.
"We cannot get where we want to be without being open to learning both from outside and from our own experience," Kagame said.
"We should uphold our culture at RPF Inkotanyi of doing whatever we do with humility and should be able to pass it on to our next generation. With humility, you achieve a lot."
As Africans, he said, and Rwandans in particular, we should seek solutions to our problems from within. For Africans to do this, it is important to look at what binds us together; that is where the strength is.
It was fanfare all over the auditorium, with members singing party songs.
Thereafter, all party members proceeded celebrations outside party headquarters in Rusororo sector, Gasabo district.