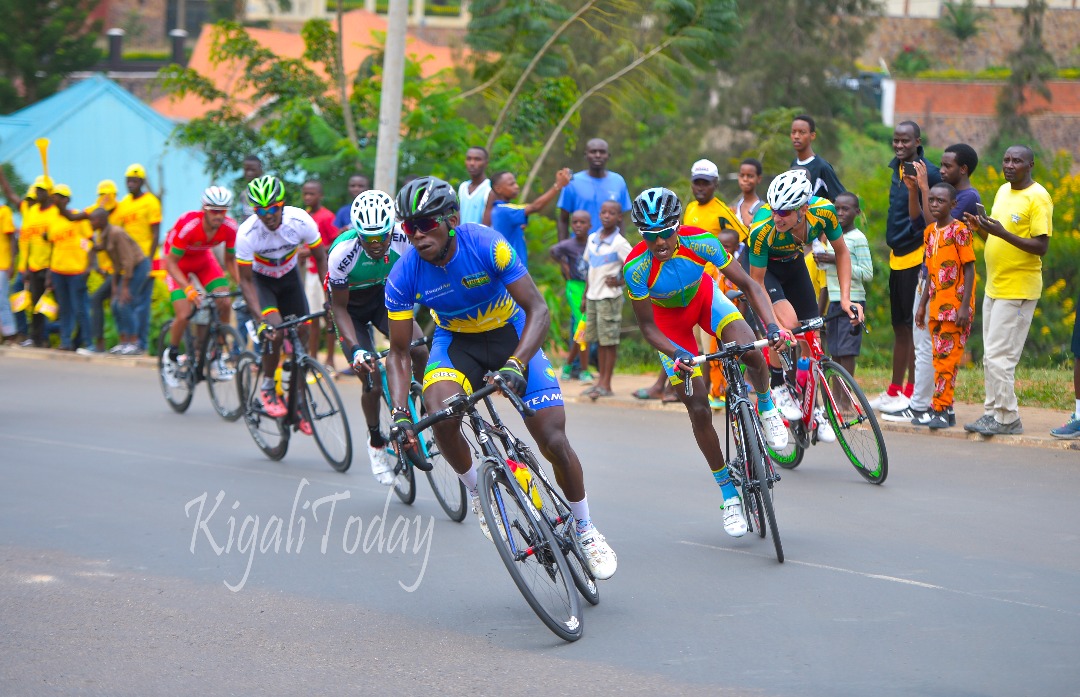 TEAM Rwanda and Africa's top ranked rider Joseph Areruya won gold in the men's U-23 road race category as the 13th African Continental Road Championship came to a climax on Sunday in Kigali City.
The 156km Elite/U-23 men's road race attracted 114 cyclists from 20 African countries riding a total of 13 laps around Amahoro stadium – Kimironko – Kibagabaga – Nyarutarama – Gishushu and Amahoro stadium.
Rwanda was represented by eight riders namely; Tour du Rwanda 2015 champion Jean Bosco Nsengimana, reigning national champion Patrick Byukusenge, 2016 silver medalist in African Championships Jean Claude Uwizeye, two-time Tour du Rwanda winner Valens Ndayisenga, South Africa based Adrien Niyonshuti, Africa's top ranked rider Areruya, and youngsters Samuel Mugisha and Didier Munyaneza.
Rwanda face stiff challenge from Eritrean riders, Algerians, Moroccans, South Africans, Namibians, and Ethiopians who were all contending for major honours.
The race started on a bright note with Rwandan riders Samuel Mugisha leading the first four laps executing a well planned tactical display before Munyaneza Didier took over the mantle going into the fifth and sixth lap.
After the sixth lap, 18 riders including Rwandan Niyonshuti Adrien had abandoned the race.
With four laps to go, seven riders were at the head of the leading peloton namely; Ethiopian Weldu Hafetab, Rwandan trio of Uwizeye, Munyaneza and Areruya, Eritrean trio of Gebreigzabhier Amanuel, Mulueberha Henok and Debesay Mekseb.
At the start of the fourth lap, Gebreigzabhier broke away from the leading peloton, putting a one minute and three seconds gap between him and the closest peloton who were chasing him.
It is at this moment that Rwandan Nsengimana had a stomach ache and had to bow out of the race causing a major setback to Team Rwanda in terms of the deployment of their tactics hence giving an advantage to Eritreans who were tightly marking Areruya not allowing him to break away from the peloton.
With two laps to go, Gebreigzabhier was ahead of the peloton with a one minute and thirty seconds gap before he stretched it further with one lap to go, extending it further to two minutes and fifty five seconds.
The 23-year-old Eritrean rider completed nearly 60 kilometers alone at the top of the standings to win by 1'53 " over his fellow countryman Metkel Eyob and Algeria's Azzedine Lagab.
The Dimension Data Team World Rider had a scare on the last lap when he suffered a puncture. But his comfortable lead allowed him to compete alone on the finish line where many Eritrean fans cheered him.
Rwandan Joseph Areruya, who was eagerly awaited on the roads of his country, won the gold medal in the U23 category thanks to his 6th place in the overall classification, placing him as the best rider under 23 years old.
Eritrean Mulueberhan Henok won silver while Rwandan Munyaneza Didier won a bronze medal.
This was Areruya's second gold medal for Rwanda after he won a gold medal in the U-23 men's individual time trial held on Thursday.
Speaking after the race, Areruya said, "I am delighted that I have won gold medals in this championship. We didn't manage to accomplish our main goal of winning gold in the elite category and this is what we will have to improve in the next editions."
"Our tactics didn't work today and with Niyonshuti and Nsengimana abandoning the race due to health reasons was a major setback. They were many talented Eritrean riders lined up for today's race, they were all on me and at times when I tried to make some attacks, they couldn't leave me and it's there that Gebreigzabhier surprisingly made an attack and it was not possible for me to get him back into the peloton until he won the race, so basically, it seemed as a tactical plan they had in mind,"
"All in all, it was a good experience and I want to really thank my teammates who tried their best to ensure that we atleast won these two medals in the U-23 category," added Areruya.
Areruya's two gold medals in this championship has boosted his trophy cabinet following victories of the 2017 Tour du Rwanda, La Tropicale Amissa Bongo last month in Gabon and Tour de l'Espoir in Cameroon early this month.
The Africa Continental Road Championship has left Eritrea topping the medal standings. They horn of Africa nation has won a total of 20 medals including ten gold medals, five silver and five bronze.
Ethiopia falls in second place with 13 medals (three gold, seven silver and three bronze) while Rwanda is third with 10 medals (three gold, four silver and three bronze).
Algeria won two bronze medals, Burundi won one silver medal while Namibia bagged one bronze medal.
African Continental Championships – Road Race
Elite Men Road Race (156km)
Gebreigzabhier Amanuel (Eritrea)

03h56

'29
Eyob Metkel (Eritrea)

03h58

'22
Lagab Azzedine (Algeria)

03h58

'22
Men U-23 Road Race
Areruya Joseph (Rwanda)

03h58

'35
Mulueberhan Henok (Eritrea)

03h58

'35
Munyaneza Didier (Rwanda)

03h58

'39