Next Einstein Forum. The flags' session which marks the closure of the NEF business in any country. Participants left Kigali with hope that dream to have Next Einstein in Africa will come true.
The three-day Neixt Einstein Forum (NEF) concluded on Wednesday in Rwanda's capital Kigali.
The global gathering which brought together hundreds of African Scientists, policy makers and members of the Private sector, left behind hope that the dream to have another scientist who will make a unique invention that will change the continent and the world like Albert Einstein will indeed come from the continent.
From day one, the forum has been a mixture of surprises from young African scientists pitching projects that would solve the continent's biting issues.
The excellent pitches and projects presented to the forum which included a Presidential panel, excited Presidents Paul Kagame and Macky Sall of Senegal – with both heads of state offering their full support to NEF and its agenda.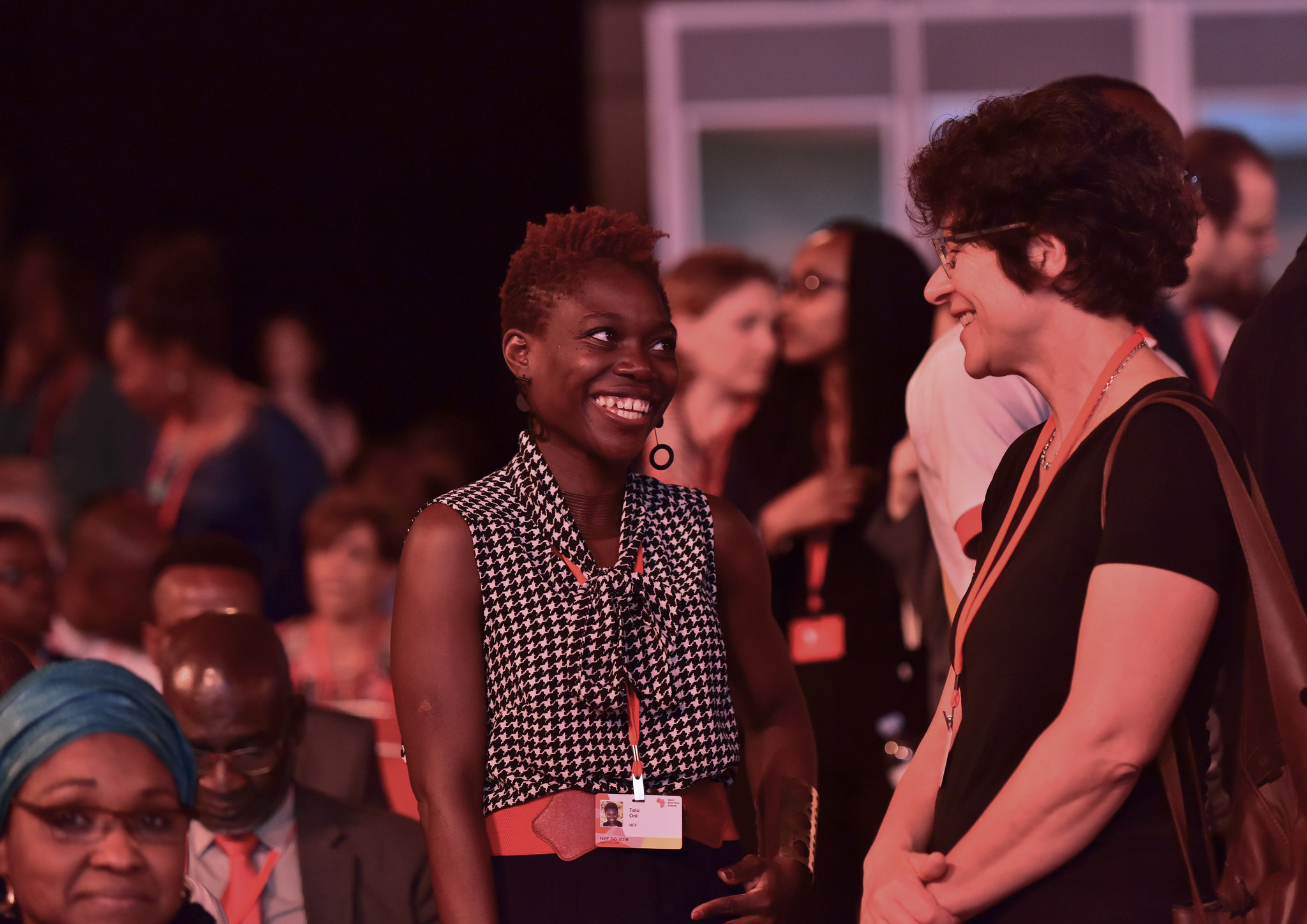 A smile like never. Science units people, brings happinessAt some point, when Kagame was asked which Application he would invent if he was a 20-year-old American Zukerberg – founder of FaceBook, he jokingly said: "I find myself here, which makes me think that I shouldn't be the next Zuckerberg, but rather I should be one to enable others to become the Zuckerbergs."
KT Press was present at this forum from day one, and made a selection of some groundbreaking projects that will push African Science to the next level and below are some of them.
Cardiopad: Designed by Cameroonian inventor and Scientist Arthur Zang, the Cardiopad is a tablet computer that takes a reading and sends it to a heart specialist.
It allows health workers to give heart examinations and send the results to heart specialists far away.
LifeBank: Temie Giwa-Tubosun is a Nigerian-American health manager and founder of LifeBank, a business enterprise in Nigeria working to improve access to blood transfusions in the country with prospect to extend her project across the continent.
Medical Smart Jacket: Ugandan born Brian Turyabagye invented a Jacket that would distinguish pneumonia's symptoms up to four times faster than a doctor, in battle against illness that kills half a million children under five in sub-Saharan Africa every year. He was present at NEF.
Infinity Space: Cedric Atangana – a Computer Science graduate Atangana and his team launched the e- commerce company.
AC Group: Patrick Nsenga Buchana, a Rwandan tech expert was recognised at NEF for his innovation in transforming transport system in Rwanda and Africa.
Agateka-which means Dignity (in Kirundi) – is sanitary pads for free for women in Burundi. An innovation by Grace Françoise Nibizi, who pads resolve the problem of affordability and accessibility- other pads cost BIF2000 and it's a taboo for women to expose their menstrual periods.
Dr. Vinet Coetzee: She invented a device that can accurately detect malaria. The device uses sensitive skin colour measurement in the palm of hand to accurately predict whether someone has malaria or not in a few seconds.
Dr. Yves Mugabo, a Rwandan. Mugabo's research focused on two areas. First on pioneering a discovery on cell mechanisms of detoxification of excess energy nutrients, where cells clean the excess nutrients in the body.
In these findings, he alongside other research fellows discovered "small molecule activators of G3PP" which can treat heart disorders and unstable sugar levels that cause diabetes mellitus (sugar diabetes).
G3PP stands for Glycerol-3-phosphate phosphatase.
At this forum, African scientists highlighted the need to narrow the gap between science and beneficiaries of science saying the gap in Africa has been too wide.
For example, they said that there is need to pay attention to every child's knowledge because according to scientists, every young person is a scientist.
Dr. France Cordova, one of the participants said that "All children are scientists. Because they ask questions".
What is needed for Africa and the world is to not only develop scientists, but also to put in place facilities that will excite the next generation to venture into the sector.
"It is important to consider ways to solidify science through building infrastructure such as Science museums, zoos etc to elicit interest in science by youngsters," said Rwanda's Prof. Romain Murenzi, the Executive Director of World Academy of Science (TWAS).
With the next NEF – a biannual forum taking place in Kenya's capital Nairobi, Africans anticipate more scientists to bring out more research proposals that would soon the continent's image on the global arena.