Rwanda will, on April 27 host Mo Ibrahim Foundation (MIF) laureates who are expected to share tips on transformational leadership in Africa.
The Mo Ibrahim Foundation (MIF) is an African foundation, established in 2006 to critically discuss and defend foundations of governance and leadership in Africa.
The 2018 Ibrahim Governance Weekend is slated for April 27-29 at Radisson Blu and Kigali Convention Centre.
It consists of a flagship event of the Mo Ibrahim Foundation held every year in a different African country.
This three-day event convenes prominent African political and business leaders, representatives from civil society, multilateral and regional institutions as well as Africa's major international partners to debate issues of critical importance to Africa.
At the Kigali event, the Ibrahim Prize which was introduced in 2007 will be awarded to the sixth laureate Hellen Johnson Sirleaf, former President of Liberia and only female president the continent has ever had.
"In very difficult circumstances, she (Sirleaf) helped guide her nation towards a peaceful and democratic future, paving the way for her successor to follow," Mo Ibrahim, the founder said after Sirleaf's selection as a winner.
"I am proud to see the first woman Ibrahim Laureate, and I hope Ellen Johnson Sirleaf will continue to inspire women in Africa and beyond."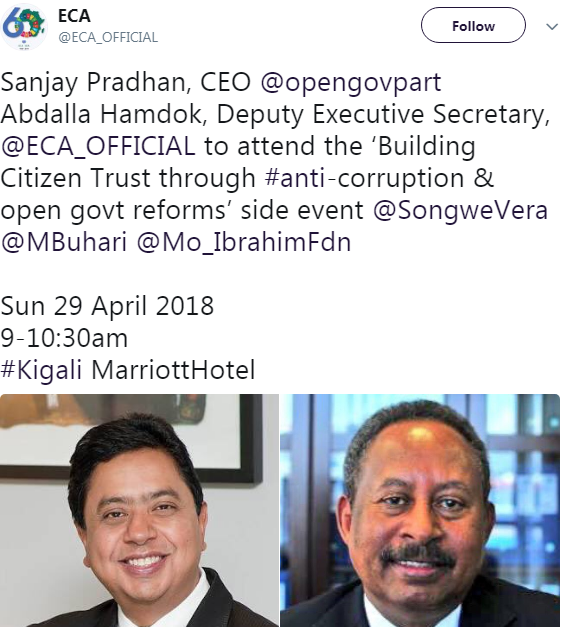 The governance weekend in Kigali will also attract other global governance leaders and economists and policy makers who will hold open debates on Public Services in 21st Century Africa.
The debate will stage a conversational debate between eminent personalities.
President Paul Kagame will hold a panel conversation with Mo Ibrahim on 'Public Services in the 21st century Africa'.
Donald Kaberuka, former President of Africa Development Bank (AfDB) will hold a session on "Identifying the demand".
Ngaire Woods – Dean of Blavatnik School at University of Oxford and professor of global economic governance will take on the subject of "Challenges of building public services and capacity".
Meanwhile, previous laureates of Ibrahim Prize include Joaquim Chissano – former President of Mozambique, Festus Gontebanye Mogae – former President of Botswana; Verde Pedro de Verona Rodrigues Pires who is former President of Cape and Hifikepunye Pohamba former President of Namibia.
Former South African President Nelson Mandela (RIP) was the inaugural Honorary Laureate in 2007.
The candidates for the Ibrahim Prize are all former African executive heads of state or government who have left office during the last three calendar years, having been democratically elected and served their constitutionally mandated term.
Ellen Johnson Sirleaf is praised for her extraordinary efforts to lead the country's recovery following civil war. She who won 2017 Ibrahim Prize for Achievement in African Leadership.
The Ibrahim Prize is a US$5 million award paid over ten years and US$200,000 annually for life thereafter. The Mo Ibrahim Foundation will consider granting a further US$200,000 per year for ten years towards public interest activities and good causes espoused by the Ibrahim Laureate.