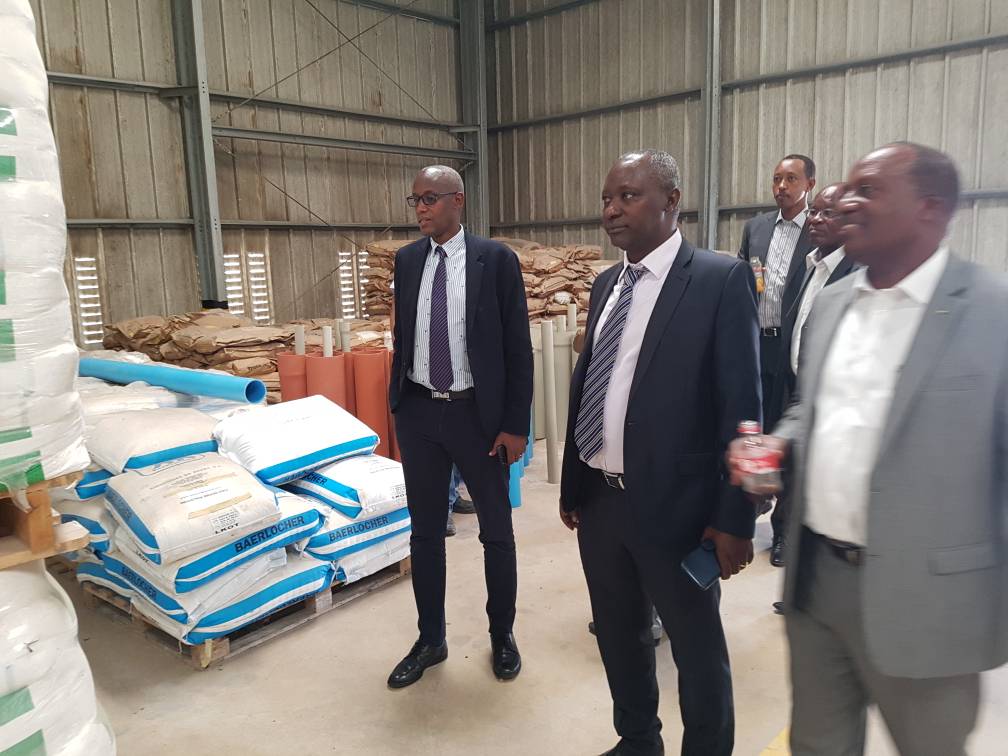 PSF officials in Congo Brazza visited several commercial infrastructure that can serve Rwandan tradersRwanda's Private Sector Federation (PSF) is in a deal to build refrigerated warehouses in Congo-Brazzaville, a strategic country to penetrate the West African market with ease.
According to PSF twitter handle, PSF chairman Robert Bafakulera and PSF CEO Good Ruzibiza are currently in Congo-Brazzaville to explore potential investment opportunities for Rwandan business community.
With this visit that started on April 24th, Rwandan exporters will start transiting products to their own warehouses, instead of renting from the Congolese.
Bafakulera and Ruzibiza's trip intend to, among others things, strike a deal for construction of the warehouse with a storage facility, a retail space, a cold room, a refrigerated truck and other related facilities.
In Congo Brazzaville, PSF is building from the already existing agreement.
"Recently we opened up a Multi-service centre in Brazzaville to facilitate our members to access the West African markets," PSF wrote on Wednesday.
"The visit of Chairman and CEO is to cement the existing partnership with our Congolese counterparts."
Multi-Service Centre (MSC) in Congo-Brazzaville was established on September 22nd 2015.
It was a partnership agreement that was signed between Group 250 and Sawa Citi Supermarket to distribute locally-made products in Congo- Brazzaville.
According to Rwanda's Ministry of Trade and Industry which witnessed the signing, Group250 is an anchor Company operating in the Republic of Congo in the sectors of imports, exports and infrastructure development while Sawa Citi is big super market with retail shops in Kigali.
The agreement intended to reinforce market linkages between Rwandan producers, exporters and foreign buyers, importers through trade promotion, logistics and information dissemination.
''What has been lacking is the physical presence of locally- made products in Congo Brazzaville-The market is ready, we are planning to mobilize our business people on the available market opportunity that is ready and wide,'' Ruzibiza said then.
''We expect to have a Multi-Service Center that will be having most of all items and we have them, we already have a nice brand and that is Rwanda.''
Rwanda exports fruits, juices, coffee, milk, vegetables, meats, beans and cassava products to Congo Brazzaville. Isolated exporters also export mushroom products with added value.
Rwandan Investors who export to Congo Brazaville told KT Press, that the new facility will allow them to do business with the country without fear of loss.
"Congo Brazzaville love our products, but we were always hampered by storage facility. We are now going to send products to the country and have a permanent contact salesperson who will get our products in the proximity," Noel Harerimana, Sales Director of Urwibutso Enterprise told KT Press.
Urwibutso Ese is well grounded in agricultural products transformation.
Harerimana said, they export at least 50 boxes of their renowned chilli – Akabanga to Congo Brazzaville at least every three months.
"Recently, we have also registered demands in our locally made banana wine – Akarusho," he said.
In January, Urwibutso Ese attended an exhibition at Pointe Noire, a sea port in Congo Brazzaville and, said Harerimana, they witnessed huge interest of Rwandan products at the country's market.
Rwanda, a landlocked country is establishing strategic facilities in countries with access to the sea in a bid to have access to global markets.
Several agreements intended to protect business interests of Rwandan investment in Djibouti, Ethiopia and Morocco were approved by the latest cabinet meeting, April 10th.