Ellen DeGeneres – American TV personality who is working on a gorilla conservation project was on Tuesday paid tribute to genocide victims at Kigali Genocide Memorial.
Clad in a black pants, dark blue T-shirt and a Zebra-striped blazer, Ellen DeGeneres, partner Portia de Rossi and team were given a guided visit at the Memorial Centre.
She later laid a wreath on the mass graves before signing in the guest book. "Heartbreaking. Important," she wrote in the book.
"One of the most important and memorable experiences of my life," Portia de Rossi also wrote in the guest book after visiting the Memorial Centre.
Shortly before visiting the site, Ellen DeGeneres was hosted by President Paul Kagame at his office in Village Urugwiro.
Recently, Ellen turned 60 and partner Portia de Rossi gave her a present on air in February, despite having almost entirely lost her voice.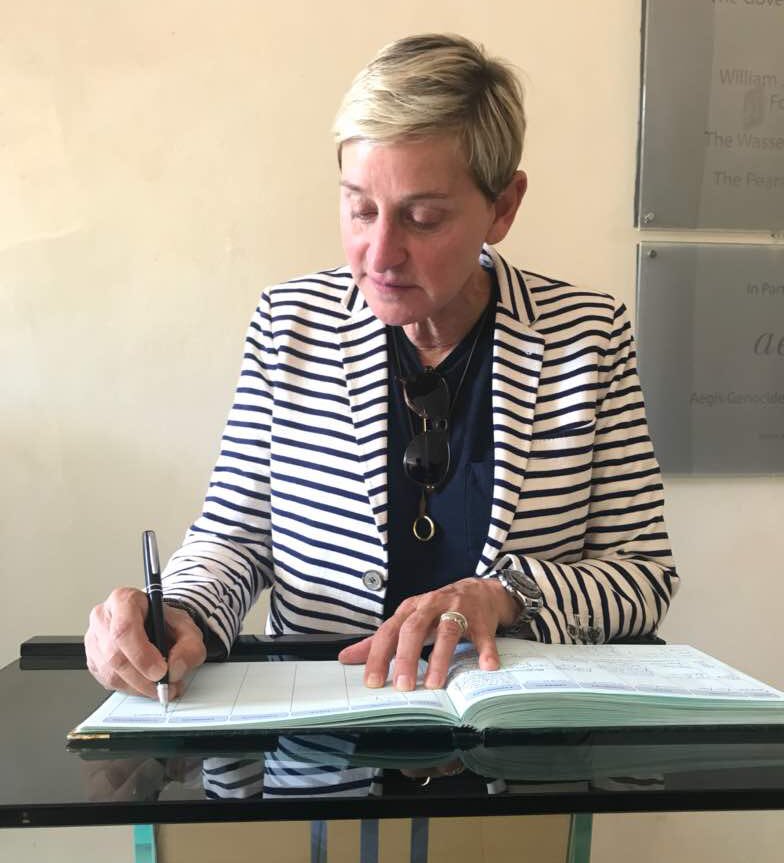 Inspired by Ellen's personal hero Dian Fossey, de Rossi gave her a gift to set up a fund and campus in Ellen DeGeneres' name at the Dian Fossey Gorilla Fund in Rwanda.
The project has already come up with designer shoes with a gorilla insignia and words: Ellen DeGeneres Wildlife Fund.
Speaking to KT Press on Tuesday, Tara Stinski – President and Chief Executive Officer at the Dian Fossey Gorilla Fund said: "The cost of the campus is $10 million so far and it will be completed in May 2020."
Last week, the couple arrived in Rwanda for their holiday, during which they have planned a host of engagements.
Last week, the wildlife project was in the news again. Actor and investor Ashton Kutcher went on Ellen DeGeneres' US chat show to make a large donation to the host's Wildlife Fund on behalf of crypto-tech company, Ripple. He made a $4 million (Rwf3.4billion) transfer by asking Ellen to click on a button.
Meanwhile, when the campus starts operations, according to Stoinski, "It will enable us to work more with Universities in Rwanda and train young Rwandan Biologists, support the work of Rwanda Development Board in Conservation and to increase the work we are doing with the local community," she said.
"The Ellen Show and Portia de Rossi have joined the #VisitRwanda campaign! With the Big 5, mountain gorillas, beautiful lakes and historic culture and traditions, #Rwanda is without doubt one of the best tourist destinations in the world," tweeted David Toovey Communications Director for Rwanda Green Fund.