President Paul Kagame has told young Rwandans that Rwanda Defence Force (RDF)' doors are open to those interested to join.
On Sunday, Kagame presided over the closing ceremony of Itorero Indangamirwa XI, which brought together 568 trainees including 430 Rwandan residents and 138 Rwandans residing in 20 countries across the world.
They conducted a five weeks intensive training which included basic military training, intelligence and counterterrorism.
They also received political education where they studied the country's history and discussed the National Strategy for Transformation along side conducting study tours to different places across the country.
At the closing ceremony which took place at Gabiro Combat Training Centre in Gatsibo district, Eastern Province, several trainees expressed interest to join the army and Police as a choice of serving their country after completing studies.
"For those of you who are interested in joining the army, you are welcome," Kagame told enthusiastic youth.
The President said that there has been massive transformation of the army to make it more professional.
"In the past in this country, the army was joined by the worst of society. Today, the profession of protecting this nation is joined by only the best among us," he said.
For the past 24 years, the army and Police have established world-class training and academic institutions that have graduated thousands of professional military and Police officers from within and outside the country.
For instance, in September 2015, Rwanda Military Academy in Gako Bugesera district, launched a four-year bachelor's degree in Social and Military Science cadet course.
The programme is conducted in partnership with the University of Rwanda.
With the basic military training conducted, the President told the youth that he was impressed to witness their skills in defending themselves and the nation.
"It is an honor and a pride to know that you are capable of defending yourself, your home and your nation. That is how those of us who joined the army at your age understood it," the President who revealed that he took up huge responsibilities at the age of 18, told the trainees.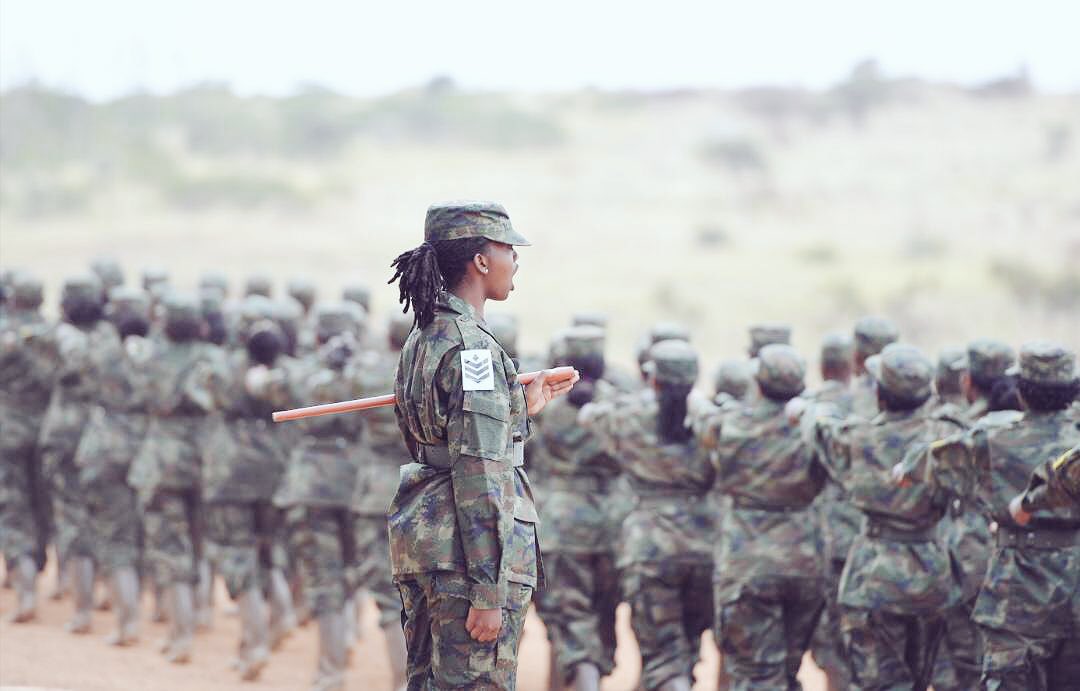 He challenged them to turn down all sorts of negative things and do better for the country.
"Don't allow yourself to be put down by negative things around you. Keep showing up and saying I can do something for myself and for the country."
"You see the good and the bad in all the places you live. We want you to take the good and use it to build yourself and your nation. And learn from the bad, to protect yourself and your country from it," he added.
The President who spent more than an hour interacting with youth, reminded them that knowledge they acquire in life is crucial but can be meaningless if they don't have values.
"Knowledge is important. But if you do not have any values, the knowledge you have gained becomes useless," Kagame said.
Started on 29 June 2018, the 11th edition of Itorero Indangamirwa brings the number of graduates to 3,169 since its inception in 2008.
President Kagame reminded graduates that the essence of Itorero comes from Rwandan culture.
"It is about investing in every Rwandan citizen to ensure that they can become the best they can be. It is about ensuring every Rwandan strives to be useful members of society."
During a Q&A session, Kagame was asked about his first concern for the future of Rwanda.
In response to the question, the President said: "My first concern for the future of Rwanda is you. If we get you on a good path and firm foundation then the future of Rwanda is well protected."
He reminded that it is a responsibility of every Rwandan to protect what the country has achieved in the last 24 years.
"When you build something, however big or small, you work to protect it from all harm. It is the same for our country. We each have a role to protect what we have built together," Kagame said.
He reminded graduates that the training they received is purposely to work together in harmony, beyond military drills they excercised.
"But it is also about your daily tasks and your mindset," he added.
Members of the Rwandan Community from abroad who attended Itorero Indangamirwa XI came from Belgium, Canada, China; Cyprus, DRC, Germany, Ghana; India, Ireland, Israel, Japan, Kenya, Mauritius, Poland, Singapore, Saudi Arabia, Uganda, UK, USA, and Denmark.