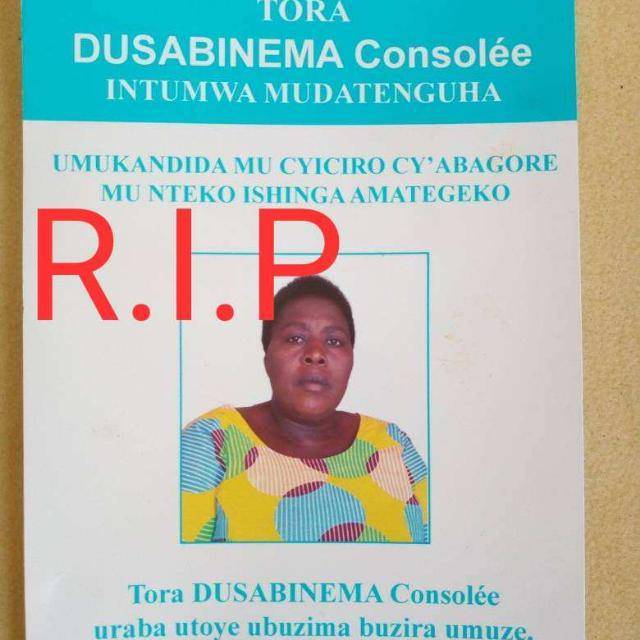 Late Dusabinema Consolee
One of the female Rwandans vying for Member of Parliament seat on Western Province women ticket has passed away with only 12 days to the voting date.
Reports reaching KT Press indicate that Consolée Dusabinema, 53 succumbed to an untimely death on the evening of August 20, 2018 between 8pm and 9pm but the cause of death remain unclear.
Her eldest son, Pacifique Niyigaba told KT Press on phone that Dusabinema was at her home resting after a long campaign the previous day in Rusizi district and she complained of body weakness while in the company of visitors.
"She was not feeling well. So she asked to go to the toilet but later on asked the housemaid to bring her a mattress to rest…when I saw her condition worsening I called for an ambulance but on reaching the hospital the doctors told us that she has breathed her last," Niyigaba narrated.
Reports from Kigali Today reporters also indicated that Dusabinema had developed health complications while on a campaign in Rusizi district and was referred to Gihundwe hospital but later on was released after medics assured she was fit to push on her campaign bid.
Her son confirmed that: "Dusabinema had a history of breathing complications, but she had not had this issue of recent."
Before her death the deceased female candidate was planning to go to Karongi trial today.
She becomes the first Rwandan to die during a parliamentary campaign race since the first parliament of 2003.
She was also among the 61% women aspirants retained on the final list of candidates out of the 521 confirmed candidates with women running for the 24 slots reserved in the next house of parliament 2018.