The Ministry of Health assures the general public that Rwanda is ready to appropriately intervene and contain Ebola outbreak in case it occurs on the country's territory.
"We have trained people and at the central level we have a coordination mechanism," Dr Zuberi Muvunyi, Director of Clinical and Public Health in the Ministry of Health said after simulation exercise carried on Thursday, October 25th at Kanombe Military Hospital.
Muvunyi said that Rwanda has an emergency coordination center where they coordinate policy makers' decisions, health facilities and everything from central to the community level to contain any epidemic from spreading.
"We still have to train, but today we are at the level where in case an Ebola case occurs, we can easily handle it."
Dubbed Kumira Ebola Similation Exercise (SIMEX), the exercise brought together the Ministry of Health, Rwanda Defence Force (RDF) and Rwanda Biomedical Center and partners for a simulation exercise aimed at assessing RDF medical personnel and other stakeholders "on the readiness and general conduct during a probable Ebola outbreak in Rwanda."
"I want first to reiterate that there is no Ebola outbreak in Rwanda, but it is our responsibility to watch out since it has been reported in our neighboring country, the Democratic Republic of Congo (DRC)," Muvunyi said.
"We must train and avail all necessary equipment so that in case we identify an Ebola case in Rwanda, we do whatever possible to contain it."
The SIMEX consisted of three main parts including the screening phase where all people from an area where there is Ebola outbreak pass by the screening post and in case someone is suspected to have Ebola they take them to the Triage Post where they ask them a number of questions to see if they could have had any contact with an Ebola patient.
At the triage level, a suspected person is asked whether they have been to DRC for the last 21 days, whether they have headache, bleeding, a problem of breathing, unusual fatigue among other questions.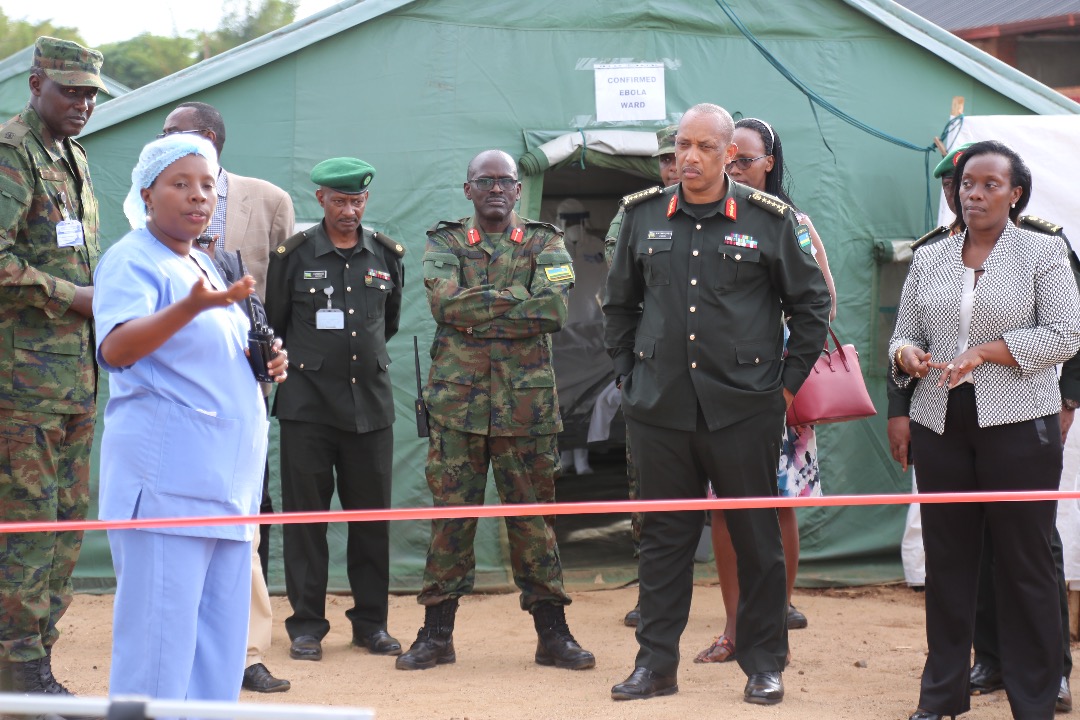 From the Triage Post, any Ebola suspect is evacuated with ambulances to the isolation and treatment post where also a range of medical exercises, including laboratory tests, treatment and evacuation once a patient is dead or is saved from Ebola, are performed to protect other people from getting contaminated.
Meanwhile, a number of cases of Ebola were reported in the neighboring country, DRC until this month.
In August, the World Heat Organization (WHO) said that Ebola outbreak in DRC is likely to spread and poses high risk to the region.