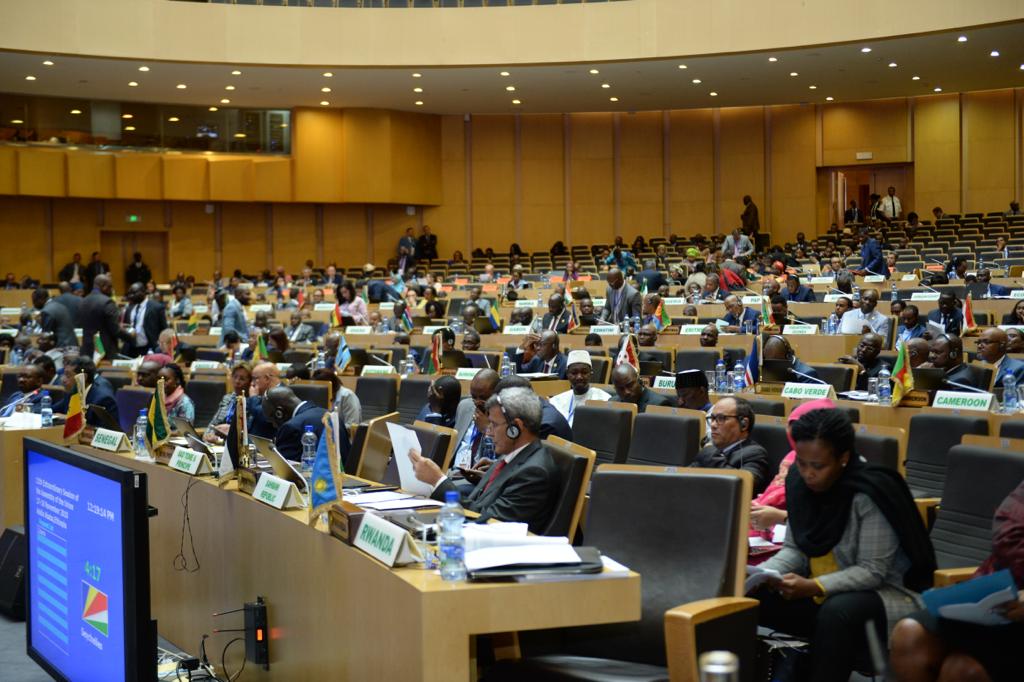 The African Union has pushed further institutional reforms by removing overlaps and duplication in top leadership positions intending to improve efficiency.
The reforms were approved during the 11th extraordinary summit of the African Union in Addis Ababa that was concluded on Sunday – November 18, 2018.
From 2021 when the current mandate of commissioners ends, the number of commissioners will be cut from eight at the moment to six, which  will include  Agriculture, Rural Development, Blue Economy and Sustainable Environment; Political Affairs, Peace & Security and Health, Humanitarian Affairs and Social Development.
Apparently, no component was ignored in reforming portfolios of commissioners, rather, attributions within commissions were redefined and condensed to cut on the budget and logistics.
The summit decided that the commissioners will be selected on rotational basis in the 3 out of the 5 regions of the union. This implies that the region where the chairperson and the vice chairperson hail from will not be considered in the selection of the commissioners.
The chairperson and his or her deputy will be selected on a rotational basis in the five regions of the continent. And for gender equality, it has been stipulated that the chairperson and the deputy must never be of the same gender.
Moussa Mahamat Faki, the African Union Commission Chairperson said that the new selection of the commissioners is "paving the way for a merit-based, competitive elected Leadership with new portfolios rationalised to remove overlaps and duplication."
He further said: "New administrative reforms were adopted to strengthen the smooth functioning of the AU Commission."
A jury of Five Eminent Africans was also elected from the five regions respectively, to examine candidacy of commission's top leadership.
They will be assisted by an African firm which has expertise in the matter.
Meanwhile, the New Partnership For Africa's Development (NEPAD) was integrated into the African Union Development Agency (AUDA).
AUDA is mandated to among other things coordinate and execute priority regional and continental projects to promote regional integration towards the accelerated realisation of Agenda 2063.
The Agency's headquarters will be permanently located in South Africa.
Also, new sanctions were decided on late payments of due contributions.
"I pay tribute to Africa's leaders who unanimously decided at African Union Summit on fundamental changes that will transform the capabilities of our institution for decades to come," President Paul Kagame and current chairperson of the African Union said.
"Together, we are making Africa stronger and better and building The Africa We Want and our people deserve."
Through the sessions that took place, President Kagame thanked the key players in the ongoing reforms, including the "ten distinguished men and women of the Reform Advisory Team who have assisted us with this assignment from the very beginning."
Kagame said that the reform "is not an end in itself. What counts is how we use it to secure a prosperous and peaceful future for our continent. I therefore urge the Commission and the Member States to put these decisions into effect as quickly as we can."
Kagame further said: "It is also important to maintain the same high standard of consultation and technical rigor, as the remaining reform items are prepared for consideration at our next Summit collaborating closely with other Organs."