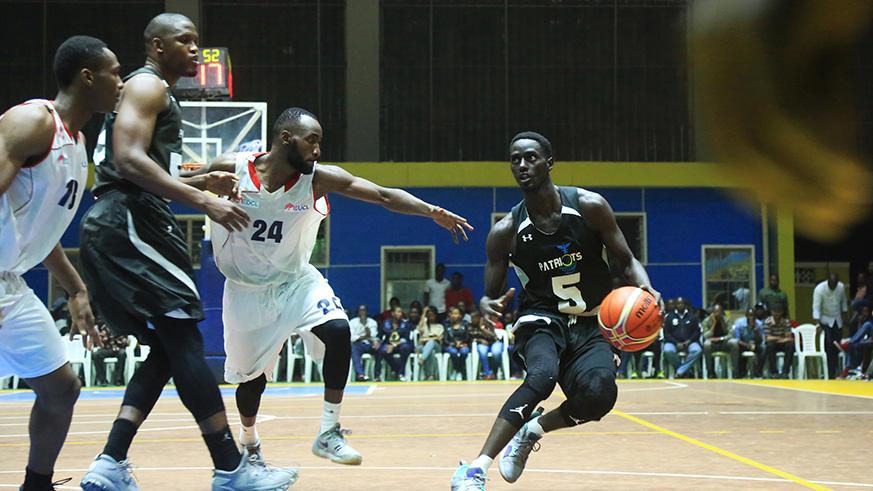 Rwanda Energy Group (REG) and Patriots basketball club return back in action in match day six of the BK Basketball National League scheduled on Friday night at Amahoro Indoor Stadium.
Rwanda Energy Group (REG), 2017 champions, who maintains unbeaten record in three matches played so far have six points. They face UGB Basketball club at 18h00.
Second-placed and reigning champions Patriots who have four points in two matches played so far takes on APR basketball club at 20h00.
Following Friday's matches, action will continue on Saturday in both women and men categories.
In the men's categories, Espoir BBC will face IPRC Huye at Rafiki at 11:00; IPRC Kigali will be hosting Rusizi BBC at CSK at 11:00 while REG BBC will play their fifth match of the season against UR BBC at CSK at 13:00.
In the women's category, UR BBC will face The Hoops at Huye campus at 11:00 while Ubumwe BBC will be hosting IPRC Huye at Club Rafiki at 13:00.
More matches will be staged on Sunday in the men's category when UGB BBC will be hosting Rusizi BBC at Amahoro at 9:00am before APR BBC takes on IPRC Huye BBC at Amahoro indoor stadium at 11:00am while Patriots BBC vs UR BBC will climax action of the day from 13:00.
BK Basketball National League
Match Day Six Fixtures
Friday, December 14
Men
UGB BBC vs REG BBC (Amahoro Petit Stade, 18h00)
APR BBC vs Patriots BBC (Amahoro Petit Stade, 20h00)
Saturday, December 15
Match Day 7 Fixtures
Women
UR BBC vs The Hoops (UR Huye, 11:00)
Ubumwe BBC vs IPRC Huye (Rafiki, 13:00)
Men
Espoir BBC vs IPRC Huye (Rafiki, 11:00)
IPRC Kigali vs Rusizi BBC (CSK, 11:00)
REG BBC vs UR BBC (CSK, 13:00)
Sunday, December 16
Match Day 8 Fixtures
Men
UGB BBC vs Rusizi BBC (Amahoro, 09:00)
APR BBC vs IPRC Huye BBC (Amahoro, 11:00)
Patriots BBC vs UR BBC (Amahoro, 13:00)
Men's Ranking
TEAM                                PG      W/L/D           Pts    
REG BBC                           3        3/0/0           6
PATRIOTS BBC                   2        2/0/0           4
RP-IPRC KIGALI                  2        1/1/1           4
ESPOIR BBC                       2        1/1/0           3
RUSIZI BBC                        3        1/1/0           3
RP- IPRC HUYE BBC           2        0/1/1           2
UGB                                 2        0/2/0           2
APR BBC                           1        0/1/0           1
UR BBC                             1        0/1/0           1
Women's Ranking
TEAM                                PG      W/L/D         Pts    
IPRC HUYE BBC                 1        1/0/0           2
UR BBC                             1        0/1/0           1
APR BBC                           0        0/0/0           0
REGINA PACIS BBC             0        0/0/0           0
THE HOOPS BBC                0        0/0/0           0
UBUMWE BBC                    0        0/0/0           0