President Paul Kagame has said that at one point, Europe has had an active hand in inciting Africans to migrate to Europe and stressed that it is the right time both Africa and Europe start looking for a lasting solution to it.
Kagame's remark comes at a time when several Africans have been seen drowning in Mediterranean Sea enroute to Europe.
Latest figures indicate that in sub-Saharan Africa alone, nearly 1 million asylum seekers crossed to Europe between 2010 and 2017.
Kagame, who was jointly addressing the media with the visiting Federal Chancellor of the Republic of Austria Sebastian Kurz in the capital Kigali on Friday, said that at some point, Europe played a role in the current issues of African migrants to Europe.
"At one point for a long time Europe was inciting or inviting people to go to Europe, because at one point the message was; your countries of Africa are governed badly…there is no this, there is no that…you should come to us. This is real," Kagame said.
According to President Kagame, the impression that was created at the time was that if Africans had problems in their countries, whether true or false, was to "just come to our paradise in Europe" which Africans heeded to.
"These people came to a point that people can't have them anymore," Kagame said.
But today, President Kagame who is the current chairperson of the African Union, said through the ongoing discussions between Europe and Africa, these issues can still be revised.
According to President Kagame, what Europe spends on migrants from Africa is so huge that if it could be invested in Africa, "Europe would probably use a fraction of that money to help create industries and create jobs.
"The Problem is not Europe. We also have a fair share of the blame that we have to take. But I think working together will help address this problem which has become like firefighting, then firefighting in the wrong way," Kagame said.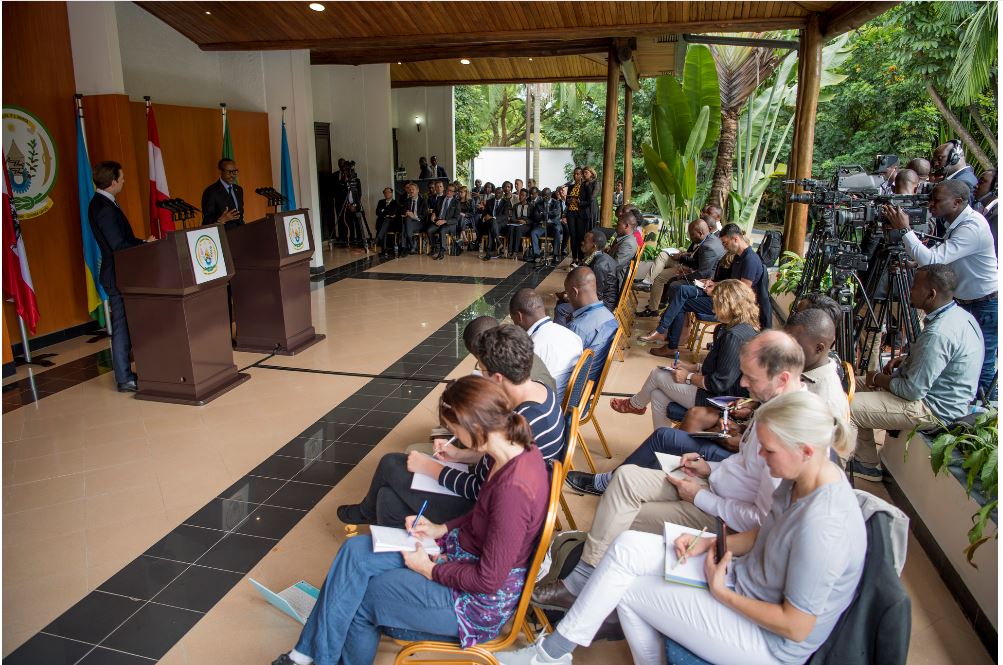 Media to take blame
In a ten-minute address, President Kagame also mentioned the media for magnifying the problems, saying they should take their own blame too.
The President said that such misrepresentation of problems have in many cases complicated politics and relations between countries.
"Sometimes the media misrepresents or magnifies the problem that is there but I think they are also people who can be helpful. We all need to soberly look at the problems because they are there, try to find solutions even if they are complicated. We have to embrace them. We can't find an easy solution for a difficult problem," he said.
In a fanfare tone to his guest, Kagame told Chancellor Kurz that despite candidly highlighting all issues between Europe and Africa, he was only sending the message through him to colleagues back in Europe.
"They are not addressed to you, but through you to the colleagues in Europe. I think I am also speaking for our continent," Kagame told Chancellor Kurz.
Currently, Austria holds the six-month rotating presidency of the European Union.
Need for Strong Private Sector
On his part, Chancellor Kurz said that one of the key agreements between him and President Paul Kagame was a strong private sector and a positive economic development are the basis for good living conditions between people of the two continents.
Nationally, chancellor Kurz said that his country will facilitate Austrian companies to invest in Rwanda and Africa.
"The Austrian Investment Bank will increase its portfolio in Africa for the next years to €55 million and we will also launch an investment fund for SMEs (Small and Medium Enterprises) of €10 million in order to make it easier for Austrian companies to invest in Rwanda, Ethiopia and also in other African countries," he said.
Meanwhile, both leaders agreed on joint preparation for the Africa-Europe Forum in Vienna, Austria scheduled for December 18 this year.
Earlier before, chancellor Kurz visited Kigali Genocide Memorial in the capital to pay respect to over 250,000 victims laid there.
He is expected to end his two-day state visit this evening, where he will head to Ethiopia.