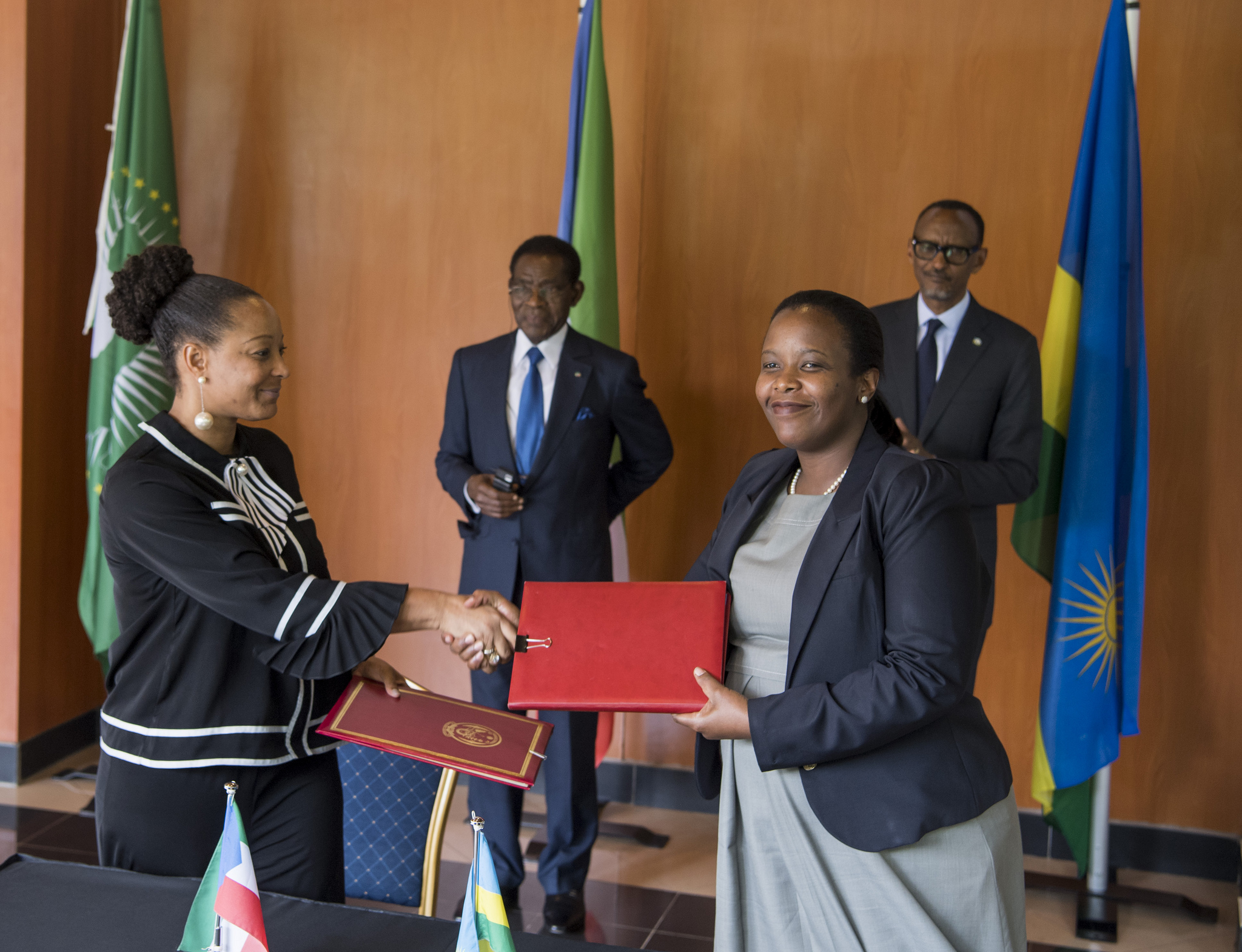 Signing agreements between Rwanda and Equatorial Guinea
Rwanda and Equatorial Guinea have signed four cooperation agreements which are expected to strengthen bilateral relationship between the two countries.
The signing was witnessed by President Paul Kagame and his counterpart Theodoro Obiang Nguema who is on one day working visit to Rwanda – the second in the last four years.
Rwanda and Equatorial Guinea signed cooperation agreements including; an agreement on rules of Procedure of the Joint Permanent Commission and a Memorandum of Understanding on Mutual Diplomatic Consultations.
Both countries signed the bilateral air service agreement which could see Rwanda's carrier – RwandAir fly to Malabo International Airport.
Both countries also signed a Memorandum of Understanding on Tourism.

Equatorial Guinea citizen coming to Rwanda would enjoy the country's four national parks including Volcanoes National Park, the home to the rare mountain gorillas, Akagera National Park which is home to the Big Five among others and the Nyungwe National Park with a canopy walk.
Plenty of hotels, including international brands like Marriott and Radisson Blu give enjoyable hospitality to tourists and help them enjoy the temperate climate as they tour the capital Kigali, cleanest city of Africa, or as they visit the country of a thousand hills.
Cultural tourism include ten museums while for the Catholics, pilgrimages may visit Kibeho, the place where Virgin Mary appeared to three girls, according to the Holy See.
At a joint press conference, President Kagame said that both countries are committed not only to strengthen mutual cooperation, but also to advance the development of Africa as a whole.
"I commend Equatorial Guinea for its critical role representing Africa on the United Nations Security Council, alongside Côte d'Ivoire and South Africa,"Kagame said.
President Paul Kagame is the current chairperson of the African union. He is witness of the Union's determination to build a unified Africa with a strong continental area.
Equatorial Guinea's hand was also acknowledged.
"I also wish to note with appreciation the consistent support that Equatorial Guinea has given to the African Union reform process, as well as its signing of the Continental Free Trade Area and the Free Movement of Persons," Kagame said.
African Continental Free Trade Area (ACFTA), agreement was signed in Kigali in March 2018.
The Ministry of Foreign Affairs told KT Press last week that the ACFTA will enter into force after 22 countries have ratified it and. It is expected to be launched in July 2019 in Niger.
So far, 16 countries including Rwanda and Equatorial Guinea have ratified it.
Kagame invited Equatorial Guinea's citizens to come and enjoy what Rwanda offers in tourism, taking into consideration, that Rwanda has made it easy for tourists to visit Rwanda.
"As you know, Rwanda offers visa on arrival. We hope tourists and businesspeople from Equatorial Guinea will take advantage of this facility to visit as frequently as they wish," Kagame said.
President Obiang said that looking at the progress Rwanda is making, the world is wrong to say that Africa is a continent that is lagging behind.
"It is a shame that some Western countries think of Africa as the last continent yet some problems come from them because they do not want the development of Africa," he said.
Nguema also congratulated President Kagame for developing the capital City and for unifying Rwandans after the tragedy of the 1994 Genocide against Tutsi.
He also said that Kagame has set precedent in leadership of the African union.
The Equatorial Guinea President is expected to tour the Campaign against Genocide Museum before concluding his visit today.
Nguema last visited Rwanda in 2014.