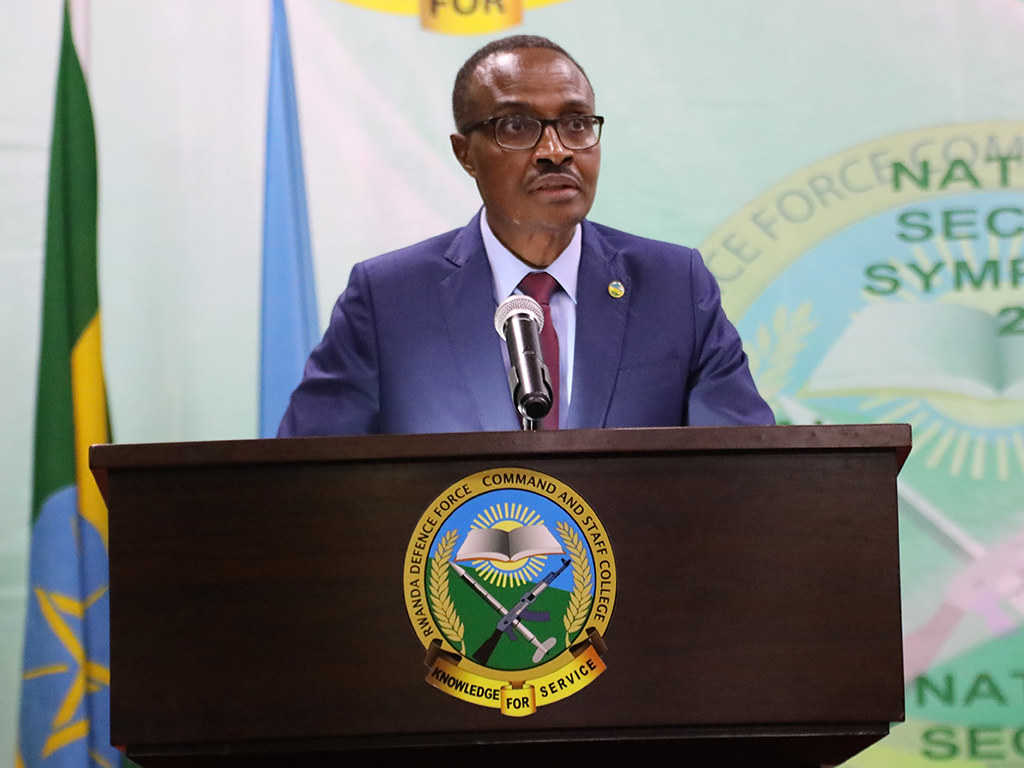 Rwanda's Minister of Defense Major General Albert Murasira(picture above) has called on African countries to seek homegrown solutions if the continent is to address its contemporary security challenges which remain dynamic and recurrent.
Africa's current security challenges range from terrorism, cyber security, post war conflicts among others.
For Gen. Murasira Africa needs to constantly renew and review these challenges, find solutions and cannot wait to have the classical and conventional ways to deal with such challenges.
"We must find homegrown solutions within our own means and move forward; make sure we don't go back to the failures of the past. Let's be more imaginative, creative and programmatic in finding solutions to our problems," Gen. Murasira said.
The defense minister was speaking at the opening of the three-day National Security Symposium (NSS) which opened Monday May 13 at Rwanda Defence Force Command and Staff College (RDFCSC) in Musanze District.
The Symposium was organized in collaboration with the University of Rwanda (UR) and will run from 13th to Wednesday, 15th May 2019 on the theme: "Contemporary Security Challenges: The African Perspective".
The NSS is an annual event that brings together heads of the army, police and security analysts from several African countries to discuss regional, continental and global security challenges and how they impact on the military operating environment.
This year has 10 countries participating including Ghana, Malawi, Senegal, Zambia Uganda, Kenya, Tanzania, Ethiopia, Nigeria and host Rwanda.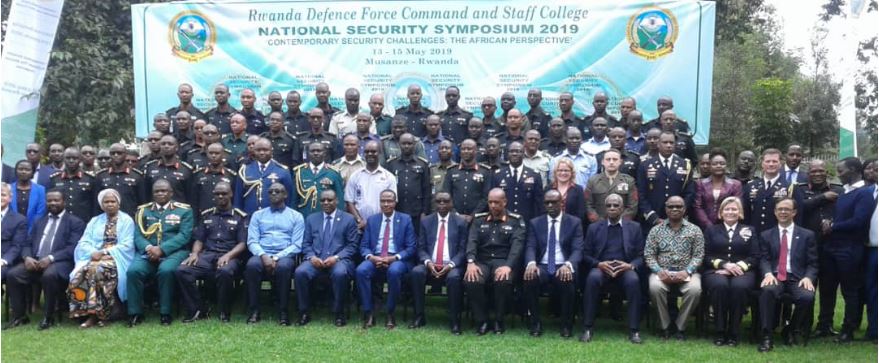 Gen. Murasira said that Rwanda believes in peace beyond just sending its peacekeeping troops, and will not hesitate to support peace efforts towards other countries and communities but for collaborative work to address issues like youth distension and unemployment, civilian vulnerability in conflict terrorism and cyber-attacks among others.
During a morning panel session on 'Power Dynamics between Russia, China and the Western World: Implications on Security and Development in Africa', experts said that unless Africa finds its right place, western post-cold war, post-colonial and soft power will deter Africans from growth and solving own problems.
Panelists like General James Kabarebe, senior security advisor of President Paul Kagame argued that China and Russia have no development interest in Africa and their involvement is intended to suit their national interests and on adhoc relation basis.
Agreeing with Kabarebe, Minister of Justice Johnson Busingye wondered if the post-cold war era and scramble for Africa will ever end.
"Today the West and East are working at relevance to pursue strategy of competition and Africa increasingly becomes place where all this plays out well. Not in New York, not elsewhere but here. Are we going in this as part of the global or of wholesale?" Busingye asked.
Rwanda's Minister of Infrastructure Amb. Claver Gatete argued that the struggle for Africa is good news for Africa but the question is if it is going to be another debt burden.
Prof Adebayo Olukoshi, Regional Director for Africa and West Asia at the International Institute for Democracy and Electoral Assistance (IDEA) stated that in order for Africa to make best of changing world, "we need much emphasis on a united security approach not in idealistic but doctrinal approach."
"Otherwise we become a set of little ponds to be played in by anyone.  For example Djibouti should work with rest of Africa instead of doing things without thinking of impact on region and itself as a country," Olukoshi said.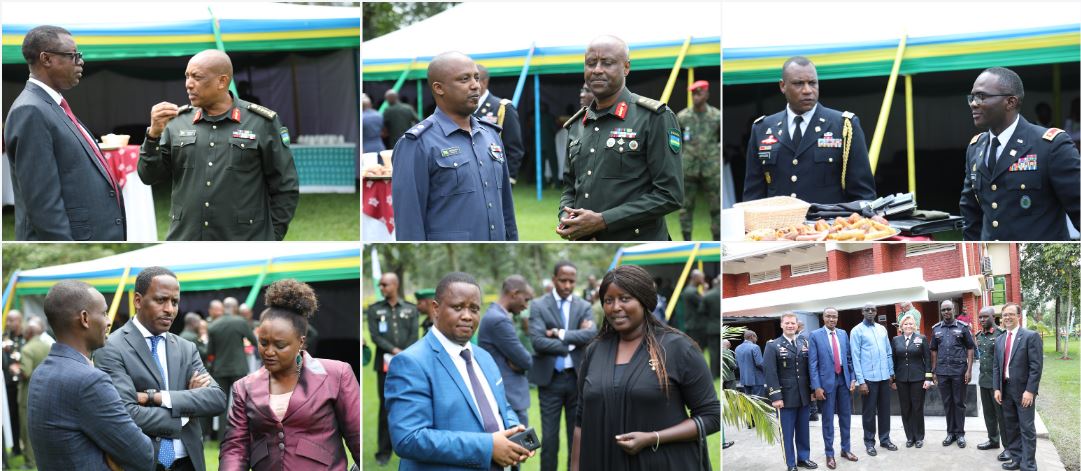 During an afternoon panel on building defence capabilities in Africa, Rwanda's Chief of Defence Staff Gen. Patrick Nyamvuba tipped African countries on strategies needed to find a systematic approach to building an effective defence and sustainable security solutions.
For example, Nyamvumba said; "it's important to have critical understanding of Africa's operating environment and our role in finding sustainable resolutions, great effort and striving to achieve economic independence."
"One needs to emphasis this. In as long as we are economic dependent, we cannot be independent security-wise. It's also important that we understand a holistic view of security and a fair prediction of causes of future wars to enable us determine defence capabilities to deal with these threats," Nyamvumba advised.
All pictures by Roger Marc Rutindukanamurego. Click here to view more pictures