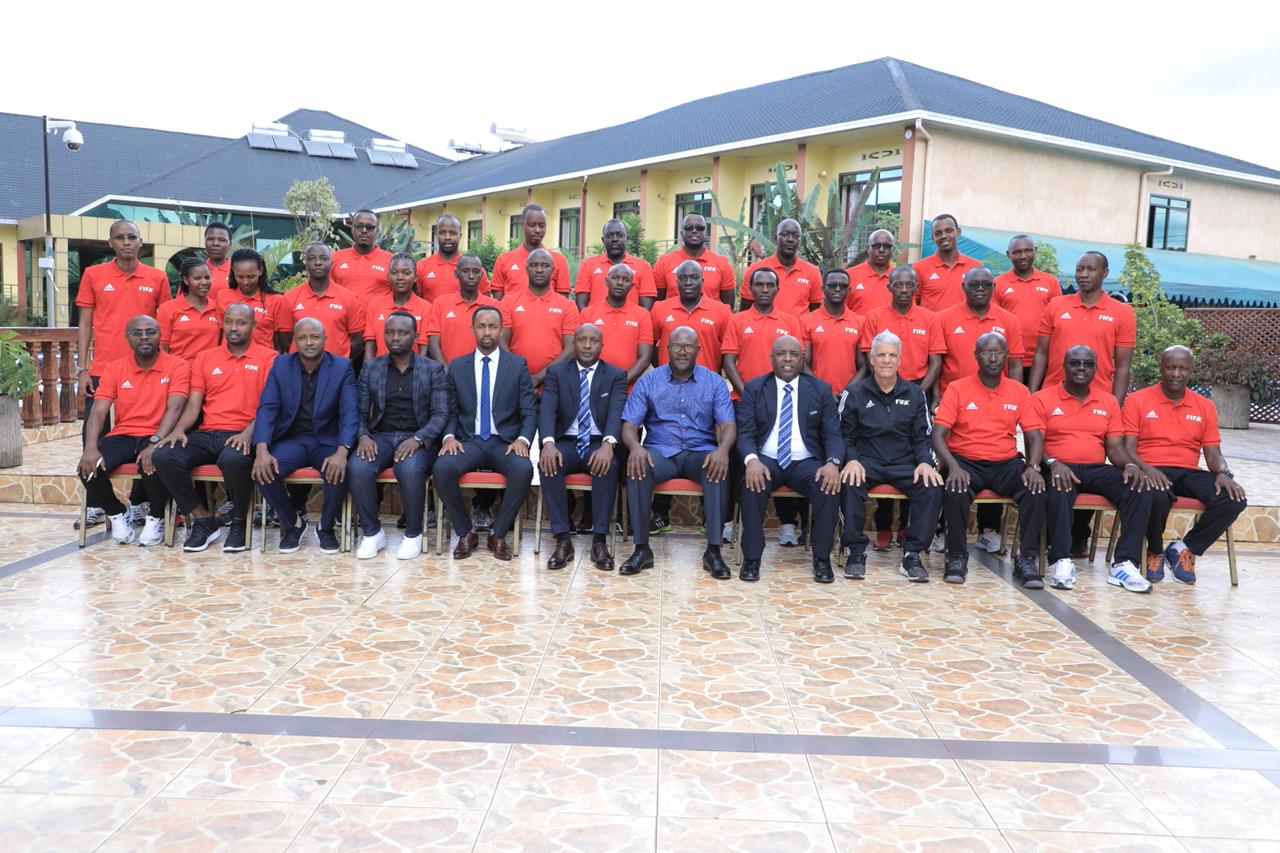 Thirty Rwandan technical and physical referee instructors are taking part in the FIFA MA Instructors Course which started on Sunday at Hill Top Hotel in Kigali City.
According to Rwanda Football Federation (FERWAFA), the five-day course was officially opened by FERWAFA Vice President Marcel Habyarimana on Sunday. Habyarimana said, "I thank FIFA for this opportunity given to Rwandan instructors' through this valuable course. We hope this course is going to help you in improving the standard of our referees,"
"I encourage you all to love your profession because without passion of what you do, you can't expect any progress. At FERWAFA, we will continue to support the initiatives brought forward for the successfully development of our referees which will pave way for sustainable professionalism of the sport in general," added Habyarimana.
The FIFA Regional Development Officer, Nkubito Athanase thanked FERWAFA for the good work they are doing in the development of referees.
"It's my pleasure to be in Rwanda to oversee this course. This course will help Rwandan instructors in gaining uptodate skills and information needed in carrying out their work with professionalism. We do require you to make genuine evaluations and assessments such that we can have referees who will go and officiate continental and global competitions, replicating the good work done by former Rwandan referees such as Celestin Ntagungira and Kabanda Felicien among others," Nkubito said.
Conducting the five-day course for referees instructors are FIFA Technical instructor Ntagungira Celestin and FIFA Fitness Instructor Boubakar Hannachi alongside Nkubito.
The course which has attracted 19 technical instructors and 11 physical instructors is part of a series of development programmes for member associations provided for by FIFA.
The course which will have theoretical and practical sessions will also cover a wide range of areas including, modifications on the the rules of the game 2018/19, referee evaluation, methodology of an instructor, application, new teaching modules among others.
The Course participants include;
Technical Instructors: Kayijuka Gaspard, Rurangirwa Aaron, Munyangoga Appolinaire, Mazimpaka Jean Claude, Tuyishime Angelique, Kamanzi Emery, Munyemana Hudu, Sekamana Abdoulkhaliq, Twagirayezu Richard, Kwizera Moise, Basabose Olivier, Bushayija Paul, Nduwumwami Jean Alpha, Zimulinda Alain, Fungaroho Issa, Nshimiyimana Alexis Redamptus, Munyanziza Gervais, Hakizimana Ambroise and  Bamporiki Desire.
 Physical Instructors: Kabanyana Scovia, Kagabo Ahmed, Imanizabayo Jacques, Munyaneza Jean Paul, Mwambali Serge, Muyugi Steven, Yadufashije Jeannine, Karambizi Rabin, Mugenzi Dieudonne and Nyinawabari Speciose.