Rwandans have subjected their poor performance at the Kigali International Peace Marathon to poor terrain preparation and team coordination at the race.
Kenyans runners dominated both the half and full marathons at the 15th peace marathon which was held this Sunday in Kigali, attracting over 3,000 participants from across Africa including professional athletes and peace and fun runners.
The Kigali marathon was blessed with the presence of the First Lady of Rwanda, Mrs Jeannette Kagame who successfully completed the 10km 'Run for Fun' section which was aimed at creating community awareness on importance of physical health fitness.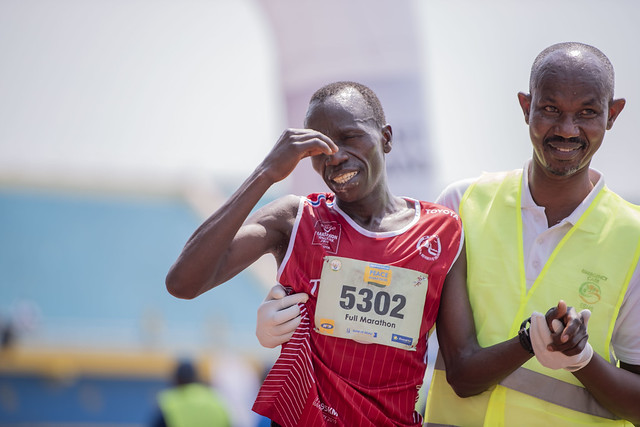 Kenyans swept the lucrative 42.1km full marathon competition, with no single Rwandan coming close in the first ten positions.
Top three in the men's category were Uganda's Phillip Kiplimo followed by James Tallam and Reuben Kemboi while a Rwandan runner, Fredrick Habakurema managed to slide rush into the 12th position.
In the women's category, Kenyans: Rebecca Jepchirchir Koriri, Beatrice Rutto and Elizabeth Rumokol scooped the top three places.
The first winners in both men and women full marathon walked away with gold, silver and bronze medals plus $5,000, $3,500 and $2,500 cash prizes respectively.
Meanwhile, Rwandan half marathon record holder Noel Hitimana fainted along the race and didn't retain nor defend his record this year.
In the men category, Kenyans took all top places as Shadrack Kiminine, Mathew Sane, Vestus Chemjor dominated the top three position with only one Rwanda Felicien 'Magare' Muhitira managing to come in the fourth place out of the 15 Rwandans who were in the road race.
"We have been asking the federation not to use Byumba for training in two weeks. The atmosphere in Byumba has bad air which makes it hard to breath, and by time we are in Kigali our lungs cannot hold anymore this light air here," Muhitira said.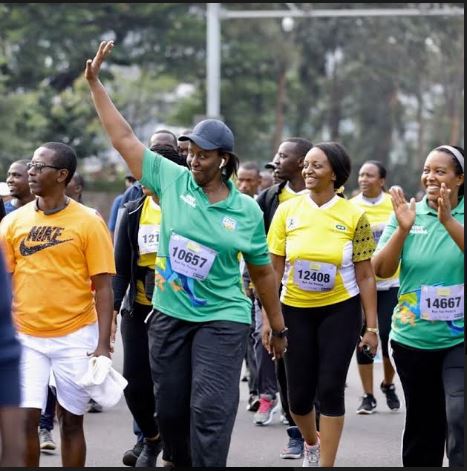 With this kind of physical hazard, Mutimura gave an example of when on the race Noel Hitimana told him during the race that he couldn't breathe at all.
"He (Noel) failed because he couldn't breath and I myself even failed to get some water on the road because fans didn't recognize the different jerseys which we were putting on as a Rwandan team," Mutimura added.
"The problem is because we don't prepare early training and those in national team train in cold weather yet Kigali is a hot weather which ends up being a major challenge," Habakurema said.
The Athletics federation sees the problem from a different angle.
Fidele Mubiligi, the President Rwanda Athletics federation said that Rwandans didn't perform well in the marathon because the competition has grown tight over years, thus  attracting world record runners like Kiplimo.
"When we saw him in the competition I just knew he was winning," Mubiligi said, arguing that Rwandan runners blaming training area and weather are bringing  lame excuse.
He said the federation discussed with runners but failed to get reason why the wanted to train in Kigali instead of Byumba.
"Our runners won last year, yet trained in Byumba. Kigali is not best place for training because we are looking at the mood of winning – which can only be found in quite high altitude like Byumba as is the case of all camp training globally," Mubiligi said.