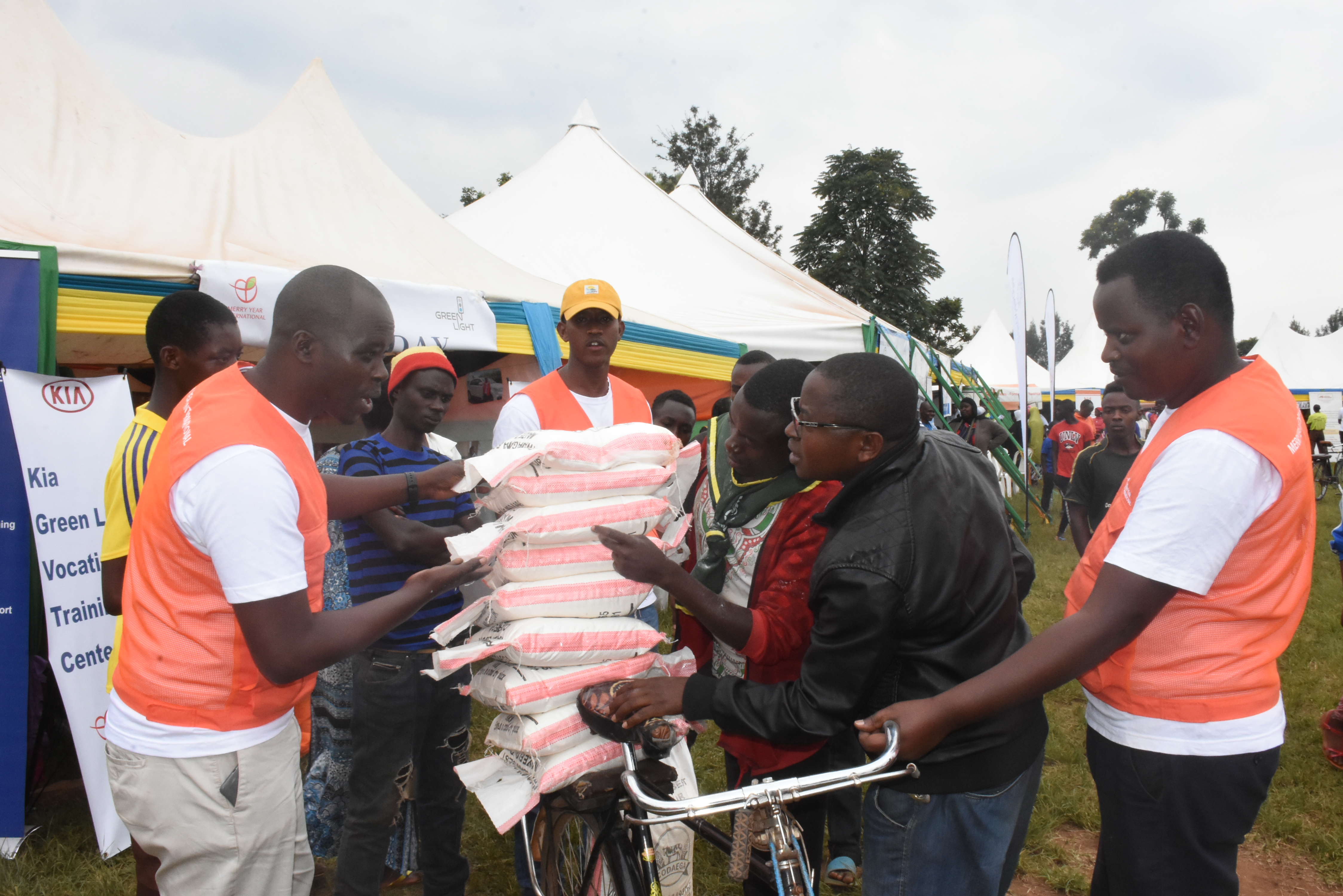 Four years ago Fabien Ngarambe, 50, was stuck in mixed subsistence farming of maize and some beans on his one-hectare piece of farm land in Kibare cell, Gahengeri sector, Rwamagana district of Eastern.
At the end of a planting season, he would harvest only 800kg of maize and a few kilograms of beans, which he says, he would consume at home as a result of failing to get buyers on the open market.
"We used to just plant and wait for the harvest because we had no skills and only farmed in the traditional way," Ngarambe said.
In 2014, Ngarambe heard Merry Year international, a South Korean non-profit organization that trains maize farmers with basic modern farming, post-harvest handling skills, and support them with fertilizers and agricultural equipment.
Since 2017, Merry Year International (MYI) has worked with KIA and this project is called Green Light Project (GLP). KIA is Korean Motors Company which is one of the top 7 automobile maker in the world.
He was among the first 100 farmers to be trained, and now he is one of the members of Mobile Farmers School (MFS) under KIA-GLP project. Participating in the GLP project became a turning point of his farming career, Ngarambe recalls.
"We learned how to space seeds, apply fertilizers, and make compost manure from human and animal waste – which has improved my annual farm output from 800kgs to four tons," Ngarambe proudly narrates.
During the training, farmers are given a theoretical and practical tests on their farming knowledge and skills, which they apply in their own farms, according to Peter Ruzindana an agronomist at Merry Year International.
"Those who pass are advanced to another level of mentoring and even join CODAEGA cooperative, which was formed last year as an initiative Gahengeri farmers who have undergone the training," Ruzindana said.
The cooperative has over 160 registered members and 57 of them have a full membership which requires one to pay Rwf30, 000 making their savings stand at Rwf 1.7million.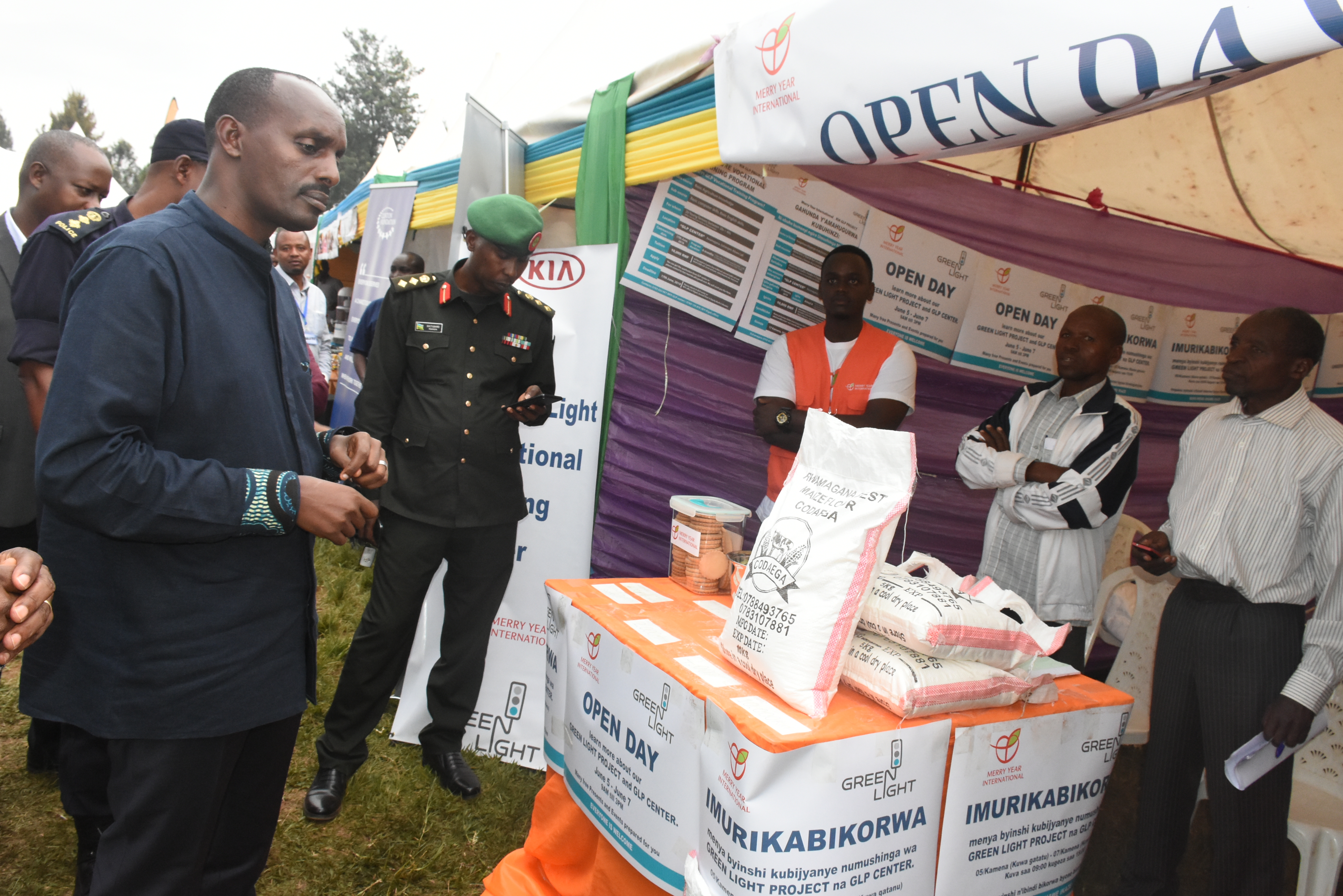 Currently, CODAEGA members have been supported by Merry Year International to construct a maize processing plant that produces high class maize flour called Rwamagana Best maize flour-CODAEGA.
To get to this high class maize produce flour, says the MYI official, farmers are given free transport in KIA trucks and agricultural machinery such as water pumps, sprayers, shelling machines and even tillage machines, all donated by KIA.
"At this stage we teach farmers post handling methods to avoid maize wetness and fungi attack on the maize seed that cause toxins (aflatoxin) which are dangerous to human liver when consumed" said Albert Nzamwita the MYI Post Harvest specialist
Nzamwita said with the KIA trucks, farmers can easily transport their maize harvest from farms to two maize drying facilities and send the processed flour to markets without worrying about the costs.
From the cooperative operations and support of Merry Year International, Ngarambe is among the over 1,000 farmers who have undergone the MYI agriculture training for the last four years.
Through profits earned, he has managed to construct a 64 iron sheet house and owning cows among several domestic animals.
His social status has also increased. He is the vice president of Gahengeri maize farmers' cooperative (CODAEGA).
The success of Merry Year International farmers like Ngarambe was showcased at the end of a 3-day Rwamagana district Open Day expo 2019, on 7th June, where their maize flour was displayed for sale with great profit.
"I have been hearing residents talking about how soft, smooth and white, the CODAEGA maize flour is. As a businessman I know that these are the best qualities to look out on maize. That is why I am purchasing CODAEGA maize flours for retail," said Jean d'Dieu Bigirimana, who purchased the number of 5kg and 10kg bags that worth 40,000rwf.
At the expo, Merry Year International also displayed sweet crunchy cookies made out of maize flour produced by CODAEGA
"We have applied the certification from Rwanda Standard Board for the CODAEGA maize floor, and we are confident that this will be successful." said Nzamwita the MYI Post Harvest Specialist.
At the closure of the Rwamagana Open Day, Merry Year International was one of the over 40 organizations that were appreciated by the Governor of the Eastern Province, Fred Mufulukye, for their contribution towards food security and citizen's welfare.
Moreover, starting this year the GLP project runs a GLP vocational training center where Rwamagana farmers especially youth are trained on basic agriculture knowledge, along with basic computer and English skills.
The center, located in Kibare cell, Gahengeri sector, will be recruiting its 2019 batch until June 14 for the residents in Rwamagana district.
According to Merry Year International officials, the number of applicants for GLP vocational training programme and MFS programme are expected to grow over the years with the support from KIA-GLP project.