President Paul Kagame has said that Rwanda would not hesitate to support the Democratic Republic of Congo (DRC) if called upon in efforts by the vast nation to uproot rebel groups that have operated in the eastern part of the mineral rich country for decades.
President Felix Tshisekedi announced this week that he will be sending the army to uproot rebel groups operating in the country and to end communal violence which has plagued the country, claiming hundreds of lives.
President Tshisekedi said the "large-scale" military operations would focus on eradicating foreign armed groups –a move President Kagame said is a welcome one because the negative rebel groups have been a problem for so long.
Kagame, during a press conference on Tuesday, told the media that Rwanda would go as soon as 'yesterday' if DRC asked for support and that this is something Kigali has been waiting for.
Rwanda maintains that different negative groups including the Democratic Forces for the Liberation of Rwanda (FDLR) and the P5 alliance which includes Rwanda National Congress (RNC) continue to operate in DRC where they have bases.
"I am glad that we have a person [President Tshisekedi] who is saying that he wants to work with the neighbours to get rid of this problem, because this problem has been there for too long and it affects Congo, it affects the neighbours, it affects all of us,"
"There is no need to sit with that problem, allowing that problem to get in the way of the progress we should be making," President Kagame said.
President Kagame, who in recent months has strengthened ties with his Congolese counterpart, said that he is happy that President Tshisekedi is looking at things in this perspective and willing to address the longstanding conflict that has ravaged the vast nation.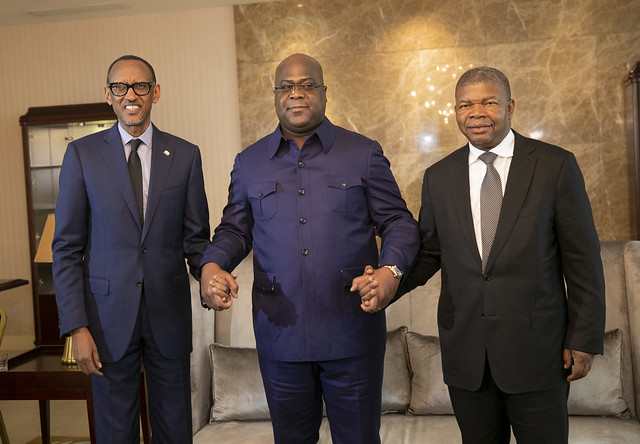 At the end of May, during a visit to Kinshasa, Presidents Kagame, Tshisekedi and their Angolan counterpart João Lourenço agreed to work together to uproot negative groups operating in the Great Lakes Region in a bid to create sustainable peace.
It is not yet clear if Rwanda would send forces to DRC but President Kagame did not rule out anything. Rwanda has in the past ventured into DR Congo to fight rebel groups embedded in the jungles of the eastern part of the country but the threat remains.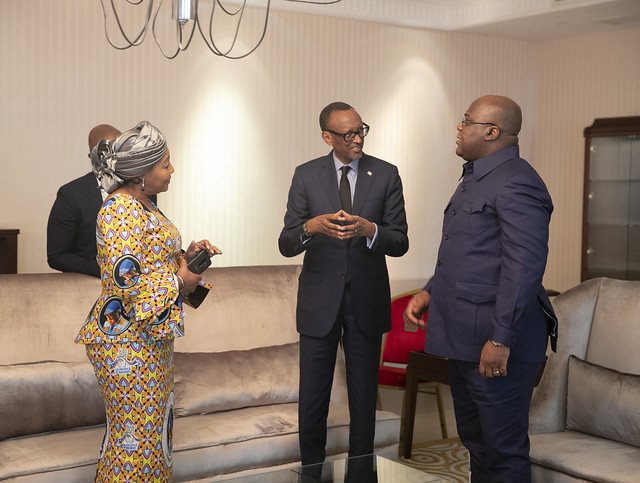 Situation in Sudan
President Kagame also for the first time extensively spoke about the situation in Sudan as a stalemate continues between civilians and the Transitional Military Council, with protestors calling for civil disobedience until the generals hand over power to civilians.
He said that the situation in Sudan "deserves a lot of attention" because all the excitement that had gripped the world, thinking that change had come with the toppling of former President Omar al-Bashir seems to have vanished with the clashes between military rulers and the people persisting.
President Kagame said at a continental level, a conversation led by African Union is on-going to find an urgent solution because people are being killed by the same people supposed to protect them.
Without pointing fingers, he said that from what he is reading on the situation, it has come to a point where people feel that what they fought for is being taken away from them.
"When it is like that, then you know there is a big problem to address. The problem to address is, how do we steer this process back to where it should be, meaning to be closely associated, and to be benefiting the people of Sudan?"
"You can't take it away from them," President Kagame said adding that even if the military, which is in charge is saying all sorts of things, it is their duty to convince the world that what they are doing is in the interest of these people.
"When you start seeing that they [people] are being shot and killed, arrested, then you know something is going wrong. This needs to be addressed and for it to be corrected, you start with the people who are claiming to be in charge, and this is the military," President Kagame said.
He noted that the military in Sudan needs to be asked what they stand for if they have turned against the masses.
"The AU will be asking these questions. In fact the AU has been raising these questions," he said, adding that the meeting happening soon in Niamey, Niger, much as it will focus on the launching of the African Continental Free Trade Area (AfCFTA) and implementation of reforms, it will also focus on the situation in Sudan.
He said Khartoum is under pressure to explain what is going on and the AU will be seeking more answers and if nothing is done, the measures to be taken will be scaled up.
President Kagame said that recent reports that there will be an agreement are highly welcome because it is high time something is done.
Protest leaders on Monday called for a 1-day nationwide "civil disobedience" drive scheduled for July 14, aimed at pushing out military rulers. The Alliance for Freedom and Change leaders said in a statement that the civil disobedience campaign will be preceded by mass protests on July 13.
A huge protest on Sunday left 10 dead and dozens injured, leading to protest organisers to urge for more protests.