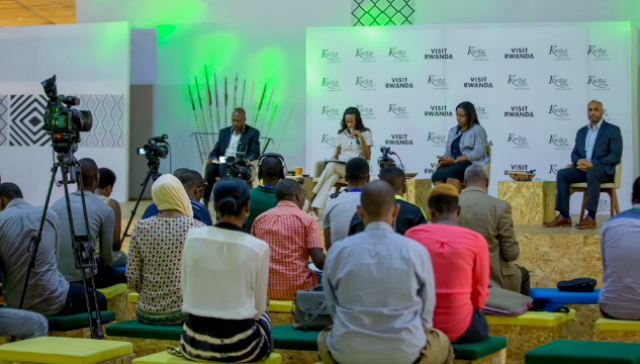 Rwanda says the three-year sleeve-sponsorship deal signed with English football club Arsenal last year to promote the 'Visit Rwanda' brand has already paid off, with benefits accrued from the deal valued at £36m in just one year.
The deal which was announced in May last year was targeted by Rwanda's critics who accused the country of spending on the affluent English club but the government defended the investment saying that it would boost tourism revenues immensely in the short term.
Now, according to Rwanda Development Board (RDB), Rwanda has already recouped the reported £30m invested in the sponsorship deal according to analytics provided by reputable English firms Nielsen, Blinkfire Analytics and research agency Hall and Partners.
Speaking at a press conference to announce activities ahead of the 15th edition of the gorilla naming ceremony, Kwita Izina, the RDB Chief Tourism Office Belise Kariza said that Rwanda's decision to invest in Arsenal has paid off tremendously with at least 4.3 million people, considered as potential tourists, getting to know Rwanda as a destination.
"Before the signing of the partnership, 71 per cent of the millions of Arsenal fans globally did not think of Rwanda as a tourist destination, at the end of the 1st year of the partnership half of Arsenal fans would consider Rwanda as a destination to visit,"
"In terms of overall value, the partnership so far, in year one, is worth £36 million or over Rwf36 billion. This number is based on TV viewership and social media. These statistics were compiled by the reputable Nielsen, Blinkfire Analytics and research agency Hall and Partners," Kariza said.
"We can definitely say it has paid off," she added.
Kariza said that the Arsenal deal factored into the 1.7 million tourists that visited Rwanda in 2018 because awareness of brand Rwanda and Visit Rwanda increased, thanks to Arsenal viewership numbers.
She noted that with the content created for the Visit Rwanda initiative on social media platforms and other activations, they have since interacted with at least 4.3 million people over the last year.
"You can imagine that our brand is being exposed to more than 4 million people across the world. That already, in terms of creating awareness for Rwanda as a destination, is huge. There is nothing you can do, even a TV ad can't give you this much access in terms of viewers,"
"It is proving that it is working, even in terms of value as explained," said Kariza, adding that even in terms visibility online, there has been a 100 per cent increase for 'Visit Rwanda' Youtube channel subscribers, a 72 per cent increase in Twitter followers and over 577 per cent increase in Instagram followers since the Arsenal deal.
"I think really on the visibility it is paying off. It is also paying off in terms of people visiting from the UK. In 2018 we had a 5 per cent increase in visitors from the UK market only," she said adding that RDB considers all the 4.3 million people who have seen the Visit Rwanda brand as potential tourists.
Explaining how £36m value is computed, Naivasha Oakes, the Partner Service Manager at Arsenal said that they measure the quantitative value of the investment as well as other factors to show the change of perceptions towards Rwanda, pointing out that they measure the broadcast value and social media value.
"In terms of the broadcast value, that takes into account all the different Visit Rwanda assets they have with Arsenal such as the advertising boards on television, the interview boards and all the Visit Rwanda brands which are broadcast globally every time Arsenal plays,"
"That media value is calculated by Nielsen, an international media analytics company. Essentially they have a methodology that looks at how much exposure the Visit Rwanda brand gets, whether that is the prominence on the screen, how long it is on the screen for and it calculates the equivalent media advertising value," Oakes explained.
According to Oakes, from the calculation, the analytics firm is able to determine how much 'Visit Rwanda' would have paid if it was to pay for the huge exposure value in mainstream media.
She also noted that Arsenal has over 60 million followers across all social media platforms, which essentially means that all these followers get to see the 'Visit Rwanda' brand whenever it is shared especially during different events Arsenal holds with the Visit Rwanda team as well as visits by players.
Tourism gains
Ahead of Kwita Izina ceremony slated for September 6 in Kinigi, Musanze district in Northern Province, where 25 baby gorillas will be named, RDB revealed that Rwanda received 1.711 million visitors in 2018, reflecting an 8 per cent increase compared to 2017.
Akagera National Park was the most visited park with 51, 724 visits in 2018, an increase of 17 per cent compared to 2017 while Nyungwe received 15, 665 visitors in 2018, in an increase of 9 per cent compared to the previous year. 
RDB indicated that overall park revenues reached over $ 21,153,292 in 2018 while 15,132 gorilla permits worth US$ 19.2 million were sold, a 25 per cent increase compared to 2017.
The government agency revealed that in 2016, before the increase in the permit price, it sold 22,219 permits worth US$15 million.
On Friday, RDB is expected to donate 729 cows to communities surrounding the Volcanoes National Park in Burera, Nyabihu, Musanze and Rubavu districts as part of the RDB Tourism Revenue Share Programme.
The program, initiated in 2005 by the Government of Rwanda, aims to guide investment in the areas surrounding the various national parks in Rwanda by ensuring that 10 per cent of all park revenues are given back to the communities. Over Rwf 5.2 billion has been distributed by RDB to 647 community-based projects since 2005.
Global celebrities including America RnB superstar Ne-Yo, Arsenal legend Tony Adams, former Barcelona and Manchester United coach Luis Van Gaal, choreographer Sherrie Silver, Supermodel Naomi Campbell and U.S-based Rwandan singer Meddy are among the big names to grace this year's Kwita Izina.