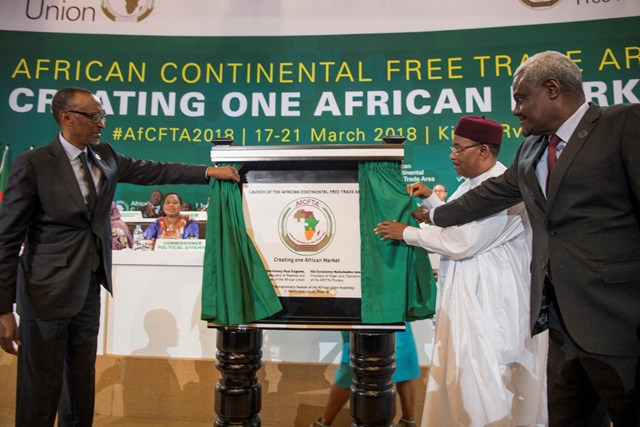 Rwanda is set to host Africa's first ever biggest investment forum in which policy makers in the Private Sector will discuss how they can jointly enter the newly established Africa Continental Free Trade Area (AfCFTA) and court Foreign Direct Investments.
The forum, dubbed the Golden Business Forum, will take place at Rwanda's Radisson Blu and Convention Center on August 9, 2019, and is expected to attract over 600 investors and delegates from across the world, according to Rwanda Private Sector Federation (PSF) – the organizer.
The forum's theme is connecting the recently launched Africa Continental Free Trade Area (AfCFTA) to the rest of the world.
On July 7 this year, AfCFTA was operationalized during the 12th Extraordinary Summit of the African Union in Niamey, Niger. The continent's single market is expected to boost trade at a base of at least $4 trillion.
For the market to thrill, however, the continent needs a proper Private Sector coordination to ensure efficient flow of business, and the Kigali forum will set the tone on how this can be achieved.
KT Press sat down with Rwanda Private Sector Federation (PSF) Chief Executive Officer, Stephen Ruzibiza to discuss more details on what exactly will be discussed during the forum.
According to Ruzibiza, the theme of the forum is about the AfCFTA and how to open business in Africa and connect it to the outside world.
"There has been dealings even before the AfCFTA but there has been less intra-trade among the African countries. Countries have been doing it individually without concerted efforts with their counterparts. So we haven't had these ways of common negotiations and that is why we organized this forum," Ruzibiza told KT Press.
Intra-African trade is at 16% of total African trade, on average, as a result of lack of access to trade and market information.
Estimates by the United Nations Economic Commission for Africa (UNECA) indicate that AfCFTA is expected to increase intra-African trade by more than 50 percent, regional GDP by more than $40 billion and exports by more than $55 billion.
According to Ruzibiza, "With AfCFTA coming in with people joining hands, that means there is a change in the narrative and change of the concepts which is the main reason why we are having this conference. We have several economic blocks in the region which have been facilitating trade and they are going to have a hand in this AfCFTA narrative."
The forum, according to Ruzibiza, is expected to be held annually, if people at the implementation side are able to feel the government.
Meanwhile, foreign delegates have confirmed attendance in the Kigali forum, including big investors from the US. , China, Israel and South Africa. Others include those from Democratic Republic of Congo (DRC) and Italy, according to Ruzibiza.
Rwandans advised to invest in foreign countries
According to Ruzibiza, the confirmation of foreign investors to attend the Kigali forum is two way.
"We will court them (investors) to come and invest in Rwanda but this forum will also be an opportunity for Rwandans to strike deals and invest in other countries. For instance, if some of these investors are coming from Israel, you might find that an Israel investor wants certain products from Rwanda so in this case there is business crossing over from Rwanda to Israel," Ruzibiza said.
To foreign investors who will have interest in investing in Rwanda, said Ruzibizi, Rwanda Development Board (RDB) has been asked to make a presentation at the forum.
"They are the ones who know the areas of investment but also as partners at Private Sector, individual operators have their wishes on how to expand their businesses so we partner them with potential investors."
How is Rwanda Private Sector prepared for AfCFTA?
As Rwanda's PSF gears up to host the Golden Business Forum, most of its members who spoke to KT Press said that they are still far behind adopting the market – leaving their hopes on the body's efforts to make AfCFTA better known among the members.
"We know the genesis of AfCFTA started here in Kigali in March last year, but we are yet to fully understand how we can tap into this lucrative market," said Daniel Karekezi – a horticulture farmer in Bugesera district.
Others cement that PSF should lead the move to ensure its members swiftly adopt AfCFTA.
"On way of preparedness is these kind of conferences. We want to ensure that members have this kind of information not to just see things pass and hear it in the news. We want them to not take it (AfCFTA) as a government thing. So one way of PSF is to share the information to its members so that they know which opportunities are available and the level of processes that are going on," he said.
"We keep involving our members and give them advice in every stage of AfCFTA development.
Meanwhile, Ruzibiza said that Rwanda's PSF members have enough room to enjoy the continental market.
With 60% of Rwanda's Private Sector is made of Small and Medium Enterprises (SMEs), Ruzibiza doesn't see this as a problem.
"African market is big. Everyone will take his part of the cake depending on your abilities and capacities. But there will be those who come first to get the share…that is why at our side we are advising our members to move faster," he said.
In that case, he added, "The SMEs in Rwanda have their chance in the AfCFTA."