The Nyarugenge Intermediate Court has heard in pre-trial hearing, a case involving prosecution against Dr Francis Habumugisha, the owner of Goodrich TV who is accused of assaulting his employee Diane Kamali, and another one identified as Mary Magdalene Nzaramba.
In court on Friday, Habumugisha denied all the charges and said he was arbitrarily arrested and arraigned adding that the complainants want him in jail because they are 'business rivals."
Prosecutors contend that Habumugisha on July 15 assaulted Kamali as she recorded a session in a work meeting where he was verbally abusing her workmate Nzaramba.
Upon realizing that he was being recorded, he attacked Kamali and slapped her before confiscating and damaging her phone.
Prosecutors handed over Kamali's damaged phone to the Judge as Habumugisha looked on.
Nzaramba in a meeting accused Goodrich TV managers of mismanagement and misconduct. In response, Habumugisha started abusing and humiliating Nzaramba which prompted Kamali to record the session on phone. Habumugisha lost his cool when he noticed he was being recorded.
Prosecutors say Habumugisha abused Nzaramba with obscenities on her mother and told her to "shut up because she's young" after she raised concerns at work in a multi-level marketing company known as Alliance in Motion.
To prove their points, prosecutors displayed analyzed CCTV footage from the meeting during which Habumugisha allegedly attacked his victims. The footage from the conference hall is dated 15/07/19.
In the video, prosecutors say there are all signs of intent and premeditation.
"He sat and watched Nzaramba as she went on about the problems in the company. He folded his sleeves, pounced on the victim, verbally abusing and slapping her."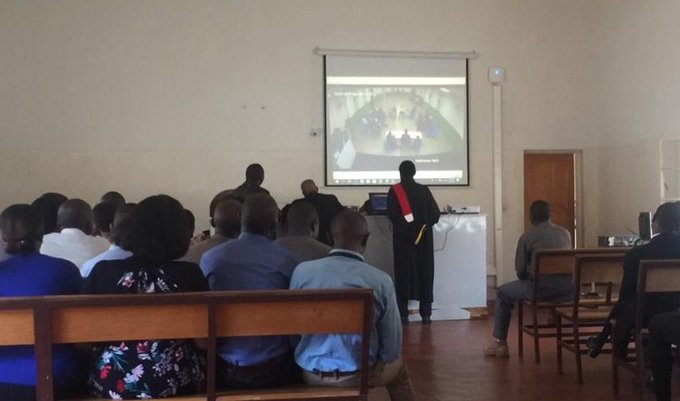 The video shows him breaking the phone to pieces.
During questioning by Prosecutors, Habumugisha denied all the allegations including beating Kamali, but later changed his mind and said that he did slap her but it was "a small slap".
Habumugisha told the court that Kamali  and Nzaramba are business rivals.
He said they represent Ugandan-based pyramid companies which are unauthorized and view his authorized company as a rival since he is the only one with legal documents to trade in food supplements. He says they connived.
The connivance to have him jailed in Uganda started after they shared photos of him with Rwandan government officials, with Ugandan authorities, alleging that he is a spy. He said this is a result of business over business rivalry.
Asked by the Judge how business rivalry is connected to his actions in the video, including smashing Kamali's phone, Habumugisha said that he was overcome by anger after he recalled how the two girls connived to have him arrested in Uganda when he saw her recording.
He however told the court that he had resolved the issue amicably with Diane Kamali by giving her $300 to buy a new phone, which was allegedly worth Rwf200, 000.
"I gave her much more than the phone cost," he told court but Prosecutors said whether he resolved the matter amicably or not, laws must apply, also considering that Habumugisha has showed no remorse over his actions.
Prosecutors contend that Habumugisha should not be given bail because investigations are still ongoing, considering that there could be other cases involving him while defending that if released on bail, he can compromise evidence.
Habumugisha said that he should be released on bail because he is a responsible citizen who "serves the country and owns lots of properties, meaning that he cannot run away." He also presented sureties.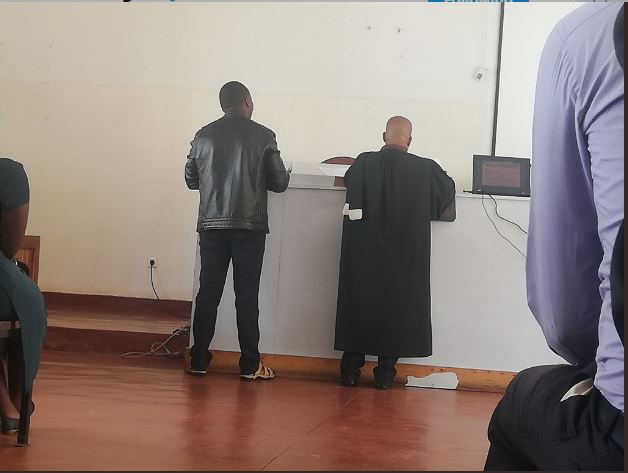 He said his is "not a business but a service to the country" and also denied being protected by high ranking officials who his reportedly known to.
During the fully packed court appearance, Habumugisha's lawyer Tharcisse Idahemuka argued against the video evidence being inadmissible because it is not clear and urged the court to ignore Prosecution's argument that Habumugisha's actions were premeditated.
There were murmurs in court as Prosecutors analysed the video which was recently shared on the social media by Kamali, who said that nothing had been done for two months despite reporting the case.
Authorities sprang into action after the video drew public anger, with some stating that Habumugisha has had a record of assaulting people and getting away with it. President Paul Kagame also weighed in on the conversation, saying that the matter will be followed up.
The court will pronounce the verdict on bail on Tuesday September 17.