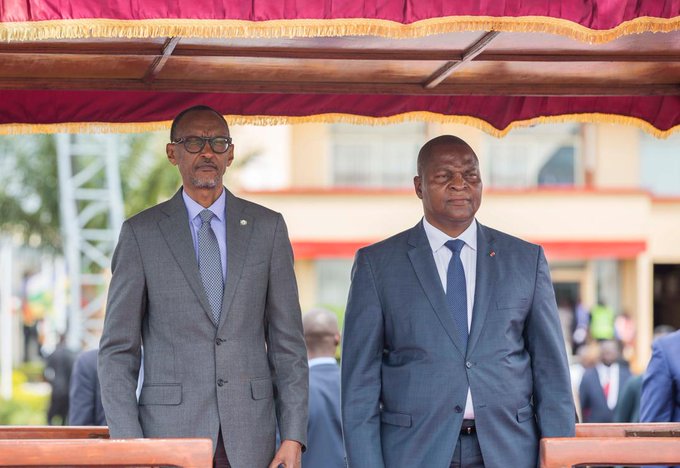 President Paul Kagame says every country has the capacity to overcome a difficult past and set itself on the path to development given the determination and will to do so.
President Kagame made the observation on Tuesday in Central African Republic (CAR) during a state luncheon he was hosted to by his counterpart President Faustin-Archange Touadéra as part of his one-day state visit to the Central African nation.
In his remarks, President Kagame referred to a similar history Rwanda and CAR share, characterised by conflict but said that going by what Rwanda has done and CAR is doing to overcome the impact of conflict, there is no country that can be held hostage by its past.
"Both our countries have endured difficult histories. There is no doubt about it. However, no nation is forever hostage to its past,"
"There is always a choice that can be made, collectively, to build a future, in which every citizen has a sense of dignity and belonging," President Kagame said.
Giving an example of Rwanda, President Kagame said that the key factor in the peace building process was a firm commitment to national unity.
"We endeavour to find solutions to our problems through dialogue and consensus. Politics should bring people together to promote the well-being of everyone, not create divisions," President Kagame said.
CAR has been ravaged by an ongoing conflict involving the government, rebels from the Séléka coalition, and anti-balaka militias since 2012 and prior to that had suffered a bush war from 2004 to 2007 when rebel forces battled President François Bozizé's government.
The country, with the support of the United Nations Peacekeepers is trying to stabilise with a promise of ending the insurgency and fully restoring peace. Rwanda is the top contributor of peacekeeping forces in CAR with 1,370 troops and 430 police.
President Kagame said that in Rwanda there is still much work to do to get the country where it wants to be but said that national transformation is a long-term process.
"You just have to stay together and stick with it. We believe deeply in the effectiveness of intra-African cooperation. The ideas and resources we need can be found right here on our continent," he said.
He said that Rwandans were supported on their journey by brothers and sisters on the continent and beyond, adding that Rwanda is honoured to be able to share whatever it has and her own experiences wherever useful.
"We also seek to learn from the efforts of others, including the Central African Republic. In a small but significant way, this kind of practical cooperation gives meaning to the tragedy we went through,"
"Rwanda stands ready to continue accompanying the people of the Central African Republic, as you move forward," he said.
During the luncheon, President Kagame took time to express his appreciation for the award of the Grand Croix de la Reconnaissance, CAR's highest decoration which he was bequeathed by his counterpart President Touadéra. He also expressed his gratitude towards being given symbolic honorary resident for the city of Bangui by the city's Mayor.
President Kagame said the events in Bangue marked a new chapter in the bilateral relationship, between Rwanda and the Central African Republic.
He said both countries signed a number of important agreements which put joint endeavours on solid footing, adding that is just the beginning.
"These agreements should be diligently implemented, so we can build on them to achieve even more together, in the years ahead,"
"I also wish to thank the people of Bangui for the very warm welcome that my delegation and I have received. The mindset of hospitality and openness that was felt so strongly today is a precious asset," he said.
He commended President Touadéra and the people of CAR for the steps taken thus far toward peace and reconciliation.
"Africa has a stake in the success of this important country in the very heart of our continent. I therefore ask that you stay the course and meet the important milestones on the road ahead," said.
Prior to the luncheon, President Kagame and President Touadéra held a tête a tête at Presidential Palace before witnessing the signing of bilateral agreements on defence, mining & oil, investment promotion, and a Bilateral Investment Treaty.