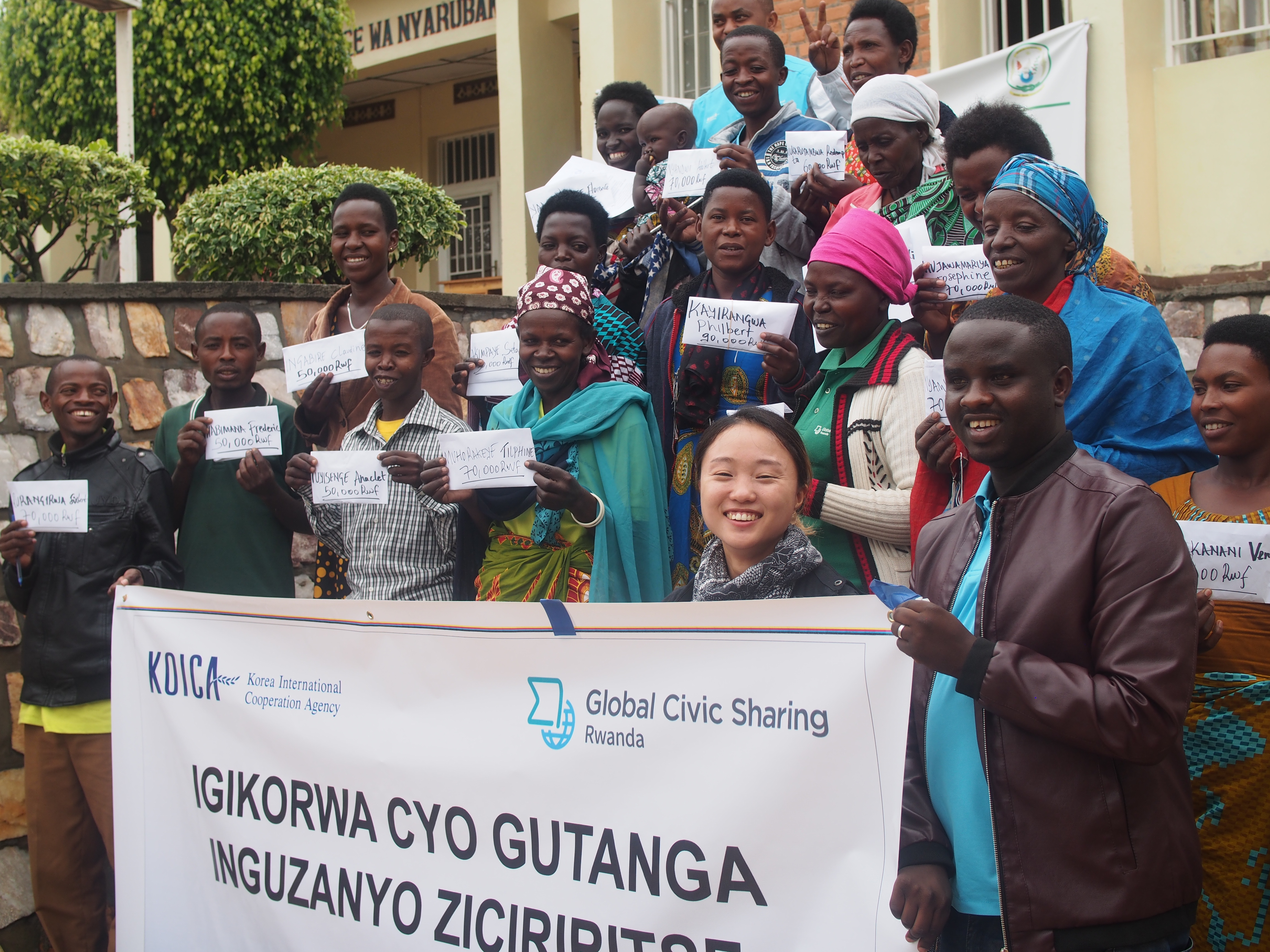 Apollinarie Mukabutera, resident of Nyarubaka Sector in Kamonyi district in Southern Rwanda, has been living in extreme poverty to such extent that her neighbors isolated her.
Her situation worsened when her husband died in 2000.
"He was our family's bread winner and his death hugely affected us," Mukabutera told KT Press.
In Gitare village Nyarubaka sector. Mukabutera, is well known as 'umupfakazi uziguhinga' translated as a widow who knows how to dig.
"I did not know how to dig. I learnt it after my husband died. Nothing I could do apart from learning quickly for my children to get food," Mukabutera said.
Of all the five children no one completed primary school because of extreme poverty.
"Sometimes we spent nights without eating. My two boys had to leave home before they were seventeen years old, after two years my daughter also left for Kigali City to try and win bread," she said.
On Monday 14, Mukabutera could not hide her smile, after pocketing a micro- credit worth Rwf40, 000 to start a small project that could help her cater for her two boys.
The micro-credit provided by Global Civic Sharing (GCS) – a South Korean organization aims at providing development support to vulnerable communities in developing countries including Rwanda.
A micro-credit for GCS targets vulnerable Nyarubaka sector residents with interest rate of 4%.
Mukabutera was among 328 vulnerable beneficiaries who were given a total of Rwf 9.5 million to be recovered in a span of one year.
"With this money. I will buy 3 piglets each Rwf10, 000 and start piggery project," Mukabutera said.
Micro-credits are provided under the project dubbed "self-reliance project for vulnerable based on civil empowerment in Rwanda."
The project aims at fighting poverty in rural Nyarubaka sector.
GCS supports about 3,000 rural residents in Nyarubaka sector by supporting poverty alleviation projects.
GCS collaborates with famers to form self-help groups. In all those groups, the number of participants varies from 30 to 35. Today, only 10 groups with 328 members managed to access to Micro-credit after passing through the requirements.
Among the judging criteria to be eligible for the micro- credit, according to officials, GCS staff collaborates with sector officials on providing information about the social class (Ubudehe) categories one and two.
Also, beneficiaries are supposed to present their business plans.
Other criterion are vulnerability and individual participation in project activities implemented by GCS including self-help groups, farmer field school, adult literacy etc.
According to Aimable Twagirayezu – project manager, "you have taken this money with a small interest rate, invest it in your projects and make sure they are sustainable. You have been trained how to save, make sure you apply these skills."
"All Beneficiaries had good projects, that's why we decided to fund them. We do not provide these loans accidentally. We have criterion. We also monitor their projects on daily basis to make sure that that they make profits."
Since 2009, GCS has injected in nearly Rwf1 billion to help Nyarubaka residents get out of vicious cycle of poverty.