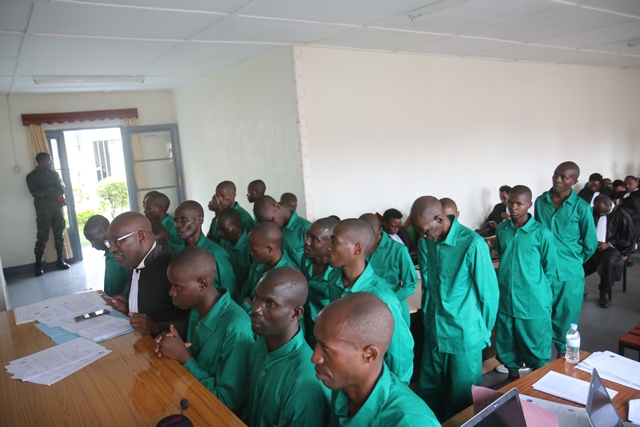 The Military Tribunal in Nyamirambo has heard from the alleged 25 Rwanda National Congress (RNC) suspects that they were recruited under the lure of getting farm jobs.
The group today returned to court with most of them pleading guilty of joining the P5 armed group in the DR Congo, but claiming that they were lured under the pretext of getting monthly pay jobs.
The suspects, most of them below 30 years, were dressed in clean green inmate's uniforms and brand new canvas shoes ready to battle their case in the Military Tribunal in Nyamirambo.
They had appeared in court to plead guilty or not guilty to four counts on which they were arrested which include joining an armed rebel group, treason, conspiracy to commit an act of war with help of other countries, and formation of an armed rebel group.
One of the suspects, Lambert Ndibanje, in his early 20's said that he was a senior 2 student in Malawi living with his parents peacefully, though broke financially, when he was approached by one of the RNC recruiters.
"In 2017 a one Basil approached me and promised to get me a farm job that pays $300 per month. Since it was coming to the festive season, and I was unemployed and financially broke, I took the deal," Ndibanje said.
In his narration to three military judges led by Lt. Col Charles Madudu, Ndibanje spent time to tell his recruitment ordeal from Malawi to DR Congo.
Using military jargons in his explanations, Ndibanje said that he was given the deal in condition that he kept the job a secret and would not bid farewell to anyone in Lilongwe.
"They asked me to be prepared on August 18, 2017which I did and I was provided with clothes to wear, and taken to a place where I joined other five recruits picked from refugees camps," Ndibanje narrated.
The group of five and its leader allegedly took a bus from Lilongwe to Tanzania and shockingly Ndibanje says he was handed a new passport with fake names- Sylvestre Banje, to keep his cover and he was told to say that he was going for burial in DR Congo.
Ndibanje says that they managed to reach Burundi and were put in closed cottage manned by Burundian soldiers and his team joined other recruits, increasing the group to 18 militias.
Since their arrival to Burundi, Ndibanje said that the recruits were given army boots, unforms and started military training.
After this training, they were ferried to an Island via lake Tanganyika and to join other recruits. At this level, the group increased to 32 militias under the leadership of one Ali, Musa and Richard.
"Very many of the boys escaped during this time and one of the commandants asked why- and he was told that the recruits are tired to follow liers," Ndibanje narrated.
He however came to take up arms as an escort of one commander (Ali) until April 2019 when his group was twice ambushed in Masisi in DRC and he surrendered after suffering from rotting feet, hunger and body weakness
Surprisingly Ndibanje rebuked one of the men (Abibu Mudathiru) – a co- accused in this case, who lured and convinced Ndibanje to take up the arms on grounds that DR Congo was heaven on earth.
The case of Ndibanje is almost similar to his co-accused who include four Burundians and three Ugandan nationals.
Most of the suspects mentioned a single name of their recruiters especially one called Rashid, known as the boss.
For example, Jean d'Dieu Ndirahiye (Burundian) used to hawk in the market in Burundi until Rashid promised him a job as a shopkeeper in which he quit to take on
Another one Fred Desideriyo, a Ugandan below 23, was recruited by a moto taxi driver who said he would get him a job as donut seller.
Though most of the suspects were arrested in different areas of operation, their lawyers said that they should be released because they were not guilty on grounds that they didn't have motive and intension.
"Our clients were lured to do what they did, though they admit having been implicated in some crimes. It was not their own making. They were instead abused and are victims who deserve to be given justice and help," said Lawyer Dative Mujawamariya.
However prosecution insisted that there is no doubt all the suspects had motive and not Rwandans, Ugandans nor Burundians in the case should be treated differently.
So far, eight suspects were heard in pre-trial phase and they pleaded guilty to some or all cases.