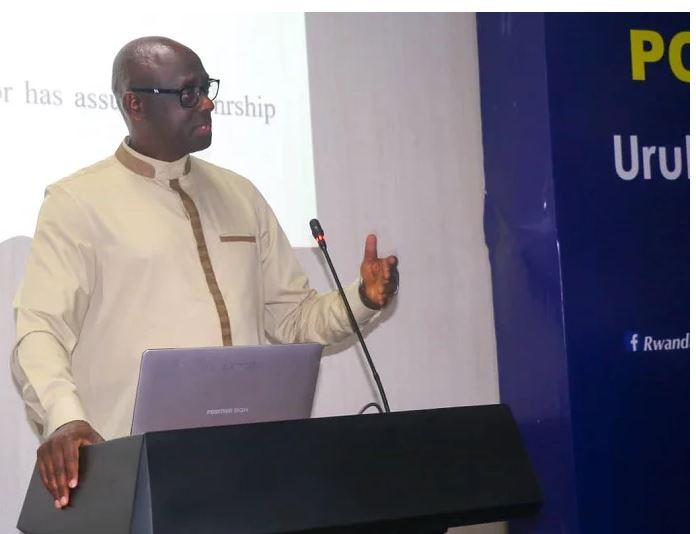 Rwanda's minister of Justice, Johnson Busingye has strongly warned that Rwanda is a secure country and anyone who tries to attack it or use it as a base of destabilizing other countries will be nailed down.
The minister said that Rwanda wishes to work with and protect the security of neighbors.
"Our territory will not be used by anybody to stage a destabilization activity in any neighboring country. This is a line that Rwanda drew, that we cannot allow this to happen on our soil," Busingye said.
His remarks come at a time when Rwanda is holding 25 men who were arrested on suspected of forming an armed rebel group in the DR Congo, with the Rwanda National Congress (RNC). 
Most of them Rwandans, with four of them Ugandans and three Burundians were allegedly recruited lured by Burundian recruiters inside the East African and in southern Africa region, promising to give them jobs, only to end up in the armed combat training zones.
For Busingye, no such groups can successfully organize inside Rwanda, "And even if it happened without our knowledge we would stand up to be accountable in tracing what exactly happened, to make sure it doesn't happen again."
For Busingye any attempted attack to Rwanda is a waste of time and he said:  "We consider people who attack us (Rwanda), to be committing suicide…and you have seen that we have arrested some."
He called on the suspects who intend to get involved in such activates, including their sympathizers to give up. 
The minister made the remarks during a media interaction with officials from Rwanda National Police, Rwanda Investigation Bureau (RIB) and the National Public Prosecution Authority (NPPA) held at the Police Headquarters in Kigali.
Recently, Rwandans living in Kinigi, Musanze district were attacked by a suspected group of assailants believed to be affiliated to the P5 group a coalition of anti-Rwanda rebel groups and unregistered political parties operating in the DR Congo.
This follows another attack on Nyabimata residents in Nyaruguru district last year that was also affiliated to P5 coalition, which left some residents dead, property burnt and looted.
According Rwanda's Inspector General of Police, IGP Dan Munyuza, these attack was foiled by the Rwandan citizens involvement and that if there is collaboration with neighbors the region can have an iron hand on controlling and arresting radical groups. 
Col. Jeanot Ruhunga,  the RIB Director General revealed that one, Victoire Ingabire the head of the unregistered political party FDU Inkingi is currently under investigation over her involvement in Kinigi attacks, but he didn't reveal more details.