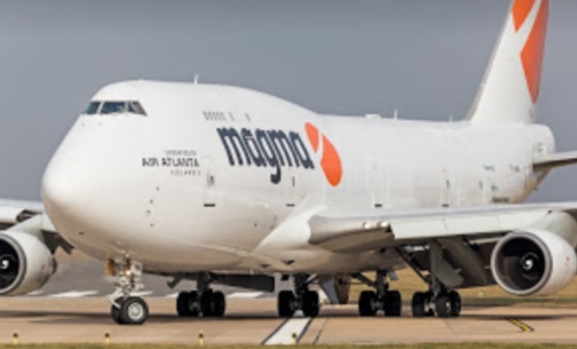 Rwanda's National Carrier RwandAir has signed an agreement with Magma – a global Aviation company to ship up to 25 metric tons every Friday, starting from October 4, 2019.
Magma is a global company that transports air freight worldwide on a regular and ad-hoc charter flights.
The aviation's focus in recent times has been on Africa and North America, with Liège and Hahn as its operating home bases.
Under the agreement with RwandAir, the Boeing 747 freighter service was launched through the route between Rwanda's Kigali International Airport (KGL) and Liège Airport (LGG) in Belgium.
The new aviation weekly services will facilitate Rwandan agri-exporters to send their fresh products to European markets through Liège and Hahn, which are the home bases for this cargo and ideally the gate of European motorway network, according to officials close to the agreement.
Rwandan exports have been air-crafted by RwandAir, but there was a big opportunity that was not tapped in due to limitations of the cargo's space.
The new cargo comes in addition to the drop of air fare for Rwandair from $2 to $0.9 per Kilogramme for agricultural export commodities.
But there was a need to increase the volumes and market destinations for Rwandan agriculture produce, according to officials at the National Agricultural Export Board (NAEB).
This agreement comes as a result of Rwandan government efforts to facilitate Rwandan exporters to reach more markets.
The move is one of the solutions to implement NAEB's new Strategic Business Plan.
For instance, NAEB officials say, there is a need to boost the potentials of Rwandan agri-exports but especially horticulture.
There has been an increase of the sector's revenues as a result of continued adherence to international standards and new markets due to direct flights terminating from Rwanda to Europe.
In the recent financial year, Rwanda exported a total of 465,405 Metric Tons to international markets. These exports included mostly tea, coffee and horticulture fresh produce.
In August this year, Rwandair made South and Latin America its largest country Brazil as its top priorty in the expansion plans.
Rwandair has set ambitious aviation expansion goals to more than the current 29 destinations, which have seen ordering and purchase of new long distance aircrafts, renovation and expansion of Kigali International airport and construction of a new multimillion dollar Bugesera International airport.