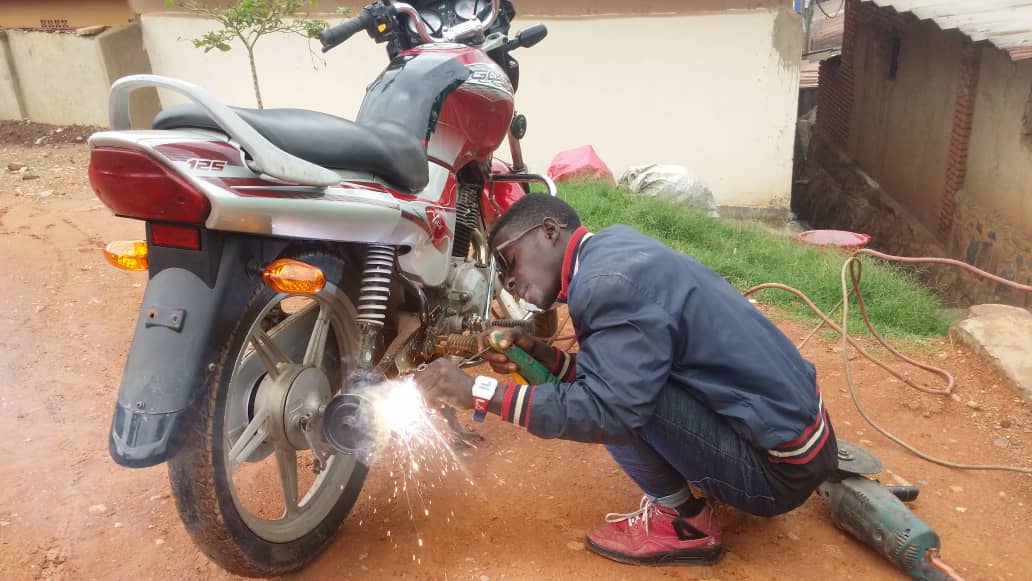 Four years ago, Patrice Habimana experienced life threatening condition of his elder brother who graduated at the University of Rwanda with bachelor's degree in business administration but remained jobless for three years.
To Habimana, it is shame that a university graduate can find himself in impossibility of affording basic things in life.
"My father always complained saying his university tuition was wasted. After my brother being unemployed for three years, I hated university because of brother's experience," Habimana said.
"Everybody thought my brother was cursed. With regular quarrels from my father against him."
It was bad experience for Nsenga, but an eye opener for Habimana, who decided to acquire technical trainings after completing ordinary lever in 2016 instead of embracing General education with an aim of pursuing university later on.
His dream came true. In 2017, he joined Technical and Vocational Education Training (TVET) in Rusizi district, Western Province where he pursued welding and mechanics.
At this school – Rusizi TVET, students graduate after one year with a certificate.
But Habimana could not wait to start practicing within a couple of months at Rusizi TVET. The same year, the professional –to-be was hired by Kamembe Auto garage as a welder.
The job was not conflicting with his education because his was an evening program from 4pm-10pm.
At the garage he used to earn Rwf 2000 on a daily basis and with this little, he decided to strive to be self-reliant so that one day, he can even start his own garage.
Meanwhile, his elder brother was already upset, tired to apply for a job which was not coming.
"I was feeling sorry for my brother which pushed me to make some savings, so that one day, I can draw him out that misery," Habimana.
By the end of 2017 some weeks after his graduation, Habimana had saved enough to contribute Rwf400, 000 towards buying a motorcycle for his brother to start 'moto taxi driving.
His father raised the rest to buy a brand new motorcycle worth Rwf 1.8 million for the elder brother which they achieved.
In January 2018, Habimana's employer at Kamembe garage relocated him to his new garage in Nyabugogo, Kigali city.
At 20 years of age, he already behaves as a mature person. He knows that he can get married within three to five years and he has already started to find land where he will establish his home.
Last year, Habimana bought a plot of land worth Rwf500, 000 in Rugano villages, Rusizi district, his home area.
"Am also planning to buy two motorcycles worth Rwf2million in total next year and hire riders to do moto taxi business. They will be paying me not less than Rwf20, 000 every day," he said.
"To achieve this, I will use my small saving and my plot of land as a collateral."
Over the years, more university graduates find it hard to get their dream job years after graduation.
According to National Institute of Statistics of Rwanda (NISR) in 2017, Unemployment among Rwandans who completed upper secondary is the highest at 23%, followed by the unemployment among graduates of tertiary education with 18%.
On another side, the rate of unemployment among uneducated is 10% – the lowest.
According to Dr Gashumba, 80% of TVET graduates are employed while 20% are self-employed.
The government believes that the unemployment rate can be defied by enrolling many students into TVET.
Currently, the TVET students represent 50% of the general education while the target is to increase the rate to 60% by 2020.
To drive the country to this increment, the government is planning to conduct a year-long national awareness campaign that aims at encouraging students who finish senior three to join TVETs.
TVETs train students in different programs namely, plumbing, tailoring, hairdressing, carpentry, construction, among others.
The Vice-Chancellor of Rwanda Polytechnic, Dr. James Gashumba said, "We still have a challenge of wrong perception from parents and children about joining TEVT but when we talk about job creation, technical schools are the way to go."
To encourage more senior three students join TVETs, the government has increased the number of TVET schools to be able to train as many students as possible next year.
The government is planning to build other 14 TVET schools, finding other 402 in the country.
This year, the government finished construction of 14 standard TVET schools after securing $81million (about Rwf69billion) loan from the Indian government. These schools we constructed in Nyarugenge, Gatsibo, Kayonza Rwamagana, Kirehe and Nyagatare..
Other TVET schools were constructed in Nyanza and Nyamasheke district respectively.