Nine Ambassadors, and three High Commissioners today presented their letters of credence to President Paul Kagame, at State House, or as it is better known in Rwanda, Uruguwiro Village.
The majority of the twelve diplomats were replacing predecessors who had completed their term of office. One or two, like Qatar and Hungary were their countries' first ever representatives to Rwanda.
As each one left Urugwiro, after the formalities with the President, they headed to the gardens of Kigali Library, where the media jostled for space, to hear prepared statements from some and put questions to others.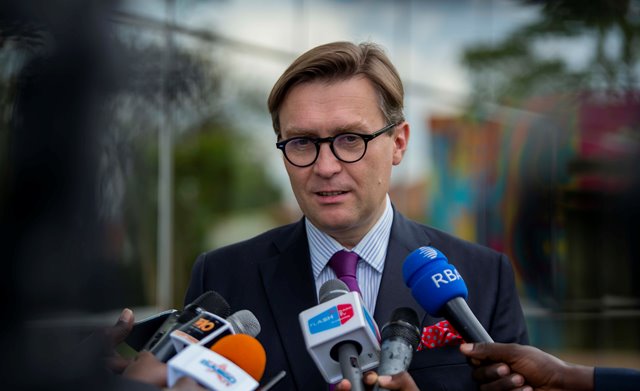 One would expect diplomatic envoys, especially newly appointed ones, to speak enthusiastically and well of their new posting, but, there was genuine delight in being in Rwanda, especially from those who will be based in the country itself.
"We have been a close partner for Rwanda over the past twenty-five years, and we have seen our relationship develop from the very start, starting from those dark days in 1994-95, when it was all defined by humanitarian cooperation, towards a really well founded development programme with Rwanda, In sectors, such as water management, food security and justice. Now as Rwanda is progressing so much, we are moving to another phase where economic development and business opportunities are our mutual goal, and that is what I will be personally committed to over the next four years" said Ambassador Matthijs Clemens Wolters of the Netherlands.
Germany has an historical connection with Rwanda, and long standing relationship. The new Ambassador, Dr Thomas Kurz was clearly pleased to be continuing that relationship.
"You see in front of you, a happy man" he enthused, "is there a better chance, a better opportunity for a German diplomat than serving as Ambassador in your beautiful country of Rwanda. I am very much looking forward to getting to know as much of your country as possible, to meet as many people as I can, and be sure I will work hard on further strengthening our excellent relations…I see myself as continuity to my predecessors in the last twenty-five years, but, I myself want to set further focus on economic operation, and that means more trade and investment."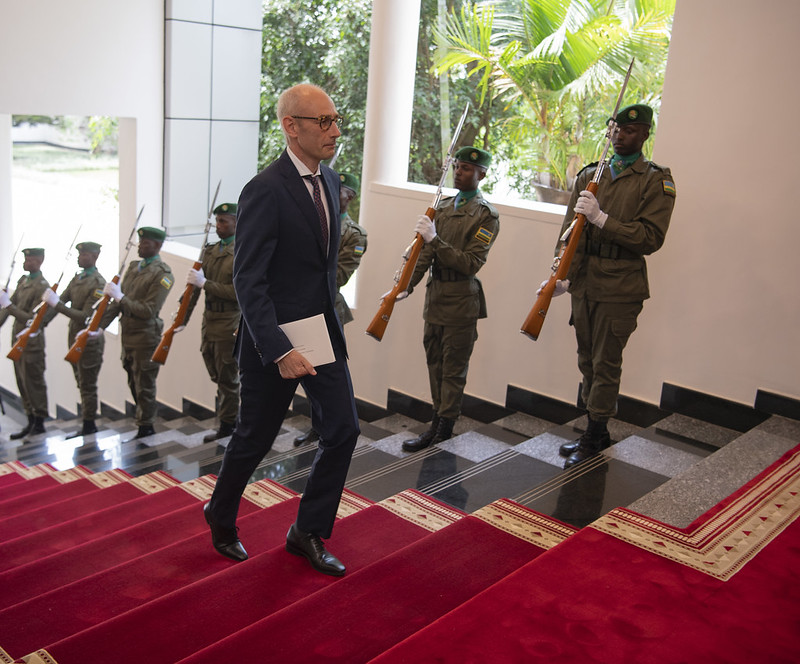 The general theme reflected Rwanda's development from the need for humanitarian assistance during what the Netherlands Ambassador termed the dark days, to what he called a different phase of economic cooperation. It was a theme reiterated by the Irish Republic's avuncular Ambassador, William John Carlos.
"What we want to see as we to the future, is to increase our trade relations, because that is the true manifestations of development between both countries. And it's not about Ireland to Rwanda, it is also about Rwanda to Ireland, there is an awful lot for Rwanda to share in terms of your history in the way that you have developed and progressed in the last twenty-five years, it's been incredible."
Amidst talk of Rwanda's shining achievements after a difficult recent past, it was poignant to hear from the new Ambassador from South Sudan, Simon Duku Michael, who will be based in the Ugandan capital of Kampala.
"We will work for the integration of East Africa" he begun, "and in particular we will learn a lot from Rwanda, how you transformed your political and economic development into this beautiful urbanisation. South Sudan has a lot to learn from you people, and you also have to learn from us."
"As a desert boy used to the sun, when it gets too cloudy, I get a bit depressed" joked Botswana's non resident High Commissioner to Rwanda, Gobopang Duke Lefhoko, "when I woke this morning, it was nice and bright, the President was relaxed and calming, so I enjoyed myself. We had a beautiful, brief discussion."
"At the level of the region, we are trying to strengthen our regional cooperation between SADAC (Southern African Development Community), and the East African Community. At that level we can work on peace and mediation, because Rwanda has actually achieved a feat that has eluded many countries. In twenty-five years, you have managed to have peace, after a difficult..we have never had the difficulties you had, we have enjoyed peace since our independence…that's something we should work closely on, to replicate in our regions" he said.
Many of the new diplomats arrived in Rwanda some time ago, a few weeks in some cases, but, until today, when they presented their credentials to the head of state, protocol dictated that they could even fly their countries' flags on their vehicles. They could present copies of their credentials to the Foreign Affairs ministry, and attend some official functions, but, not high level meetings.
They could not for instance attend the swearing in ceremony for new ministers in Parliament, and had to send their charges d'affaires, even where the Ambassador designate was in the country. Until they had presented their letters of credence, they were for all intents and purposes, only visitors to Rwanda. Now they can visit Rwanda, with their countries' flags flying on their cars.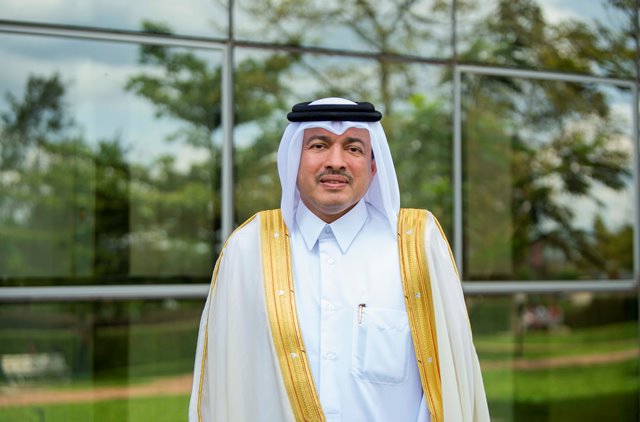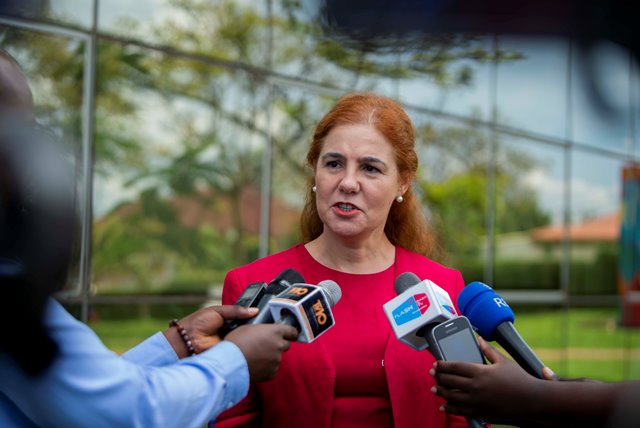 Ambassador Francisca Pedrós Carretero of Spain resident in Dar-es-Salam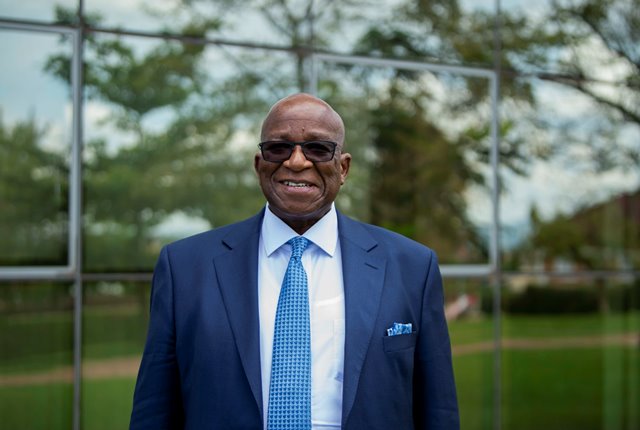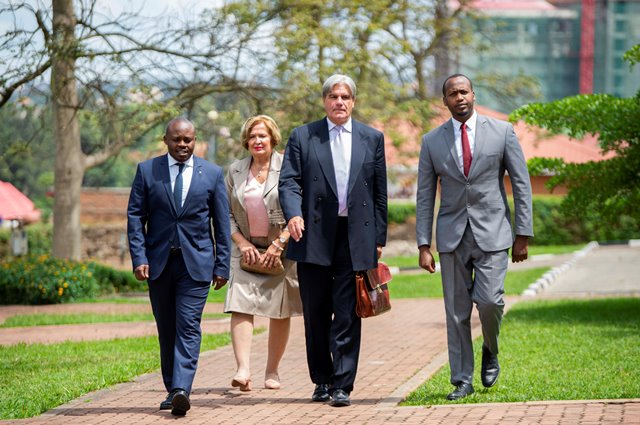 Ambassador Dragan ZUPANJEVACof Republic of Serbia resident in Nairobi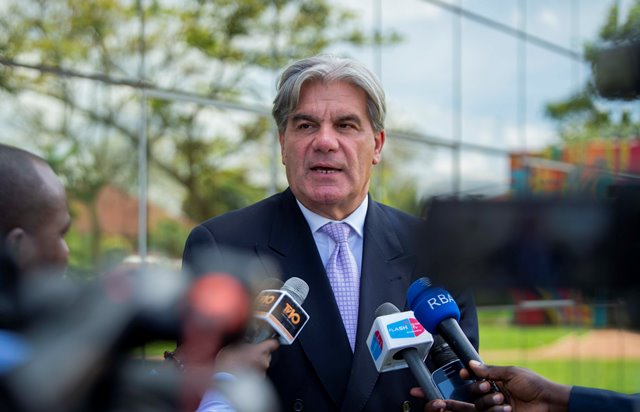 Photos by Plaisir Muzogeye and more here