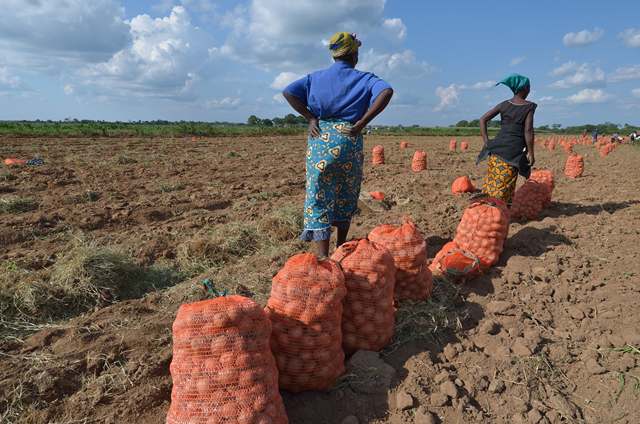 Rwanda Development Organisation (RDO) has published findings that show farmers are still lacking access to critical agricultural inputs.
The findings released on Friday last week revealed that lack of access to input among farmers was mostly discovered in Smart Nkunganire System (SNS).
Smart Nkunganire System is a supply chain management system built by Bank of Kigali's subsidiary BK TecHouse Ltd in collaboration with Rwanda Agriculture Board (RAB) to digitalize the end to end value chain of the Agro-Input Subsidy program.
The findings by RDO – a local NGO that supports the initiatives of Rwandans in social and economic development, showed that farmers, for instance still face low inputs of agriculture supplies and faced high cost at purchase.
For instance, the survey showed, maize types; PAN53 and Pan69 prices stood at Rwf1000 from Rwf535.
The report also showed that agro-dealers who are supposed to supply farmers with these inputs don't indicate the price lists and distribute the supplies in a manner that is contrary to the list of orders.
The findings, gathered under the Enhancing Participatory Governance and Accountability (EPGA) were made public during a national Agricultural Policy dialogue meeting held in Kigali.
EPGA is aimed at promoting the effective participation of citizen's implementation and monitoring of agriculture policy and budget in order to ensure that they respond to the priorities of vulnerable people and contributes to sustainable and inclusive development.
The 3-year $1million EPGA project is funded by United States Agency for International Development (USAID) and Trocaire International, operating in the five of the 30 districts in the country.
The dialogue, which brought together different stakeholders including government and donors in the agriculture sector, was aimed at accessing issues that were raised by farmers since 2017.
Other issues raised at the dialogue include lack of knowledge on agricultural policies (which are in English), failure for banks to give farmers agro-financing loans, lack markets for produces, among others.
John Mugabo, EPGA project coordinator in RDO said that in some of the responses, farmers said: "That they were treated as businessmen once they get agricultural loans from the banks and Sacco's and demanded that financial institutions set a special methodology for agriculture loans offing."
Despite government asking banks to use farmer's produce as a guarantee, the current agro loans in Rwanda are the lowest, with only 6% financing from commercial banks, who also argue that the risks are high when it comes to output.
On a positive side, districts where EPGA operates also got good feedback like enhanced participation of citizens on Agriculture decisions (on land consolidation and crop prioritization), in preparation plantation and crop production raised.
For instance, Mugabo said: "The production in the five districts has raised by over 80% in general where farmers had a record of at least 4 tons of maize produce compared to 2.5tons before the project engaged them."
This was proved by some farmers like Josephine Uwizeyimana who said that the project taught them to know planting seasons, but now they can know and plan well.
In order to have more positive results and citizen participation in agricultural decisions, the RDO Executive Secretary, Eugene Rwibasira said that the EPGA should be scaled up through the country in order to have more impact.
"We expect next year to start a 'green hub' program where all farmers' produce is collected in one place for sale to resolve the issue of the market for produce. We are talking with the private sector because they are key players in making this program a success," Rwibasira said.
The Director-General of Planning in the Ministry of Agriculture, Octave Semwaga, said that the ministry has reviewed the gender mainstreaming policy and results will be out soon.
He also promised that the issue of agro-dealers will be resolved especially to make sure that farmers get inputs on time, and noted that lime is one of the inputs that can be provided in Smart Nkunganire System, just like other inputs.