President Paul Kagame has commended the outgoing Chief Justice and President of the Supreme Court Prof. Sam Rugege and his Deputy Zainabu Sylvie Kayitesi who have completed their mandate, for serving the country with integrity.
President Kagame, who was presiding over the swearing-in ceremony of the new Chief Justice Faustin Nteziryayo and his Deputy Marie-Thérèse Mukamulisa this Friday at Parliamentary buildings, said that Prof Rugege and Kayitesi delivered to the expectations of the nation.
Also sworn is the new Prosecutor General Aimable Havugiyaremye and his Deputy Angelique Habyarimana as well as Valens Nkurunziza, the Vice President of the Commercial High Court.
"I want to take the opportunity to once again thank very much the President and Vice president of the Supreme Court who have completed their term, that is Prof Rugege and Madam Zainabu Kayitesi,"
"During their tenure at the Supreme Court, they served diligently and fulfilled their duties and leadership tasks effectively. They served the interests of the country and the citizens and for that I want to thank them," President Kagame said.
He said that those who replaced them have a strong foundation to build on to take the Justice sector to another level.
"We have a lot of expectations from the new team and we have no doubt that they will serve well," he said, adding that enacting good laws and putting them into practice should be a principle instead of having good laws on paper which don't add value to citizens.
"Justice is mainly anchored on trust and confidence which citizens have in the judges. That confidence is equally built on integrity, vigilance and impartiality which is evidenced in how they handle cases,"
"Trust is built, earned and protected, which is the reason we demand Judges to conduct themselves in a more dignified way than ordinary citizens, even though this conduct is required of leaders at all levels," he said, adding this is important for Rwandans who look up to the judges for Justice.
The Head of State noted that Justice as it is known should support the development process and should give confidence to those who wish to contribute to national development whether they are investors or Rwandans themselves.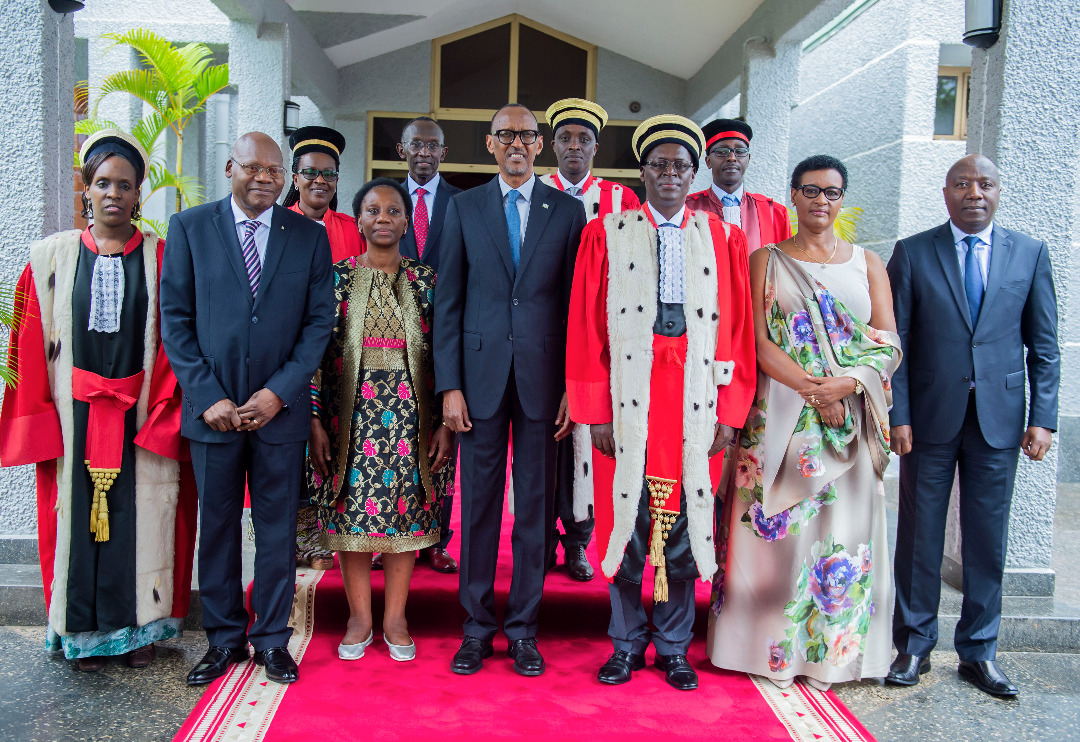 President Kagame said that each year, the Justice sector makes commendable strides but there is a lot more to do, particularly in regard to addressing some of the challenges that are often highlighted in the Judiciary.
"That includes corruption which has been mentioned several times. We must fight it. We should not let it be a culture because once it becomes a norm in the Justice sector, it is normalised in the entire country," he said.
He pointed out that corruption aligned with the country's development ambitions or what it aspires for, adding that those implicated should be dealt with decisively and convincingly.
He said that people go to courts because they believe Judges and Prosecutors alike, have the power to resolve disputes and ensure justice and they should not get anything less than that.
President Kagame assured the new heads of the judiciary of cooperation from himself and the government in general of the support they need to effectively carry out their duties.