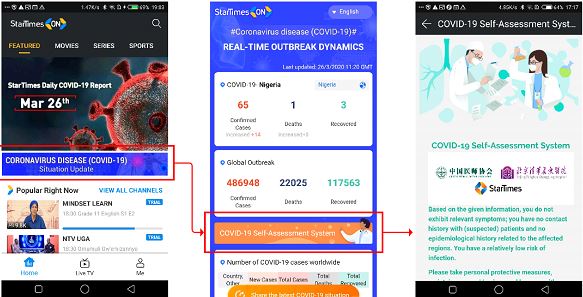 As the possible spreading of COVID-19 is still on, some new problems happened to people: how could I know the status of my physique? Is it necessary to go to a doctor currently while staying alone is suggested?
The solution to such questions has already appeared. What you need to do is just to download an APP named StarTimes ON and log in. There is a section on the landing page named COVID-19 Situation Update, which leads to a specific page about info and knowledge of the virus. And the access to a COVID-19 Self-evaluation and Reference System is on the middle part of the specific page.
With the analysis of your answers to several questions, the system can serve the users as an intelligent prognostics based on a big data base and scientific reasoning, which means you do not need to expose yourself to the risk of being cross infected under some certain circumstances such as getting advice in a hospital offline. What the COVID-19 Self-evaluation and Reference System can offer is not only a relief or an alert for people to stay safe during the special time, but also a contribution to the normal operation of the medical system by avoiding unnecessary visit to the health institutions.
Someone may worry about the professional problem regarding an online system. Actually, it is developed with the latest cloud data technology, and provides scientific reasoning from the answers to the analysis result based on the big data collected from applied cases of over 10 million people in 19 countries and areas. And the system is designed under the guidance of African and international experts who keep contributing their expertise to the control of pandemic. Thus the users can benefit from existing experiences based on the cases against COVID-19.
Currently, the whole society is dedicated to the war against COVID-19, a positive and rational attitude is required for everyone to keep a Healthy Body and a Healthy Mindset. In addition to the attention on sanitation in daily life, to get aware of the health situation and guidance on the actions afterwards is also in need. The Healthy Environment is to be built with our Healthy Behaviour. Stay safe, stay calm with a scientific evaluation updated in time.
StarTimes
StarTimes is the leading digital TV operator in Africa, serving 30 million users with a signal covering the whole continent and a massive distribution network of 170+ brand halls and 30,000+ distributors in 37 countries. StarTimes owns a featured content platform, with 480 authorized channels consisting of news, movies, series, sports, entertainment, children's programs, etc. The company's vision is "To ensure that every African family can access, afford, watch and share the beauty of digital TV".