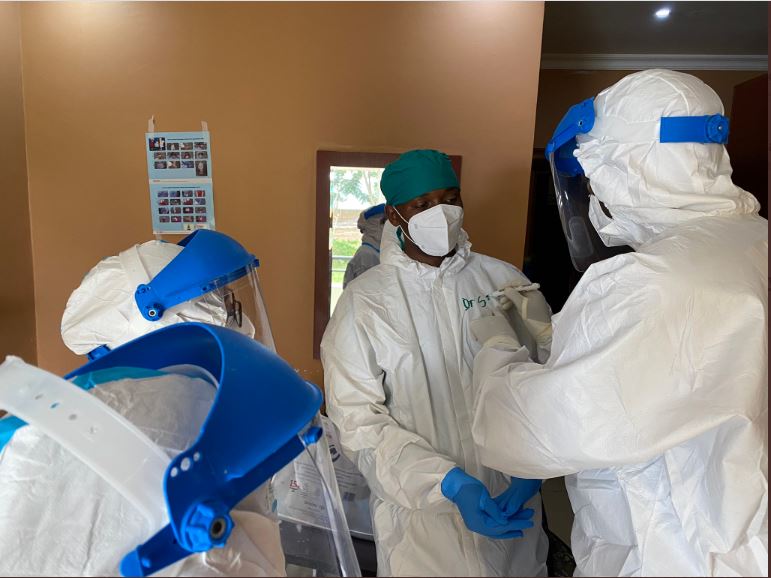 Rwanda on May 13 reported 1 case of New Coronavirus out 866 samples tested between Tuesday and Wednesday, bringing the total number of cases detected in the country to 287 since March.
 Despite the new case, the country registered 11 new recoveries, taking total recoveries to 164 while active cases reduced to 123.
 Sharing the positive looking curve of the country's effort to stop COVID-19, the Minister of Health Dr Daniel Ngamije said the trend is showing success in the measures to stop new infections or the spreading, suggesting that Rwanda is flattening the curve.
 "Interesting graph showing incidence of COVID-19 since 14th March without including truck driver's data. Keep testing and tracing all at-risk groups," Dr Ngamije tweeted.
 Minus cross-border truck drivers, Rwanda has brought all internal person-to-person infections under control. 
President Paul Kagame on Tuesday during the East African Community (EAC) Consultative Meeting of Heads of State said countries are looking to handle the issue of cross border truck drivers jointly. All recent cases in Rwanda have been attributed to cross-border movements.
 Since the start of the week, Rwanda has registered more recoveries than active cases with the 11 recoveries registered on Wednesday creating optimism that the curve will flatten out. Rwanda is yet to register a fatality.
 In a related development, Rwanda on Wednesday issued new clinical guidelines to follow in the treatment of New Coronavirus cases. 
According to the Minister of Health, the new guidelines replace the first edition of COVID-19 infection treatment guidelines for Rwanda was approved on March 20, 2020 following recording of cases in Rwanda, which paved the way for adequate case management of New Coronavirus cases in Rwanda.
 "This second edition of the Covid-19 infection treatment guidelines has been developed following recent research developments, new knowledge availability and experience in the case management in Rwanda,"
 "It has been developed for clinicians at the treatment centre and site managers of COVID-19 isolation and treatment centres. It provides clear definition for contacts, suspects and confirmed cases,"
 The Minister said the 48-page document presents practical guidelines for case management for both paediatric and adult COVID-19 patients including pregnant women.
 Dr. Ngamije said that considering that there is still so much knowledge to gain on the pathogenesis, immunology and therapeutics of COVID-19, the guidelines will evolve in line with new relevant knowledge and progress in the effective management of New Coronavirus patients.
 In reference to the guidelines, Dr. Sabin Nsanzimana, the Director General of Rwanda Biomedical Centre (RBC), said the new comprehensive guidelines are a step forward towards ensuring common understanding and references for the management of COVID-19 suspects, contacts and cases.
 "Since this pandemic is fairly recent, we do not have yet a full understanding of the virus pathogenicity and how to adequately respond to it,"
 "Diagnostic tools are still based on Antigen tests and serology tests are much needed for epidemiological surveillance and to better manage contacts and patients and control the epidemic," he explains.
He added that specific therapeutics are still under research and numerous trials are being implemented all over the world.
 "Rwanda is expected to join these efforts in contributing to better knowledge in full respect of patients' rights and professional quality care," Dr Nsanzimana said.