Wednesday, May 6, 2020, a sunny day started like a normal day in Gakenke district, Northern province with no sign that it would rain.
Andrew Mwumvaneza from Rumbi cell, Bwanamo village of Rusasa Sector seized that opportunity and took with him four of his five children, and headed to the nearby bush to cut runner bean sticks for their garden.
The work was really hard and Mwumvaneza was appreciative to each and every child for the job well done.
"In the evening, when we went back home, my wife had prepared a good meal for the family. We shared as we followed an evening mass from a local Radio, and went to bed around 8 PM," Mwumvaneza recalls.
As soon as the family was under the bedsheets, it started pouring really heavily, but Mwumvaneza at first was confident that the family was under a strong roof.
"We slept until 3AM when I woke up to find the same downpour – Strange!" recalls Mwumvaneza.
"By common sense, I woke up and decided to go out and see if all was well around us."
All was still fine at Mwumvaneza's. He decided to go back but remained watchful.
"One hour later, I returned out, found some landslide near the house and cleared it, so that it does not obstruct rainwater to create a dam near our house and cause fatalities," he says.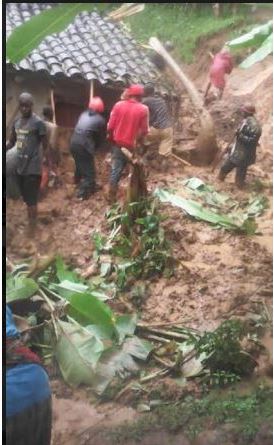 He managed the task alone but, since it was still too early and impossible for anyone to go out for work, there was no choice, other than going back to bed though Mwumvaneza did not sleep until the fateful hour.
"It was around 5.30 AM when something fell upon my head as I was stepping out of the bed. Before I would cry for help, the heavy landslide brought down our house. It was a disaster!" he said.
Mwumvaneza managed to narrowly find an exit for his head and then squeezed himself in the muddy bricks until he got out.
He then pulled his wife and their last born Ineza Geraldine 2, as the rest of the children were still crying for help.
Mwumvaneza then cried high and neighbors came to try and save them.
By the time they managed to reach them, Sylvia Sugiyimana 15, and Jean Paul Dushimiyimana 9, the only boy in the family were already dead.
"They were sleeping in the room where the landslide started when it buried our house," Mwumvaneza said.
However, their firstborn Ernestine Muragijimana 19, and her younger sister Leonie Gitangazacyimana 13, who were sleeping in a different room were rushed to the hospital and are now recovering.
"My daughter died with a rosary in her hands. She will go to heaven!" said Mwumvaneza.
"My son loved livestock. I had much hope in him."
In the same circumstances, the landslide wiped out the family of Theoneste Dushimimana, his wife Edith Hategekimana and their six children in Bukiza village, neighboring with Mwumvaneza's.
"My brother was the chief of our family. He used to lend me money to buy pieces of land and his advice in family was always golden. It will take us time to recover from this," said Protais Habumuremyi, the brother to Dushimimana who was wiped out with his family.
"They are the family heroes that we lost."
These ten victims of Gakenke, Rumbi cell were not the only who lost life in the landslide and other rain related disasters in the first week of May 2020.
The disasters robbed the country 72 people amid the stiff battle against COVID-19 pandemic and destroyed several houses, hundreds of hectares of crops and many livestock among other properties and infrastructure.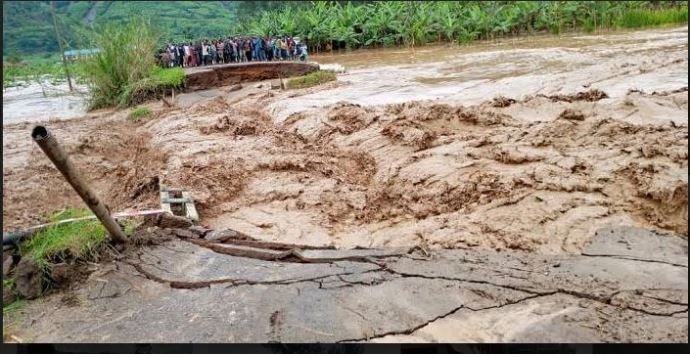 Rwanda's government is people-centered. Whenever such a disaster happens, priority is emergency support.
Several families whose houses were destroyed were either sheltered in the public buildings including schools or were advised to find shelter from a neighbor who was not affected pending permanent solutions which include a house in a model village and some compensations on lost properties.
The families are still under emergency resettlement and support relief.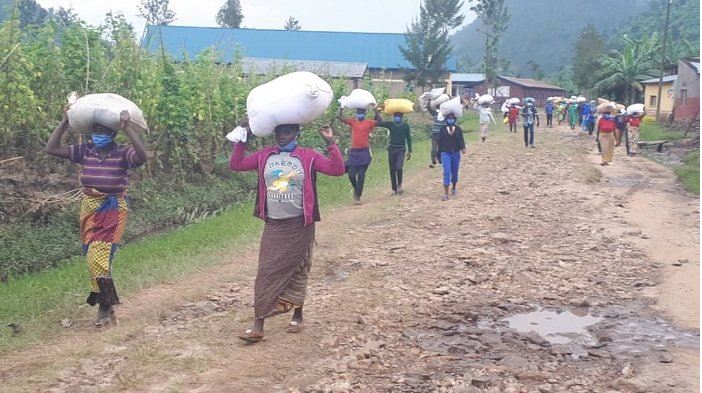 On Thursday, May 14, the Minister of Local Government and the Minister of Disaster Management carried some 14 tons of food and several items of primary necessity to the citizens of Gakenke. Mwumvaneza who is sheltered by a neighbor was thankful to them.
"The food will push us for several days as we try to find an alternative," he said.