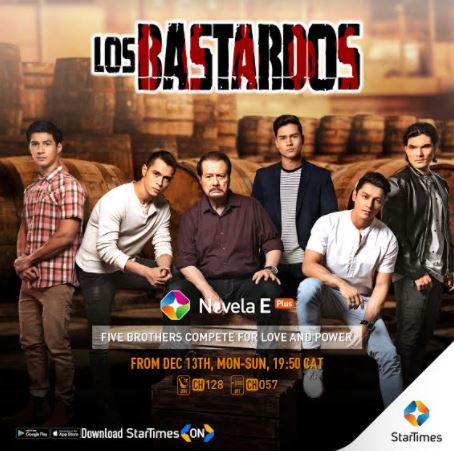 Africa's leading pay-TV operator StarTimes has refreshed this year's Christmas season with a line-up of great TV series. 
Vlady Terimber, PR & Marketing Manager said "This year has been special and we all have had to change our habits. But the Christmas season spirit remains the same, we all want to enjoy cheerful moments with our family and friends during the festive season. StarTimes has prepared an offering made of premium and exclusive TV series so families can enjoy Christmas with a fresh new view." 
ST Novela E Plus is launching an exclusive TV series, Los Bastardos. The story follows the lives of five brothers struggling with one another for their rightful place in their father's heart. The root of their conflict stems from betrayals and secrets surrounding the individuals surrounding their father. 
On the same channel, the telenovela The Heiress describes the fierce love and hatred between lovers, sisters and generations. It tells the story of Romina, a secretary turned wife of business tycoon, Robert. She will have to bear with his jealous daughter Daniela. With Romina's and Daniela's lives intertwined, their daughters, Cassandra and Margaret, are brought into the family feud. 
ST Novela E is broadcasting two two different themed dramas. The Indian comedy drama named Gathbandhan tells the love journey between two distinct individuals, a handsome gangster and an honest cop gets many twists and turns. Exclusive to StarTimes in English, this romantic comedy TV series stars a charismatic actor duo that will delight their audience with their songs and dances. 
The other TV drama named The General's Daughter was a hit on StarTimes earlier this year. The story revolves around a woman named Rhian Bonifacio who is a Military Nurse and is dedicated in saving lives. But she has a secret. She's a spy, trained by her very own father, Tiago, to exact revenge against his enemy, Marcial, a general of the army. This drama is a combination of appealing factors including military, spy mission, action, revenge, family and love. 
Starting from December 17th, ST Sino Drama will air the Chinese Double Kara, 100% Senorita! This TV series tells the story of twin girls separated at birth. One was sent to the rich chairman, and the other was raised by a poor biological mother. Twenty years later, they have grown into stunningly beautiful girls. Although they don't know each other, they are entangled by the fate of blood. 
On ST Kungfu, The Untamed follows the adventures of two soulmate cultivators who travel to solve a series of mysteries, eventually finding and defeating the true culprit. The TV shows Princess Agents takes place during a chaotic period, where innocent citizens are turned into slaves. A slave girl is saved by a prince who trains her to become a spy. 
TLNovelas will start airing the TV drama Unforgivable on December 21st. Unforgivable is a story of love and revenge. After his brother committed suicide, Martin swears to take revenge against the woman who caused such agony to his brother. 
And to reward its subscribers, StarTimes launched a "1 to 3" project giving each pay-TV subscriber 3 VIP membership on the StarTimes ON streaming app for free!  Then, all family members are able to watch their favourite content simultaneously on various devices. This handy application can provide the users with 150+ live TV channels and 20,000hrs+ programs.
"Christmas is a time to give back. Apart from the 1to3 project, we started several offers to give new benefits to our subscribers. The "Recharge and get upgraded" policy will give whether a upgrade or extra-days for free to subscribers," says Vlady Terimber, PR & Marketing Manager.
According to the "Recharge and get upgraded" policy, Nova and Basic/Smart bouquet Subscribers who recharge for two months will enjoy 2 months of the higher bouquet for free. And Super/Classic package subscribers will get 10 extra days for free when they recharge for two months. 
StarTimes
StarTimes is the leading digital TV operator in Africa, serving 13 million DVB subscribers and 20 million OTT users in 30+ countries. StarTimes owns a 600+ channels' content platform combining African local channels (75%) and international channels (25%, including Chinese channels 1.5%). The company's vision is "To ensure that every African family can access, afford, watch and share the beauty of digital TV".