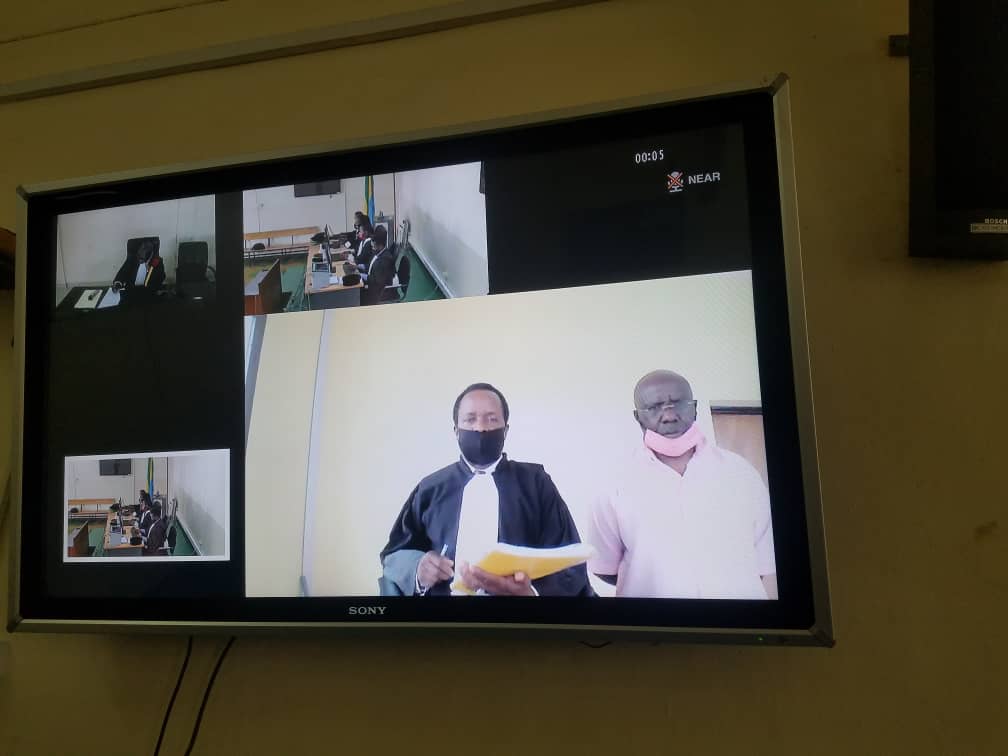 Prosecution has sought an eight year sentence and a compensation fine of over Rwf890million for the former Prime Minister, Pierre Damien Habumuremyi, who is in court over dishing out unbanked cheques and betrayal of trust of his business associates.
The former PM and his co- accused, Charles  Sebushyana this Friday appeared before the Nyarugenge intermediate court, to face two charges which they committed as officials of the Christian University of Rwanda.
They are accused of two counts – offering and signing on bouncing cheques which were handed to different business partners, suppliers and breach of trust in not paying back loaned money, which led to some of the victims incurring financial losses in their businesses.
Habumuremyi is accused of committing both crimes while his co- accused is only charged with the count of signing on unbanked cheques.
Persons affected in this case filed a lawsuit seeking compensation for the damages caused by the duo especially one Jean BoscoNgabonziza who supplied computers (in a Rwf7.5million tender) to the university and was asked to pay a guarantee of Rwf10million.
Court heard again from prosecution that the supplier was not paid this amount even after supplying the good as agreed in the contract and the supplier was forced to look for more money to cover his financial tracks.
Court also heard that PM Habumuremyi on personal level sought a personal loan of Rwf38million from one Charles Nkurunziza but refused to refund the money till to date.
Prosecution argued that the duo signed bouncing cheques to its debtors and used their person (as the President and DAF of the Christian University of Rwanda) which is criminal in the penal code on financial payments.
It is against this background that the prosecution sought their respective sentences requesting for former PM Habumuremyi a five year jail sentence and Rwf892million compensation for the count of offering and signing on bouncing cheques.
They also requested an additional three-year jail term and Rwf1million for the alleged crime of betraying the trust of his debtors, of which prosecution asked court to find the intent in these actions.
On top of this, prosecution sought the confiscation of PM Habumuremyi's house located in Gacuriro, Kinyinya sector Gasabo district.
Prosecution informed court that "this property has since the start of the trial been transferred in the names of Clement Uwajeneza with whom they signed a transfer agreement but we want this property to be added to sources of the compensation requested."
However Habumuremyi and his two defense lawyers told court that the defendant's bank accounts have been freezed and property confiscated which is a setback in maintaining his family thus asked court to liberate the property involved.
On compensation, Habumuremyi said that he is innocent and there is no basis of being slapped with this punishment arguing that the cheques he offered were done in the name of the university and each of the debtors was supposed to be paid in portions.
"We have agreements with the persons whom we gave cheques. The payment arrangements were instead breached in the course of paying off some of them," Habumuremyi said.
He asked court to release him on this basis and on grounds that he was suffering from heart, stomach and eye problems which he said were putting his life in danger.
On the same grounds, however his lawyers presented a different argument seeking Habumuremyi's release saying that his case should be tried by a commercial court since it involves compensation of which a civil court doesn't have competence.
His lawyer, Jean Pierre Kayitare said that legally Habumuremyi offered the cheques as a guarantee for payments which were to be made and there was no law broken considering the law provision of payment using immovable property as an option of settling a payment.
However prosecution said that in under such a context the parties would have sought a government registrar's signature to legalize the said cheque payments as guarantees – which is only validated by the Rwanda Development Board.
Responding to this, Habumuremyi said there was no need to validate the arrangements and when the cheque holders complained over the unbanked cheques, he sought bank help to have him sign replacing cheques of which his accusers agreed to.
For Charles Sebushyana, the Prosecution asked a four-year sentence and a compensation fine of Rwf87.5million on the alleged crime of endorsing as a signatory to the said cheques.
In his defense, Sebushyana said that he was no longer an employee of the university when he signed on the cheques, and only did sign the cheques because the university sought his help as they had no DAF at the time to do the same.
Business partners in the Habumuremyi and Sebushyana case sought court to order the duo for compensation.
Victor Semuhoza, lawyer for Jean Bosco Ngabonziza asked court that Habumuremyi refunds Rwf17.5million to his client, over Rwf6million as compensation and lawyer fees plus interest on a bank loan taken to cover the delayed payment.
Semuhoza also asked that one of the accused who is deemed to be able to pay immediately should be given the first task or alternative payment of this money collectively.
Emmanuel Uyisabye, who represented Charles Nkurunziza for Rwf38million given to Habumuremyi said he wants the money refunded and over Rwf19million in compensation, value for money, lawyer fees, and case follow up among others.
Court will on November 27, 2020 reconvene to take a decision on the above case.