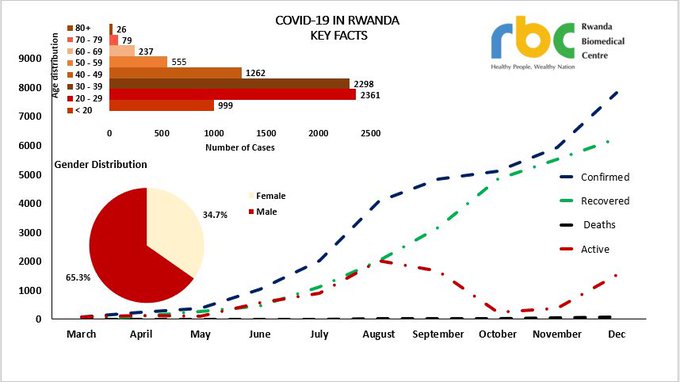 Tuesday was a bad day for Rwanda as the country registered four new deaths, the highest number so far in one day and yet again new infections above 100, as the country prepares to enter the new year in a worrisome situation with the New Coronavirus not relenting.
The Ministry of Health expressed condolences to the families of the four people killed by COVID-19 on Tuesday, the death toll resulting from the virus now reaching 79, while 107 new cases put the total cases at 8,128.
The deceased were two men from Kigali, aged 78 and 68 and an 84-year-old woman also in the city, as well as a 48-year old man in Gicumbi district, Northern Province. Of the 107 new infections, 40 were identified in Kigali, Kayonza (17), Gakenke (12), Musanze (12), Huye (8), Rubavu (8), Gicumbi (5), Burera (2), Rusizi (1), Kamonyi (1), and Nyagatare (1).
Some 6,339 people, or 77.9 percent of the patients, have recovered from the virus while 1,710 people remain active cases. The Director General of Rwanda Biomedical Center (RBC), Dr Sabin Nsanzimana, one Monday, warned that COVID-19 is increasingly manifesting itself among young people.
"20-40 year olds are main drivers of the pandemic. Males are most affected.  Active cases are rising," Dr. Nsanzimana said, while sharing key facts about COVID-19 in Rwanda.
He urged people to take necessary precautions to stop the spread, insisting on wear a mask, social distancing and avoiding crowds as well as washing hands, as the key preventive measures. Dr. Nsanzimana further urged people to be wise and avoid parties during the new year festivities.
The Government is set to revisit existing measures by January 2. The Minister of Health, Dr. Daniel Ngamije, has not ruled out the possibility of a fresh lockdown if the situation continues to worsen.