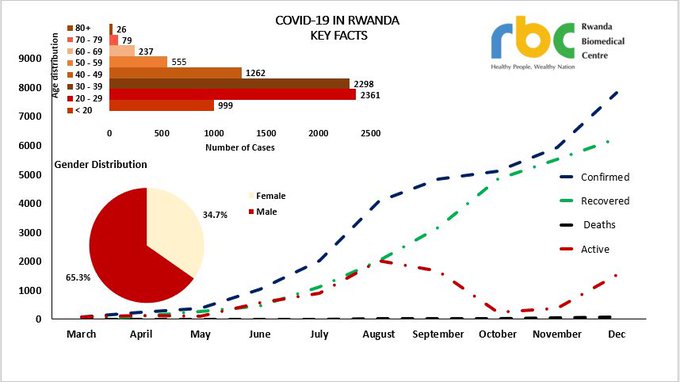 Rwanda on Wednesday recorded the highest number of New Coronavirus deaths with 7 people succumbing to the virus as the situation continues to deteriorate.
The Ministry of Health announced that seven people, including a 13-year-old boy, had been killed by COVID-19, while 122 new infections were recorded. 
The deceased included a 13-year-old girl from Nyamasheke district, three men including a 51-year-old, a 60-year-old and a 63-year-old from Kigali City, a 62-year-old woman from Kigali, a 61-year-old man from Gatsibo and another 66-year-old from Karongi. 
The Wednesday numbers pushed the COVID-19 related death toll to 86 since the outbreak in Rwanda in March this year. 
The Ministry of Health said the number of new infections was 122 out of 3409 tests conducted, bringing the total number of infections in the country to 8,250. The number of recoveries was 30, bringing the total number of recoveries to 6,369 while the number of active patients is 1,795. 
69 new patients were found in Kigali, 18 in Gakenke, 8 in Rusizi, 7 in Rubavu, 5 in Huye, 4 in Nyamasheke, 3 in Nyamagabe, 2 in Muhanga, 2 in Karanga, one in Kamonyi, one in Gatsibo and one in Nyabihu. one and Nyagatare there is one. 
Explaining the increasing new infections on Rwanda Broadcasting Agency (RBA), the Director General of Rwanda Biomedical Centre (RBC), Dr Sabin Nsanzimana said that the critical cases are a result of people who feel signs and don't report early, allowing their immune systems to deteriorate. 
"You have people who feel flu-like signs for more than two weeks and they still convince themselves it is normal flu and by the time they decide to come when it is already too late," 
"This is why we have more patients in critical condition. Normally in the Kanyinya treatment centre we have four to five patients in critical condition but currently we have more than 40 patients on ventilators, which goes to show the gravity of the situation," Dr Nsanzimana said. 
In order to avoid the spread of Coronavirus, Rwandans are required to continue to pay attention and comply with government regulations, especially with frequent hand washing and water and soap, avoiding unnecessary rash and wearing noses and noses when a person leaves home or encounters many people. 
The Government is set to review existing measures before January 2.