Rwanda Organization of Persons with Deaf-Blindness (ROPDB) has requested the government to place persons with multiple disabilities in a special classification category if their challenges are to be addressed individually and collectively.
The organization (ROPDB) which was formed out of the existing Rwanda Union of the Blind (RUB) says that the current classification of persons with disabilities places them in the fifth category of others, which downplays their specific needs.
RUB chairperson, Dr. Donatile Kanimba said that the formation of this sister organization was specifically intended to address the needs of persons with combined disabilities which include blindness and deafness.
A case of multiple disabilities means concomitant impairments (such as mental retardation blindness, mental retardation-orthopedic impairment among others. The combination normally causes severe educational needs that cannot be accommodated in special education programs solely for one of the impairments.
Dr. Kanimba said that since the publication of the disabled persons categories in 2009, RUB and its sister organization have never accepted the categories as representative of who and what they are.
The current five categories of disability include: physical disability, visual impairment (blindness), mental disability, difficulty in hearing (deafness) and others- where the organization of persons multiple with disabilities fall under.
Kanimba said that this contested category used to exist and they wrote (in 2014) to the ministry of health asking that the category of combined disabilities is given a specific category adding to the existing five categories but in reply they were told that both blind and deaf disabilities are covered in the categories.
"We want this law to be revised to affirm that there is another category of disability where it is very clearly indicated, instead of classifying it as "others", yet the category of multiple disabilities existed before," Dr. Kanimba said during an advocacy press conference with local media this Thursday.
The Chairman of the ROPDB, Jean Marie Furaha, who was formerly only deaf but later become blind due to health related cause, said that he doesn't want to be in this category because it doesn't represent nor address needs of persons with multiple disabilities.
"We encounter special challenges which are different from other kinds of disability, thus need special attention which can only be done if we have a special category that tackles our issues," Furaha said through his tactile sign language interpreter Alexis Mbanjimbere.
Catholic Church Can Help
As a way forward, both RUB and ROPDB said that through the revised category government will be able to provide them with specialized education and skills especially communication which they said is lacking in current inclusive schools and most persons with multiple disabilities don't access.
"If the government cannot provide specialized education for persons multiple disabilities, I think they should approach the Catholic Church for help since it is the church that has experience in this field," Kanimba said.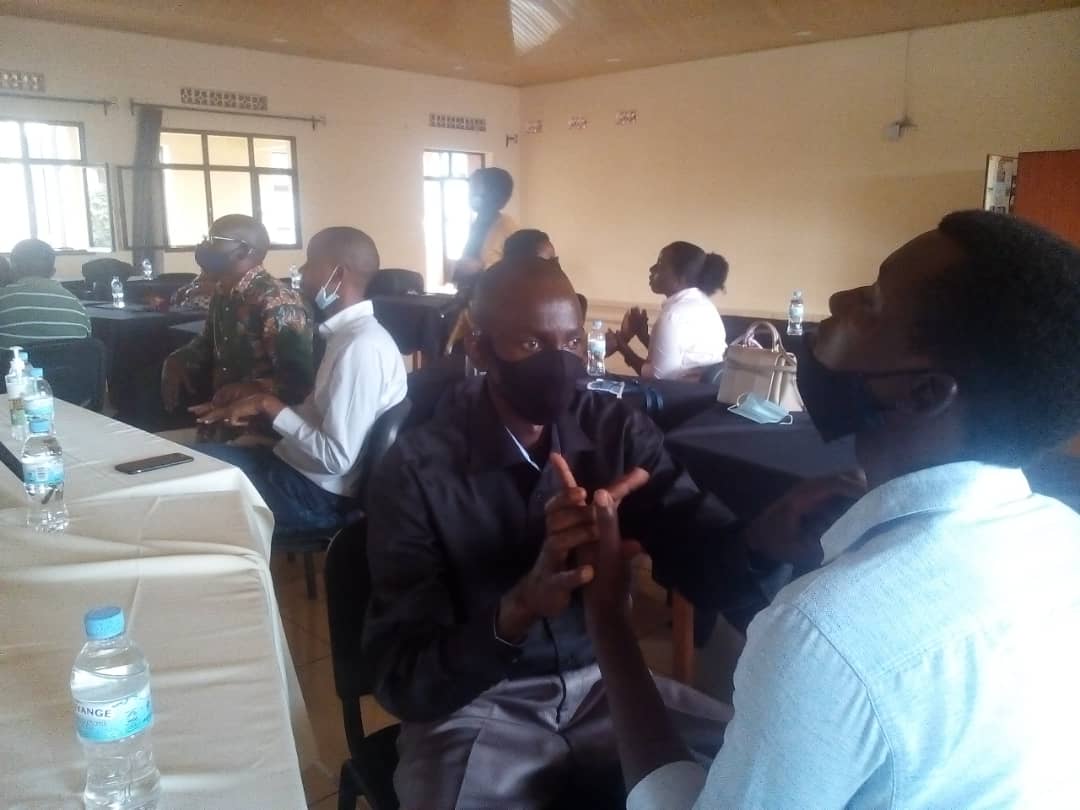 Similar concerns of the same nature have been previously raised by members of parliament, however under normally constitutional procedures, a law or bill can be proposed (or revised) coming from a government entity (ministry), and sponsored by a member(s) of parliament.
This means that for this proposal to be successful, both organisations have to lobby their cause through the parliament where they have a member of parliament representing persons with disability.
MP Eugène Mussolini, who represents persons with disability said that he will support in parliament, the cause of ROPDB and RUB on grounds that their concerns are valid.
"The law that classifies these categories in itself should be revised as a whole. We are all aware of their needs and we see it. They don't hear, see nor talk thus putting them in the same category is not fair,"
According to the 2012 census, the count of persons with disabilities by province reflects the geographical distribution of the population in general, with the largest number being found in the Southern Province (122,319) and the lowest in Kigali City (32,170).