President Paul Kagame says though the year 2020 was a difficult one due to the New Coronavirus outbreak, the country was able to register many milestones in different spheres of the economy, regardless of the challenges.
The Head of State made the observation on Monday while delivered a state-of-the-nation address, after which he held a virtual press conference and interactive session with citizens, in a hybrid session that replaced the postponed 18th Umushyikirano National Dialogue.
In his speech, President Kagame highlighted some key achievements in the health, education, socio-economic, foreign policy and infrastructure, attained in 2020, adding that the Government of Rwanda will continue to do what it can to ensure that the country remains on course to recover from the impact of COVID-19.
Below is the full Speech
At this time last year, we were gathered together for our annual Umushyikirano. I was able to report to you that the state of our nation was good and it was true. Even after that when we were ending the year, I told you that 2019 had been a good year for us, and that my hope was that 2020 will be even better. If you remember well, I also added that it is not easy to know what lies ahead.
Only a few months later, we were confronted by a global pandemic, which has been with us for most of this year.
Despite the shock of Covid-19, and the many adjustments we have had to make, I want to reassure Rwandans that the state of our nation remains strong. The reason is clear.
I want to thank all Rwandans for the commitment, collaboration, and hard work, which you have demonstrated, as well as your willingness to help in dealing with this challenge.
Rwandans responded to the challenge, and so did our institutions. We have to get used to living with this pandemic as it is still here and keep on fighting for our lives to continue.
This was based on the trust between citizens and leaders, through our institutions. Our history, our politics puts citizens at the centre, and always strives to improve their livelihoods.
We saw benefits from the investments that Rwanda has been making. These magnified the natural resilience of our people, and helped to mitigate the negative impacts of the pandemic.
On social protection:
Mutuelle paid for nearly 2 million people in Category 1. More than 10 billion FRW transferred to vulnerable families.
New Ubudehe categories being implemented. The exercise must be carried out transparently with cooperation of citizens. Because in the past it was noticed that in some places this was not the case. People were put in categories which did not match their economic capabilities. We will continue to correct such mistakes.
On agriculture:
Agricultural productivity maintained, and local seed production substantially reduced seed imports.
Strategic agricultural reserve allowed more than 5,000 tons of food to be distributed during lockdown.
More than $400 million earned from agricultural exports. 17 mobile crop dryers acquired to combat aflatoxin, and almost 500 post-harvest facilities built.
On health: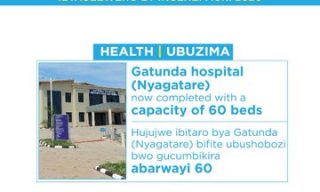 Built 3 new hospitals (Gatunda/Nyagatare, Nyarugenge, Gatonde/Gakenke).
Use of ICTs for contact tracing and patient care.
Established an emergency heart treatment facility, and acquired a new MRI machine. Usually, people were travelling to get treated or for MRI tests but going forward, all these will be done here.
We have also invested a lot of resources in upgrading King Faisal Hospital, looking for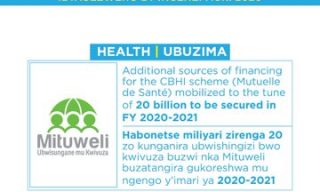 doctors with skills in treating different kinds of illnesses, and having a highly knowledgeable personnel. We were able to find some but we are also still looking for others. Those illnesses and diseases that are hard to treat will be amongst those treated at King Faisal. We will also have the capacity to help treat our fellow East Africans who will be able to come in Rwanda instead of travelling to other nations far away which is very expensive.
On education:
More than 22,000 classrooms built. Schools successfully restarted with Covid prevention measures, but continued vigilance needed.
On infrastructure:
New public works to prevent flooding in disaster-prone areas, built with participation of citizens.
There are disasters that disrupt the lives of people, but there are also cases where lives are affected due to the mistakes made by different people at different levels which results into disasters, taking a heavier toll than it should have if those mistakes had not been committed. But we are also trying to solve such issues by relocating people from high-risk zones regardless of their mistakes. Relocating them might look like it is disrupting their lives but it is an issue that we are trying to solve instead of causing even more problems.
Upgraded 4G network in 127 sites around country.
Almost 200,000 new households were connected to electricity this year, and soon all sectors in the country will have access.
On the economy:
Economic Recovery Fund for businesses (100 billion FRW).
GDP fell in the 2nd quarter compared to previous year, but rebounded in 3rd quarter, showing recovery is underway.
Successfully restarted tourism and meetings, as well as cross-border trade.
Although we are still dealing with this pandemic which comes with a lot of setbacks on many things, but we are also making progress on a lot of things despite the challenges we face.
Despite pandemic, 172 new investment projects registered for $1.2 billion, expected to create more than 22,000 jobs.
On security & international cooperation:
Worked with neighbours to address regional security issues.
We are still trying to collaborate. We are on a good path and a lot has been achieved. There are still some issues but in general, security across the country is assured. Amongst the small issues we still face there is that one in the Southern Province, at our border with a brotherly nation, Burundi. We are still engaged in talks towards finding a fitting solution.
To the West, at our border with DRC, in collaboration with the new leadership in Kinshasa we have solved a big part of the problem that was there and we remain now with a very small part.
To the East, we have a friendly nation, Tanzania, with which we have commendable bilateral ties.
To the North, there are still some issues but we all agree on the fact that we all want peace and security, and in the end people understand that all we want is peace and security, and none of us want to compromise the security of the other.
Commonwealth Heads of Government Meeting (CHOGM) in June 2021.
Strong cooperation with development partners and philanthropists to enhance Rwanda's pandemic response.
We thank those who contributed directly to these achievements, including our frontline and community health workers, our youth volunteers, the private sector, and our development partners.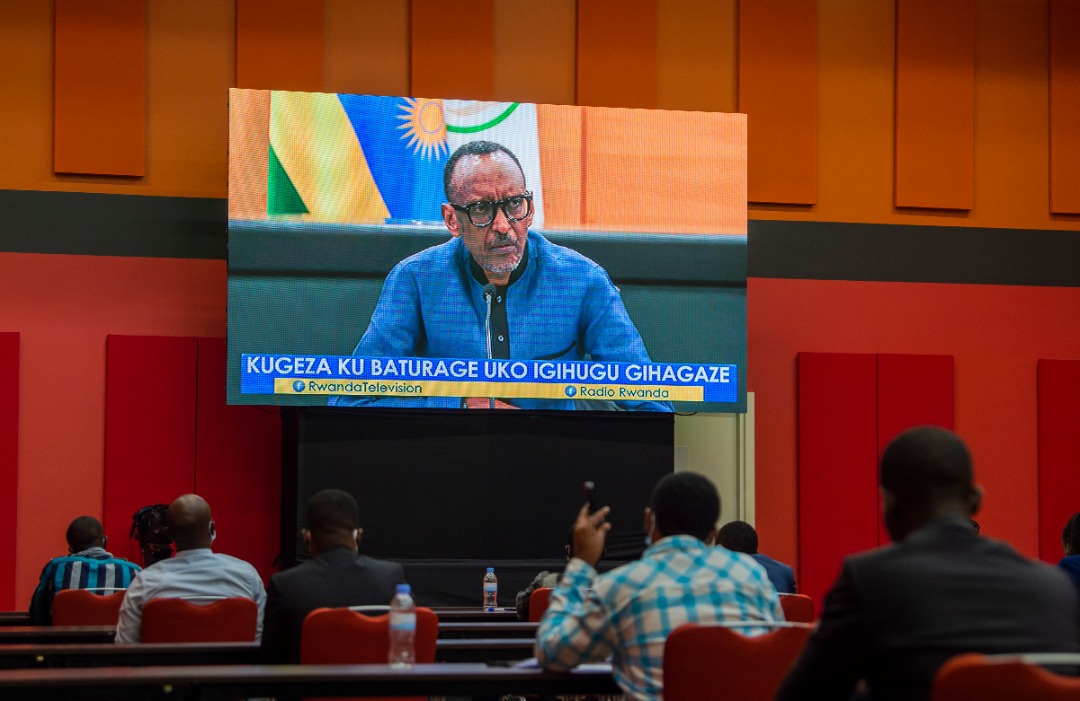 I also want to thank you for the solidarity you have shown with fellow Rwandans.
This includes Rwandans living abroad, who contributed financially to support people whose livelihoods were affected by the pandemic.
I commend the local government leaders who are completing their mandate. We thank you for your service, and ask you to continue contributing, in your future endeavours.
Resilience is the capability to withstand hard times, but without compromising long-term health and well-being, or the ability to prosper in the future. It is good that we continue on this path, review what we have not done well and keep on improving where we are doing well. I hope that we will keep this culture.
We have come too far, to let our prevention efforts go to waste. This is not the time to relax. This is the time to protect our gains and strive for what we want to achieve, and continue to make progress.
We have to be responsible for each other's safety.
We have had to make many sacrifices this year. It has not been easy. Even as we speak, things have not gotten back in order. That includes the need for families to avoid congregating during the festive season.
But, without these sacrifices, it will end up costing us much more. Together, we will recover and return to the path of growth, and continue expanding the well-being of all families.
Once again, I thank all Rwandans, along with our friends and partners, for staying together on this journey. Let's increase our activities, let's keep the momentum.