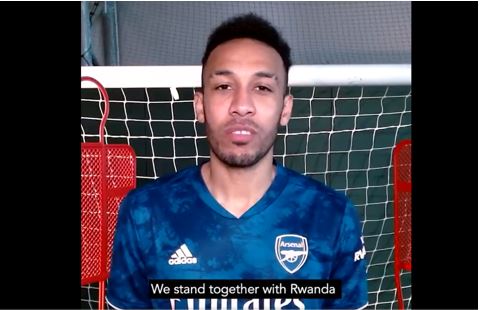 One of England's most popular teams and Rwanda's official tourism partner Arsenal FC today posted a video across their various social media accounts in which they join with Rwandans to mark the 27th commemoration of the genocide against the Tutsi.
The 40-second video, includes the club's captain Pierre-Emerick Aubameyang, midfielder Granit Xhaka, striker ALexandre Lacazette, head coach Mikel Arteta, managing director Vinai Venkatesham and the club's legend Tony Adams.
"We stand together with Rwandan and Rwandans around world to commemorate the genocide against the Tutsi." Pierre Emerick Aubameyang and Granit XHaka say at the outset of the video.
Alexandre Lacazette and Mikel Arteta follow with: "We honor the memory of more than one million victims and pay tribute to the strength and courage of the survivors."
"By being open about the past, we can build a brighter future." Vinai Venkatesham says
"One defined by love and respect." Arteta follows
The players then say "Twenty-seven years later, Rwanda's resilience, growth and transformation is a testament to the enduring spirit of humanity."
The video closes with the 27th commemoration's motto, "Remember, Unite, Renew."
? "By being open about the past, we can build a brighter future."

We stand with Rwanda to mark the 27th commemoration of the genocide against the Tutsi.

Remember. Unite. Renew. ?️#Kwibuka27 | @visitrwanda_now pic.twitter.com/VNh7mFzqwQ

— Arsenal (@Arsenal) April 7, 2021