The Organisation of Rwandan Alumni of Genocide Survivor Students' Association (GAERG) and an Israel based organization, Renewed Memory have kick-started a project which will document and share testimonies of genocide survivors.
The "Renewed Memory Rwanda" project which will use animated and short video stories to tell and keep memories of the Genocide against Tutsi, was virtually launched on April 1, 2021 by Ambassador Ron Adam, the Israel envoy to Rwanda.
The initiative will be implemented in collaboration with 24 selected students at Mount Kenya University-Rwanda in Kigali, GAERG Rwanda, and Renewed Memory Israel to prepare, write and produce videos that will be shared on different social media platforms.
GAERG said that the videos to be produced between April and May 2021 will be shared with four important goals expected to be achieved:
These include telling and reliving forgotten stories of genocide survivors and witnesses; connecting the youth to the memories and their implications, raising the awareness among youths and creating a digital archive of videos for educational and research purposes.
Amb. Adam said that the project is timely and resonates with his country's experience of going through the Jewish holocaust from 1933 to 1945.
"I was honored to participate in the launch of memory telling by the Israeli Renewed Memory organization to preserve genocide memories through production of testimonial videos," said Amb. Adam.
Egide Gatari, the president of GAERG highlighted the importance of the video documentation as contributing to the organisation's efforts to keep genocide memory alive 27 years on, but also aide in fighting genocide ideology.
Gatari said this project creates an opportunity for the young generation to prepare and share video content that aim to increase presence, remembrance and the implications of crimes against humanity and racism that happened to their people via social networks.
"The students involved should not only help to tell our story as survivors but as a country to tell the real untold story (of the 1994 genocide against Tutsi) and be good ambassadors of humanity to the whole world," Gatari said.
Gatari used the opportunity to ask the Israel envoy further this development with exchange visits and genocide historical research, since the Rwandan counterparts need to learn a lot from Israel in many aspects of fighting genocide denial, bridge gaps in documenting and research.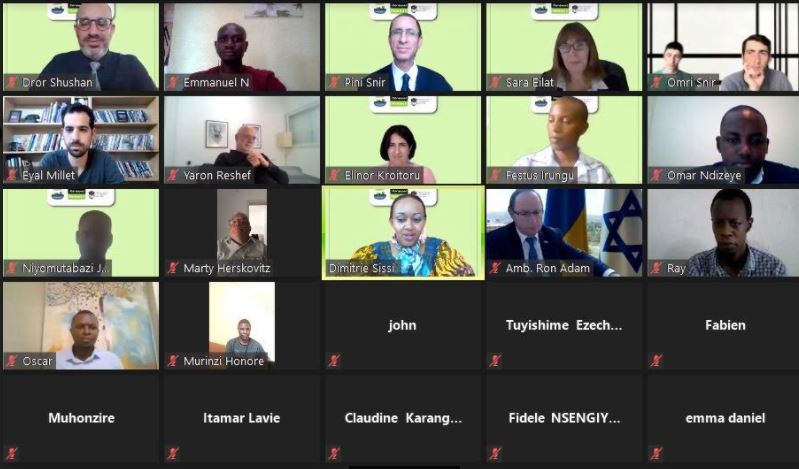 Using his testimony, Omar Ndizeye, a genocide survivor and author of "Life and Death in Nyamata" Memoir of a Young Boy in Rwanda's darkest Church (Genocide against the Tutsi in Rwanda) book1/2 said its everyone's role to play in making the world free of genocide, as indicated in the mission of GAERG.
Ndizeye was ten years old when the genocide against the Tutsi that shook the world began in Rwanda in April 1994.
Ndizeye reflected on his story of surviving as a child and spoke about his painful memories when his father, young brother and other members of his beloved family and community were slaughtered before his eyes.
"It was a story that kept my childhood in worry and with many unanswered questions," he said…"I want everyone to know what happened to us even if it is a terrible story…Are we prepared to renew our memories to build the right future?" Ndizeye said posing a question.
Pini Snir, a third-generation Jewish Holocaust survivor who is the founder and head of "Renewed Memory" project committed to help Rwandans progress in keeping memory, growth and seeing impact of the videos so as to bring everyone on board in keeping the memory of the genocide.