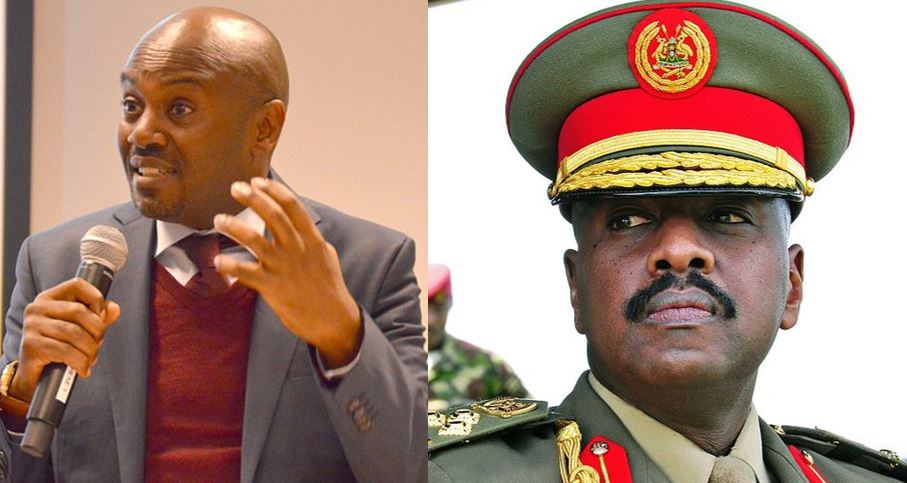 Giving up on a cause does not necessarily mean losing interest in it. And when it is a cause so big like the restoration of Rwanda–Uganda good relations, letting go becomes even more difficult. In this kind of situation it seems is where Andrew Mwenda found himself recently when through social media he literally cried for Africa in a famous tweet. 
"Exactly ten years ago this month, @mkainerugaba and I conceived an idea to make Uganda-Rwanda relations great again; and for a while it worked – and then collapsed. Since we have retired, better minds need to re-launch this project for the good of Africa."
In case you did not know, the person mentioned in Mwenda's tweet is General Muhoozi Kainerugaba, son of President Yoweri Museveni, and current Uganda People's Defense Forces Commander of Land Forces. 
In pictures which Mwenda accompanied the tweet with, both President Museveni and host President Paul Kagame are seen having good time together, with some members of their families, Andrew Mwenda also present. This was during a historic visit to Rwanda by the Ugandan head of state in July 2011. They were touring President Kagame's cattle farm at his country home on Lake Muhazi, in Kayonza District of Rwanda's Eastern Province. 
Judging by the jovial mood the two statesmen seemed to be in as they walked around the farm on a sunny day with traditional cattle keepers' sticks in hand, and when they sailed slowly on Lake Muhazi, enjoying the water surface breeze on a white boat, it is easy to see why Mwenda looks back nostalgically. He was a first-hand witness to those warm conversations and friendly exchanges which promised a lot but delivered nothing. Nevertheless, the show was a result of his and General Muhoozi's effort. 
Most people who were looking on from afar did so with admiration for what was nicely unfolding and cheered the real dealers along with the agents. It was awesome then, yet as Mwenda regrets, it was not going to last the test of time, and indeed it did not. It leaves us all scratching our heads disappointed that none of us could stop the abortion of such a beautiful unification fetus. But at least do we know what exactly happened? Let the attempt to answer the question start.
There is a saying in Kinyarwanda which goes like, "burya ababurana ari babiri, umwe abayigiza nkana". Here is the translation: 'whenever two people are arguing out a case against each other, one of them is insincere'. If we were to apply this remark to what has been going on between Rwanda and Uganda in the effort to find out where and when Mwenda and General Kainerugaba's noble idea was betrayed by whom, we would have to go back to history. Only then shall we be able to recall the truth behind it all for those who were following events, or even learn about it for the first time for others who were not in the know. 
This is necessary because while Mwenda lamented that their noble idea failed, this time he did absolutely nothing to say why it did not succeed. I say 'this time', for I am fully aware that at various points in the past, the senior journalist used to have enough time, motivation as well as guts to bring out matters as they were, and still are. His news magazine The Independent those days used to be a constant source of reliable information for most people who with sadness saw the lack of progress deteriorate into retrogression of bilateral relations, wondering why.
In a three-part weekly series we are going to attempt to narrate to you once again with facts what exactly happened, with a view to never allow passing time to negate truth to a place where it might be forgotten and thus cease to be referred to in the continuous effort to renew.
Over the last ten years, Kigali has put in the open all its complaints against Kampala for everyone to know and does so with impeccable evidence. A year and a half prior to President Museveni's visit to his counterpart's country home on Lake Muhazi, he had dispatched his brother General Salim Saleh and General Kale Kayihura, then Inspector General of Police, to pick up a Rwandan fugitive from near the common border. This was in February 2010 and the person is General Kayumba Nyamwasa, former army chief of staff, former head of intelligence and former ambassador. He had just entered into Ugandan territory after crossing River Muvumba on foot near the Kagitumba border post, fleeing government questioning over grave misconduct.
 After ensuring Kayumba's safe exit from Rwanda, Kampala went on to facilitate his travel to South Africa to join forces with deceased Colonel Patrick Karegeya. The former spy chief had also in a similar incidence as he fled in November 2007 been helped by Uganda's then head of the Chieftaincy of Military Intelligence (CMI) Colonel Leopold Kyanda. He was given the honour of being picked from the border, and then escorted to Kampala where he was covered before relocating. The two in December 2010 formed Rwanda National Congress, a political organization with an armed wing that has in the past terrorized Rwanda, https://www.newtimes.co.rw/section/read/18020.  
Up to now Kampala has miserably failed to disassociate itself from RNC. Just over two years ago Uganda's government owned daily newspaper New Vision granted prime space to Kayumba in a botched bid to sanitize his personal image as well as attempt to exonerate Kampala from some of its offences against the Kigali administration. https://www.newtimes.co.rw/news/museveni-was-always-looking-moles-rwanda-say-officers-who-worked-kayumba-nyamwasa .
In further effort to shed light on the history of the Rwanda-Uganda failing relations that Mwenda was this time not able to provide, yet there is not a more knowledgeable scholar of the subject, there was an incidence in December 2013. In a joint terrorist operation between RNC and FDLR, violent activities had been planned and executed through grenade attacks aimed at disrupting that year's parliamentary elections. One of the grenade attacks took place on 14th September 2013 at Kicukiro market where it killed two people. That attack was successful but so was the investigation which followed immediately to get to the people behind them. 
Soon arrests were made and prosecution started of Lt. Joel Mutabazi and Cpl. Joseph Nshimiyimana. During trial they confessed damning information incriminating Uganda for its support towards RNC and FDLR. "On 5th November that year, Nshimiyimana told court he was present when the attack was planned in July 2013 at Mamba Bar Point in Kampala and that Kayumba had also linked them with Col Jean Marie, an FDLR commander, to finalize the details of the attack". https://www.newtimes.co.rw/opinions/museveni-serious-normalizing-relations-rwanda. 
During the quadripartite engagements that brought Rwanda and Uganda on a round table under the facilitation of Angola and DRC, President Museveni had no objection to the accusation. Actually it is plainly documented in the Luanda MoU that he pledged to go and investigate then come back with explanations. He has never done, and that answers your questions on why the MoU has not lived up to expectations up to now. It suffered a fatal dishonesty virus infection from Kampala.
The prosecution of Lt. Mutaazi as it unfolded spilled a lot of embarrassing details about sinister plans by Uganda government against Rwanda. For example when he was moved from Kampala to Kigali, he had with him a computer which stored information relating to how he had a command post in Kabale from where he coordinated the grenade attacks. On it also were detailed plans to assassinate senior officials of the Rwanda government. 
Andrew Mwenda knows all this information and has in the past confronted officials in Kampala accusing them of failure to come clean on such serious allegations against them from Kigali. Understandably since he has done this several times to no avail, now he has finally given up. So this story on one hand serves the purpose of recognizing the truth he knows but no longer has time and zeal to share, and on the other weighs in on the mission of carrying on with keeping the world informed, lest it forgets.
We shall return next week with more documented information to continue reminding you about what has been as we together pinpoint the side that has been consistently insincere. Then true cause for failure of Mwenda and General Kainerugaba's idea "to make the Uganda-Rwanda relations great again… for the good of Africa" shall be fully established.