As promised, since yesterday, November 9, 2021, Rwanda is hosting the Birmingham 2022 Queen's Baton Relay  to celebrate and connect communities from across the Commonwealth member countries.
The Baton Relay proceeds the Commonwealth Games due in July 2022 in Birmingham – UK.
In its tenth destination after Uganda, the baton was received at Kigali International Airport by Munezero Valentine and Musabyimana Penelope, the two Rwandans who won bronze medal in the Commonwealth Games in Bahamas- 2017.
yThe duo had represented Rwanda in Volleyball and Beach volleyball.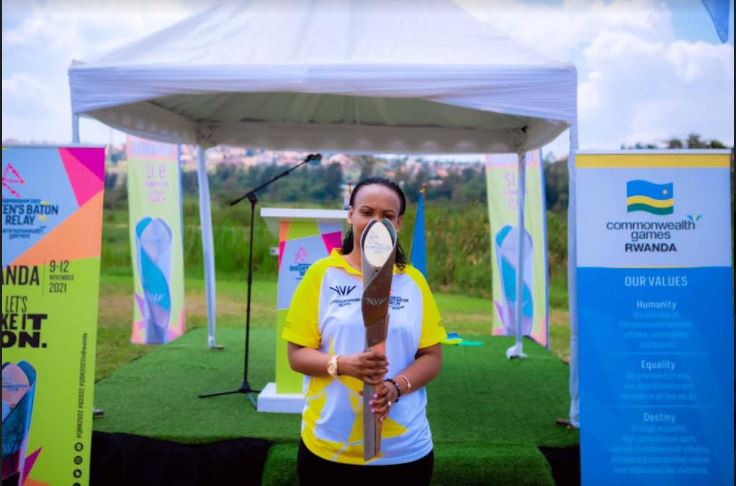 The trip of the Queen's baton proceeded at Mariott Hotel for a briefing and explanation of the meaning of its trip across Commonwealth member countries, before going to Kigali Genocide memorial where more than 250,000 victims of the 1994 Genocide against Tutsi lay to rest.
Today, second day, the procession kicked off at Kigali Stadium at 9:00am heading to Nyandungu Eco-Tourism where the official reception of the Queen's Baton relay took place.
The guests inlcuded Minister of Sports of Rwanda Munyangaju Aurore Mimosa, Mayor of Kigali City Pudence Rubingisa and Director General of Rwanda Environment Management Authority Juliet Kabera.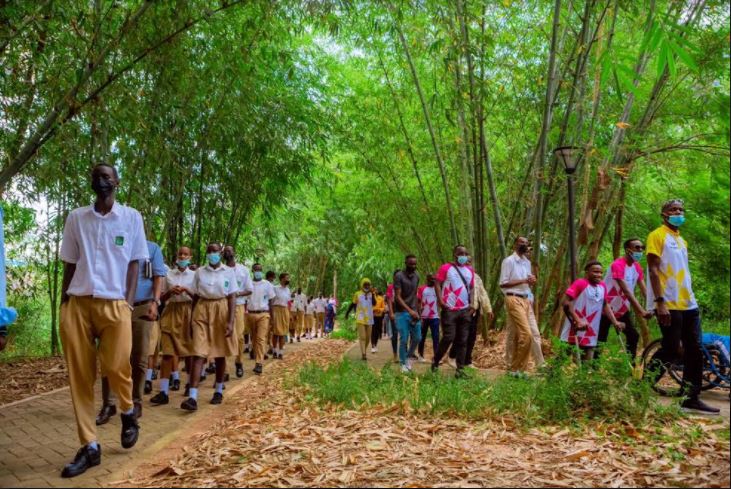 They were also joined by Omar Daair the British High Commissioner to Rwanda.
"Nyandungu eco-park is absolutely beautiful. A great stop when you visit Rwanda. Today's visitor was the Queen's Baton Relay! Delighted to speak alongside Hon. Aurore Mimosa about the importance of the Commonwealth, of sports, and of protecting our natural environment," Daair said. 
After Nyandungu, a man made eco tourism park in the vast wetland of Nyandungu – Gasabo district, participants headed to Lycee de Kigali where they watched a three on three basketball game (3×3) from the students.